Consumer attention is currency. Advertisers, content creators, and even consumers all benefit if we accord "consumer attention" the value it deserves. Regrettably, the current online advertising landscape is unable to capitalize on the value of consumer attention as a resource. The consumers' cluttered and less than optimal digital consumption experience is proof. There's the pervasiveness of clickbait contents and fake news. There are few economic incentives for content creators to continue generating high-value digital content. And at the bottom of this, the engagement that brands get from their audience is often far from their expected results. In truth, the broken ad tech infrastructure is a problem begging to be solved. Armed with a disruptive business model, innovator-entrepreneur, and Square Founder Jim McKelvey hopes to find solutions through his new startup company, Invisibly.
Invisibly is Upending the Status Quo Through a Disruptive Business Model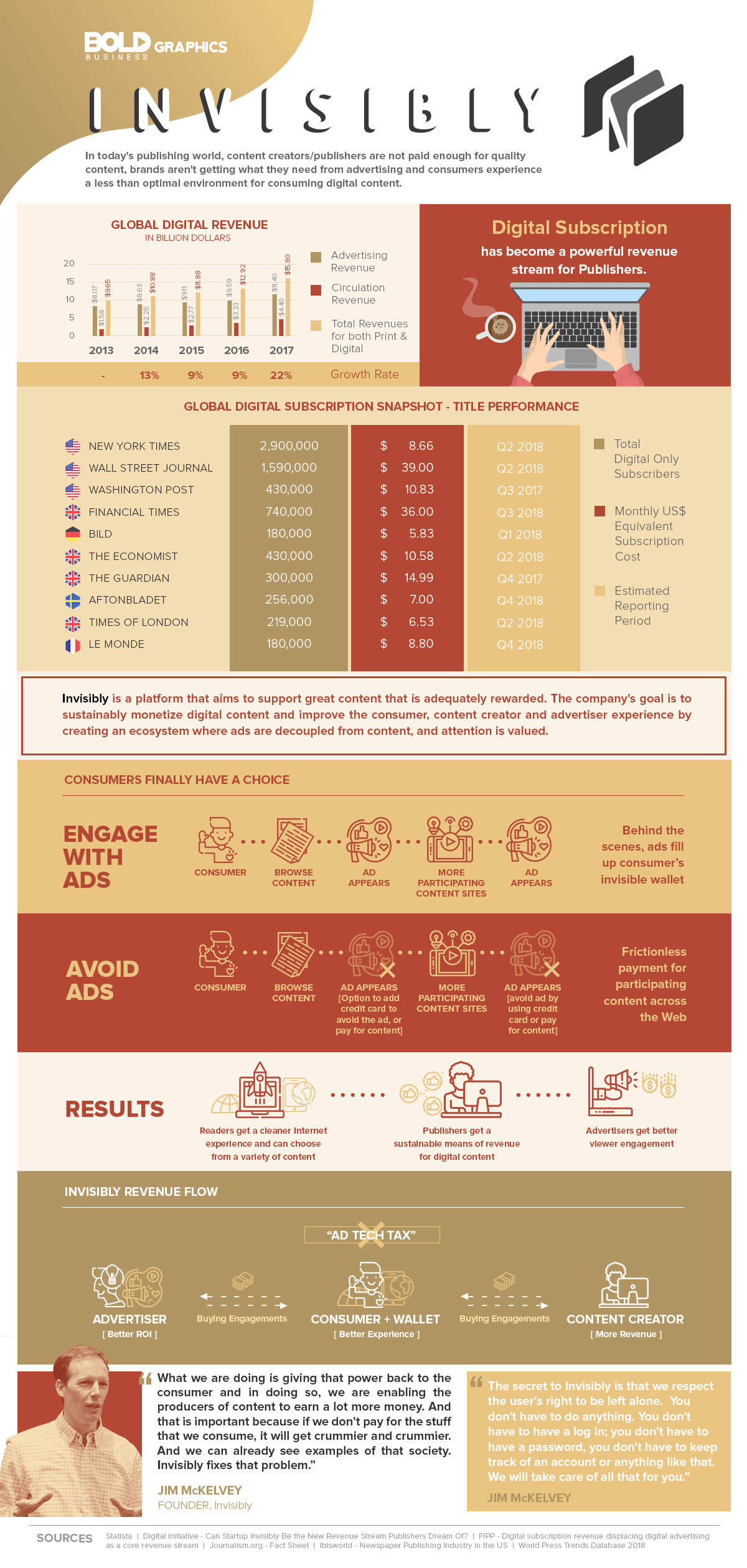 Invisibly gives consumers control over their data and access to premium content. At present, most content creators allow an X-number of free articles to non-subscribing visitors. To access more content, visitors have to pay a subscription fee. Sadly, their content experience is cluttered with ads, which take data without providing any value back to the consumer. Invisibly provides consumers a way to control who has access to their data and what data they share while giving them access to premium content. This is achieved by assigning consumers a digital wallet and funding that wallet every time a brand engagement is seen. When a consumer visits a participating site, funds are seamlessly withdrawn from the wallet to pay for the content granting a mostly, if not completely, ad-free experience on the page. The consumer is not required to take any explicit action, as Invisibly manages their wallet, serving de-coupled brand engagements at the right time to ensure there is always a sufficient balance to fund the consumer's content consumption. Consumers have the option to actively manage their attention through their wallets, deciding what brands they engage with, what data they share, and for those want to avoid ads and data sharing entirely, they have the option to fund their wallets themselves.
 "…you don't force [the consumer] to do anything. This is one of the things that you can do once you give consumers control over how their attention if bought and sold can open up the potential for great things." Jim McKelvey, Founder of Invisibly
Invisibly rewards content creators for quality. Under the Invisibly business model, content creators earn a fair price for their content. Invisibly provides content creators with a tool to dynamically price their content at a fair price for the consumer. When a consumer visits the article, they seamless pay the content creator the fair price for the content from the balance in their wallet. Invisibly has verified that this price is significantly above what content creators currently earn from traditional advertising.
Invisibly supports authentic brand engagements. Unfortunately, in today's ad-tech ecosystem, brand messages are not guaranteed to reach their intended audience. In fact, they're not even guaranteed their ads are served to real people. Invisibly turns ad-tech on its head by separating them from content and matching consumers with high-value verified engagements, which seamlessly fund consumer wallets. Through fast, clean and decoupled ads, brands create an explicit value exchange, are able to capture the market's exclusive attention, confirm viewership, gain feedback and gather data with consumer consent.
Exposing the Pain Points in Ad Tech
Before the advent of digital marketing, advertising was straightforward. A company or brand who wanted to reach a certain consumer segment employed the services of an advertiser (television, radio, print) to send their message across. But the modern digital age ushered in a different set of challenges with disruptive technologies and business models.
"The secret to Invisibly is that we respect the user's right to be left alone. But the core idea is you put the consumer in control." Jim McKelvey, Founder of Invisibly
Invisibly is setting the stage for the future of digital content distribution. Advertising is an income-generating industry. In 2015, the global digital advertising expenditure was almost $162 Billion. Experts predict that digital spending will grow to $335.5 Billion by the year 2020.
Unfortunately, the vast majority of ad spend goes to middlemen (primarily, Facebook and Google) leaving content creators a small share of the revenue pie. Content creators are dependent on unsustainable and invasive ad tech, which muddle the digital space with pop-ups and interruptions. A cluttered digital environment is counterproductive as it causes attention fatigue for the consumers while incentivizing clickbait.
A study conducted by Deloitte estimates that 80% of adults in North America use at least one ad-blocking method to curb attention fatigue. This is bad news for content creators who cannot monetize ad-blocked consumers and brands who cannot get their messages across.
To date, Invisibly has gained the support of many Fortune 500 Brands and content creators who have signed up to be part of Invisibly's vision to give consumers desirable content experiences, content creators more revenue, and brands deeper customer engagement. With Invisibly, we are looking at a future where everyone wins.
To learn more about Jim McKelvey, read our Bold Leader Spotlight. Content creators are invited to reach out to Invisibly here to sign up as a launch partner with preferred terms. Brands and marketers are invited to reach out to Invisibly here to apply for early access testing.