$119 billion will be spent in digital marketing over the next five years. Your business needs to be integrated online and mobile marketing services in order to grow and thrive. As consumers continue to move to digital for news, entertainment, and shopping you must have a digital footprint in order survive. Paid search, display advertising, social media advertising, video advertising, and email marketing will surge to 46% of all advertising spend by 2021. As quality over quantity reigns supreme during the Age of the Customer, every dollar counts and you need to place your marketing spend in the media where it will have the greatest impact. As traditional marketing channels are surpassed by digital marketing, Bold Business can provide comprehensive and scalable solutions to fit your organization's unique needs.

Search has become the highest grossing channel in digital marketing as search engine giants like Google, Yahoo!, and Bing control site rankings. Page one of Google's SERPs enjoys an incredible 95% of all search traffic, with the very first organic result holding onto 32.5% of clicks. To rank well among the top 10 on a search engine you need to implement a Search Engine Optimization (SEO) strategy.

Approaching your website from an SEO perspective enables you to rank well. SEO is mandatory as search engines utilize the keywords and key phrases users search for to locate your site. Search engines read or "crawl" your site using a robotic algorithm to rank search results based on relevancy and importance. These algorithms are mathematical formulas constantly changed by Google without explanation, often demanding tedious maintenance of your site's code and content in order to achieve a popular page-rank.
Bold Business offers SEO services that target organic (non-paid) traffic to grow your visibility in search engine results and improve your user's experience. To capitalize on a search engine's ability to deliver targeted audiences directly to your landing page, we utilize creative, engaging content, on-page optimization, and off-page optimization to create a synergistic relationship between your customer and the search engine bot.
Learn more about how Bold Business can help your business devise an optimal SEO strategy, decode your online competitors, and improve the overall presence of your site to increase your ROI.
Search engine marketing (SEM) or paid search improves the presence of a website using paid advertisements available through search engines like Google, Bing, and Yahoo!. One of the most common forms of SEM is Pay Per Click (PPC), a paid advertising program that charges businesses a fee when a searcher clicks on their advertisement, thus driving more traffic to their site. This is opposed to free, organic traffic which depends strictly on the relevancy of your content and the strength of your SEO.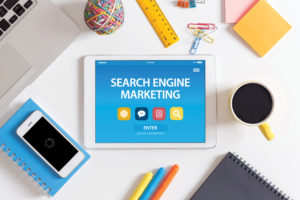 Bold Business manages your Pay Per Click (PPC) paid search advertising and re-marketing budget through Google Adwords, Bing Ads, and Yahoo! Search Ads. Uniquely targeted campaigns have a higher likelihood of producing customers and leads, as you can control the specific demographics of each ad segment. By using Bold Business' PPC service, you will only pay when your ad is clicked, driving brand awareness and resulting in customers who are more likely to convert.
Read more about our SEM/PPC strategies and how Bold Business analyzes your marketing data to control your cost of acquisition for an optimal budget.
While having clean code and white hat SEO practices will win you higher rankings, engaging, unique content is essential for increasing your site's visibility and building trust with your customer. Content is the foundation for everything we do as marketers; it is the means through which we communicate to our audience the benefits of our product and how our knowledge sets us apart from the competition.
By collaborating with an expert team of illustrators, writers, videographers, and actors, Bold Business offers keyword-rich content creation, video marketing, custom email campaigns, social media marketing, and engaging webinars to create content customers will want to share with their social circles. Bold Business even has the capability to create custom high-resolution drone footage using our certified drone pilots!
Read more about how content marketing drives traffic to your site and can turn a lead into a customer, and a customer into a brand ambassador.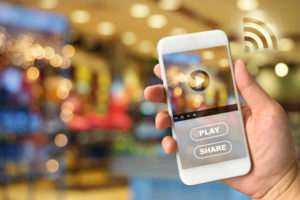 Video marketing has become the major currency for digital engagement. This represents a major shift from commercial video techniques and requires a web-based video strategy both in terms of production and publication. According to Blue Corona, "50% of consumers look for a video online before visiting a store" for a particular product or service.
At Bold Business, our team of videographers, writers, actors, and editors collaborate to create stunning visual components that can be shared on your site itself, through an email marketing campaign, social media, or web-based ads.
Read about all our video categories and how video marketing can change your entire web presence in the next year. 
Email marketing continues to benefit from increasingly more sophisticated analytics that reveals exactly who your target customer is, what they like, and how they behave online.
From this analytic report, Bold Business creates unique user segments that can connect you with your perfect customer at the right time. In addition, it is essential that your email marketing strategy contains mobile friendly, personalized messages that will resonate more than your competition.
Read more about how Bold Business helps you understand your audience through a data-driven email campaign.

After creating engaging content with stunning multimedia, your business will need a distribution plan. Popular social media platforms like Facebook, Instagram, and Twitter grant your brand the opportunity to connect with a wide range of audiences on a global scale. The use of hashtags, influencer marketing, and linking neighborhoods accelerate this engagement and in turn, produce highly detailed demographic data on your users.


As each social media platform has a unique audience base, it is vital to understand the textures of each application you choose to use to illuminate cracks in your overall digital marketing strategy. Plus, Bold Business helps your organization identify networking opportunities that can add additional value to your ROI.
Read more about Bold Business' social media management services. 
Both user interface (UI) and user experience (UX) are crucial when designing a website. Search engines are constantly optimized to provide the best possible search results and are therefore adept at identifying quality websites. Sites that rank high on SERPs have several factors in common: easy to understand and navigate, informative and credible content, direct information relevant to search queries or keywords, and an up-to-date, professional design with cross-device compatibility.
While search engines are fluent in code, they have yet to understand multimedia content or text the way a human can. Therefore, search engines read metrics that signal a popular, relevant site. This is foremost measured by the amount of time a user spends on your site (the longer the better), and the comprehensiveness of your SEO. However, this is just one piece of the pie.
Read more about Bold Business' UI and UX design impact on your site.
If you can measure it, you can improve it. Web analytics by Bold Business measures and tracks your domain's overall traffic and SERP ranking, paving the way for a successful SEO strategy. To provide a competitive edge for your business, we train your team to pull analytic reports and analyze them, recommending which key metrics best advance your marketing goals, and supply the best tools on the web to do so. This includes:

Conversion tracking & optimization
Detailed reporting
Setup & Training
Ongoing management
Data analysis & breakdown
In addition, Bold Business offers Big Data solutions and analytic consulting that take charge of data generation and storage to provide your business with the insights, products, and services you need to succeed in a competitive industry.
Read more about Bold Business' comprehensive web analytic services and how we can amplify your traffic acquisition efforts, conversion rates, and ROI.
Affiliate marketing entails the promotion of someone else's products or services in exchange for a commission fee. This concept is based on referrals; the advertising payment is measured according to site performance that leads to the sale of products and services, signups, form completion, or lead generation.
Bold Business helps you sign up for a targeted merchant affiliate program and optimize your website for merchant
mentions. We can even help manage end-of-month referral sales to ensure the affiliate program is working as intended. Ongoing updates and affiliate marketing efforts are established as needed.
Read more about Affiliate Marketing and how this strategy can become your business' next revenue stream.
With 80% of web users owning a smartphone, web developers have begun to implement mobile-first strategies to meet the challenges of app development. According to Impact BND, mobile users spend 89% of mobile media time on apps, with only 11% spent on websites. 
If you have a large following on social media, you need your own app to ensure your customers have an easier time buying from you – anytime and anywhere. Bold Business helps customers architect and develop mobile apps, unique to their customer base; customer support and troubleshooting services are also available.
Read more to stay ahead of the curve with Bold Business' mobile and web application development services.