When you hear the words unmanned aerial vehicle (UAV) or what is more commonly known as drone, it's hard not to think of its numerous contributions to society. Drones have become part of everyday news especially since they have tremendously evolved, disrupting different industries — from entertainment to defense.
Now, the popular flying equipment is increasing its technological prowess by incorporating augmented reality and virtual reality into its realm. This has huge potential benefits for society and the ways that drones can positively impact people's lives.
The combination of drones and the digital technologies (AR and VR) is a development that doesn't just excite people, but one that also promises to create a bold impact to businesses and people around the globe.
What Makes AR and VR-enabled Drones Different?
In the past, industries used drones to help them monitor activities, either real-time or recorded from entertainment, to sports, to recreation. They can be viewed using media such as a video monitor, a tablet, or even a mobile phone. This is quickly changing with the addition of AR and VR to drones.
The platforms for both VR and AR have estimated revenues reaching up to $120 billion by the year 2020. The technologies are set to make a dramatic global disruption in every industry, which will change the way humans live. And while there so many ways that AR and VR will change the world, the following are five core ways that things are going to change the world of drones.
Industries Using Advanced Drone Technology
The following industries are currently experiencing the positive effects of drones that have incorporated the AR and VR technologies:
LAW ENFORCEMENT
The safety and security of people are two of the most important aspects in a society. The idea of augmented reality and virtual reality-enabled drones will make it easier for the law enforcement to trace down buildings and streets because the view is going to provide a graphical overlay similar to google maps with names of buildings, streets, restaurants, and stores laid out. It will better enable officers to more accurately and swiftly hunt down fugitives who are on the loose and who are in hiding.
They can also do search and rescue operations and navigate traffic spots to avoid those streets and arrive faster to people who need their assistance.
FIREFIGHTING
A wildfire is a type of incident that happens everywhere and firefighters want only the best way possible stop the damages they cause. For the longest time, they have been experiencing problems figuring out how to quickly stop the spread of a wildfire. Thankfully, Insitu, a company that designs, creates, manufactures, and operates UAVs, has found methods to use AR-enabled drones to help firefighters swiftly put out wildfires.
The Washington-based company developed the ScanEagle drone, which allows firefighters to still monitor an aerial view of the wildfires, and because an AR technology is incorporated to the drone, it can now detect temperature variations and hot spots, together with a 3D hologram of the fire and a digital terrain model. This will make the job of the firefighters easier and safer.
FLOODS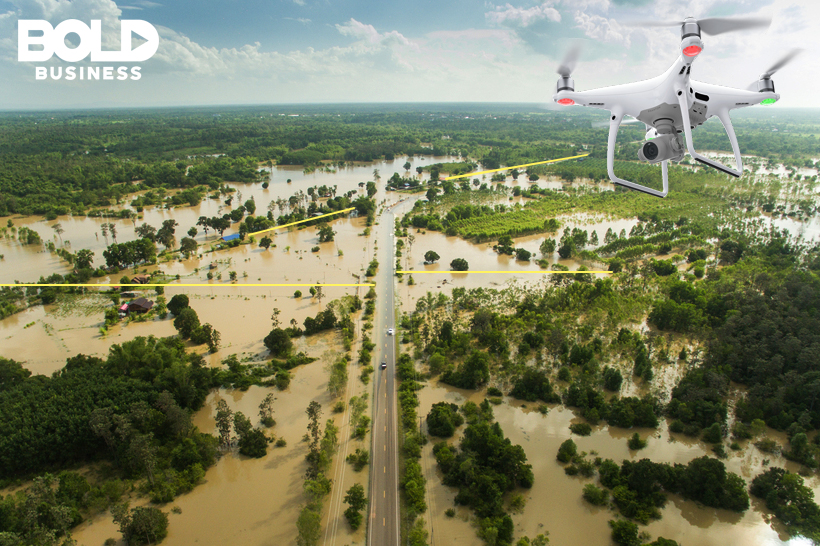 When hit by a calamity such as a flood, those are stranded and trapped will experience a difficult time getting help because land and road signs become submerged in murky waters. Floods have been one of the biggest causes of deaths around the world.
Rapid Imaging Software Incorporated created a bold solution to the flood problem. Using its invention called SmartCam3D, which has an augmented reality technology, the drone can locate the name of the street where a potential survivor or a trapped person might be. Land and street signs will be visible because of AR overlays.
ENTERTAINMENT
The gaming world is where augmented reality and virtual reality really started. And their emergence has given people great satisfaction and entertainment, especially now that the AR and VR were already incorporated into drones.
Air Hogs Connect Mission Drone is one of the most popular drone games today, which includes an AR technology. It enhances the drone gameplay by means of putting AR game spaces. The idea of the game is to allow players to fly on drone rescue missions within an interactive AR city that is under attack.
These are just some of the industries that enjoy the magic of AR and VR-enabled drones. Sooner or later, the incorporation of augmented reality and virtual reality to drones will be popular that businesses will surely notice. The combination of two technologies might lead to the possible emergence of startup companies, and there is a huge possibility that a new market for the drone industry will be created.
ARCHITECTURE
One company that seems to have been attracted by the new technology is the Sysveo. The company is currently working on a software that is going to allow drones to have AR 3D images in the videos that they take while flying over a specific location.
It will tell them what a building project would look like before they are built. According to Clement Alaguillaume, the CEO of Sysveo, "Architects could easily use this for creating a real-time simulation of the building they designed, and see it on the ground. And they could take real-time decisions without going back to their office, as they could make as many simulations as they want with the drone."
The bold action of merging AR and VR to drones is a futuristic approach. These innovations were once seen only in the movies, but because of the continuous success of the drone industry, fantasy has now become a reality. The future is boundless for these applications and we will be reporting on more stories in the future.