Parenting in the digital age can be challenging. With unfettered access to information and endless opportunities to connect with other people, it can be tough for a parent to monitor their child's online activities–never mind safeguarding them from cyberbullying. Enter: the Bark app, an artificial intelligence-driven monitoring tool that helps parents create a safe space for kids online.
The Bark app monitors, detects and sends alerts to parents for any red flags or issues a child encounters while surfing online. Using advanced AI technology and contextual language analysis, the Bark App can detect potential issues, such as interaction with cyber predators, harassment and bullying. With the rise in bullying cases, the Bark App is a valuable tool that can help parents in the fight against cyberbullying and other online dangers.
While the Bark app is primarily a monitoring tool, it nonetheless adheres to a child's right to privacy. Parents do not have access to all messages, and will only get an alert when the Bark app sees a potential risk. With these salient features, the Bark app has been successful in providing a relevant solution for online safety that both parents and children appreciate.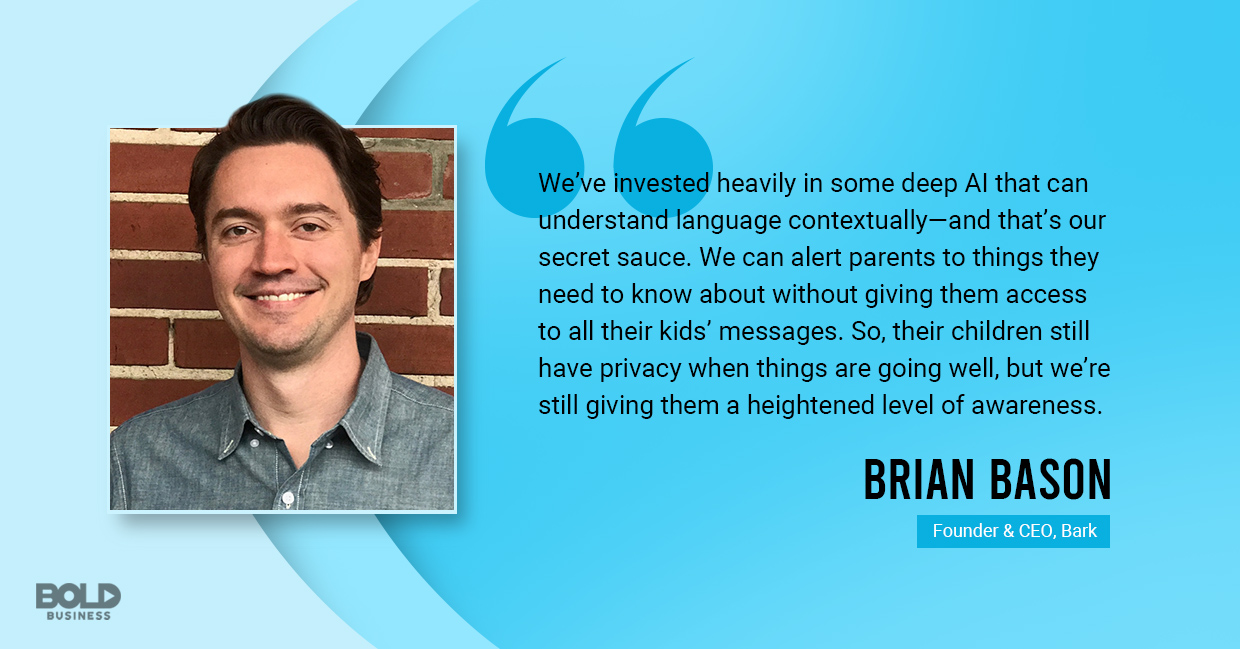 Bark App's Proactive Monitoring System
Brian Bason noticed a critical gap in Internet safety at the time when his kids began using Internet-connected devices. With a career spanning 15 years in technology and social media, Bason was well aware of the risks children face online. With the lack of options for parents who wish to protect kids, Bason's unease moved him to find a solution that can address the gap in online child safety. In 2015, Bason left his post as Chief Technology Officer for Niche—a company acquired by Twitter—and founded Bark.
With the Bark app, parents are offered an easier, time-saving and more efficient way to keep children safe online. The following are a few of the app's upsides:
Parents can leave the monitoring of online activities to the AI. Social media, email platforms, and Android and iOS systems can be linked to the Bark app. Once set up on your child's device, the app sifts through social media posts, direct messages, emails, text messages, and photos and videos—24 hours a day, seven days a week.
The Bark app has deep AI technology that can detect red flags associated with cyberbullying, anxiety, depression, self-harm, suicidal ideation, and school shootings. Furthermore, the app's algorithm has been set to intentionally detect online grooming, sexting, adult content, and drug use.
Once a potential threat is detected, the Bark app sends an alert to the parent. The app then offers suggestions to parents on how to address the issue. These recommendations are backed by experts in child health and safety—thus, giving parents more information and confidence in handling the concern.
Bark App Fills the Gap for Online Child Safety
To date, the Bark App has helped protect 3.5 million children, prevented 16 school shootings, and detected 10,000 self-harming cases. The app has also established partnership with Sandy Hook Promise, We Protect Global Alliance, National Center for Missing and Exploited Children, National Police Foundation, and other organizations focused on child safety.
The Bark App—through the program Bark for Schools—has partnered with Google and Microsoft and is trusted by 1,300 school districts. The program provides monitoring and web-filtering of school-issued email accounts of students using Google Suite and Office 365, at no cost for schools. With monitoring mechanisms in place, schools are winning the fight against cyberbullying. Similarly, the Bark app's web filtering system empowers schools to create and maintain a positive learning environment for students.
As the Bark app continues to find ways to keeping children safe online, organizations and investors are joining the Bark app with its cause. The app has been recognized by The National Parenting Center, Mom's Choice Awards, and National Parenting Product Awards. By July 2019, funding for Bark app has reached a total of $16.5 million.
Cyberbullying: How Nasty Can it Get?
In truth, ever since the Internet and social media became deeply ingrained in the lives of kids and teens, harassment and torment have seeped into the digital world. Offensive name-calling, dissemination of false rumors, and physical threats are some of the various forms of cyberbullying. Combined with other external pressures, cyberbullying can escalate to more serious issues like increased feelings of sadness, anxiety, depression and self-harm. Indeed, with the increasing number of suicide rates among young people, the fight against cyberbullying has become more urgent.
Bullying in any form has a lasting impact—not only to the bullied but also to the bullier and the bystander. With the help of technology, parents and educators can help create a safer online space for kids today and prepare a healthy and resilient generation for the future.