Drones have literally taken off. This industry is bursting with some of the most innovative technology and true experimentation in the worldwide tech industry. Drones have expanded rapidly into the commercial and civilian sectors, as well as military, agriculture, scientific research, and more.
DefenseNews claims that the global market for drones is anticipated to reach $22.15 billion by the year 2022.
Delivery, infrastructure exploration, and aerial imagery are some of the primary uses for UAV technology.
Drone Startups and Categories
The drone industry has become huge. The categories below help business leaders, investors, and researchers make sense of this quickly evolving trend.
Drone Manufacturers:

These companies are devoted specifically to the manufacturing, assembly, and packaging of drone technology and drone accessories.
DJI Innovations – The Chinese technology company manufactures UAVs that focus on videography, aerial photography, flight platforms, gimbals, propulsion systems, cameras, flight controllers, and camera stabilizers. It holds 70% of the global consumer drone market. Frank Wang is the CEO of DJI Innovations. Sequoia Capital China and Accel Partners are among its investors.
Zero Zero Robotics – Another China-based company that develops smart robotics paired with artificial intelligence, which makes a much more consumer friendly experience. Zero Zero Robotics created the new breakthrough Hover Camera. The Founder and CEO of Zero Zero Robotics are Meng Qui Wang. IDG Capital, GSR Ventures, and ZhenFund are its investors.
Global Energy Transmission Corporation – Based in Woodland, Washington, this corporation manufactures equipment that supplies long distance wireless power transmission for industrial applications. The company developed drone parcel delivery and other drone-based services. Leonid Plekhanov is the Founder and CEO of Global Energy Transmission Corporation. IP Fund and Draper Associates are the investors in the company.
EHANG, YUNEEC, uVify, Teal Drone, Flypro Aerospace Tech, ideaForge Technology, Prioria Robotics, and Squadrone Systems (Hexo-) are also Drone Manufacturers.
Drone Terrestrial Imagery & Mapping
These companies focus on the aerial photography and mapping of landscapes.
Airware – The American venture capital-funded company designed an operating system for commercial drones, giving enterprises full advantage of aerial data for a variety of business applications. Jonathan Downey is the CEO of Airware. First Round Capital, Andreessen Horowitz, and RRE Ventures are its most prominent investors.
Propeller – Based in Sydney, New South Wales, Propeller processes, shares, and hosts surveys for drones and data inspections. The company's software is compatible with any camera and drone, with a customizable data portal. Rory San Miguel and Francis Vierboom are the founders of Propeller. Blackbird Ventures, Accel Partners, and Costanoa Venture Capital are the lead investors in Propeller Aerobotics.
CrowdAI, PrecisionHawk, Skycatch, Unearth Technologies, DroneDeploy, 3D Robotics, TraceAir Technologies, Hangar Technology, Dronomy, Botlink, and Kespry are also part of the Terrestrial Imagery & Mapping category.
Precision Agriculture:
This category covers companies that have similarities to Terrestrial Imagery & Mapping but are designed to work within the field, primarily by spotting plants that are failing and delivering solutions aerially, such as pesticide, fertilizer, or water.
FarmShots – The company develops online platforms that detect pests, diseases, and poor plant nutrition on farms. The process uses satellite and drone imagery and provides analysis of the results. The CEO of FarmShots is Joshua Miller. Y Combinator is a lead investor in the company.
Raptor Maps – The company based in Somerville, Massachusetts, utilizes data analytics and remote sensing in order to monitor crop health. Nikhil Vadhavkar is the CEO of Raptor Maps. Founder.org, Commercial Drone Fund, and Y Combinator are investors in the company.
DroneSeed, SlantRange, and American Robotics are also part of the Precision Agriculture category.
Inspection and Monitoring: 

These companies focus on monitoring, inspecting, and surveying infrastructure quality and aging.
CyPhy Works – is a leading robotics company. CyPhy Works creates aerial robots and drones for defense, agriculture, oil and gas, law enforcement, entertainment, and mining industries. The company was formerly known as The Droid Works. It is based in Danvers, Massachusetts. Lance Vanden Brook is the CEO of CyPhy Works. Felicis Ventures, Bessemer Venture Partners, In-Q-Tel, and General Catalyst are its investors.
Flyability – It is Swiss company that develops safe UAV's for places that are otherwise inaccessible. Flyability created Gimball, an award-winning drone. Patrick Thevoz is the Co-Founder and CEO of the company. Go Beyond Network, Environmental Technologies Fund, and MKS Switzerland are the investors in the company.
SkyX Systems – The company manufactures and creates aerospace products. SkyX Systems caters to Canadian markets. It offers self-charging UAV for monitoring long-range assets, like gas and oil pipelines, coastlines, electric grids, and rail lines. Didi Horn is the CEO of SkyX Systems. Kuang-Chi is the principal investor.
Sky-Futures, SkySpecs, and Airobotics are also part of the Inspection & Monitoring category.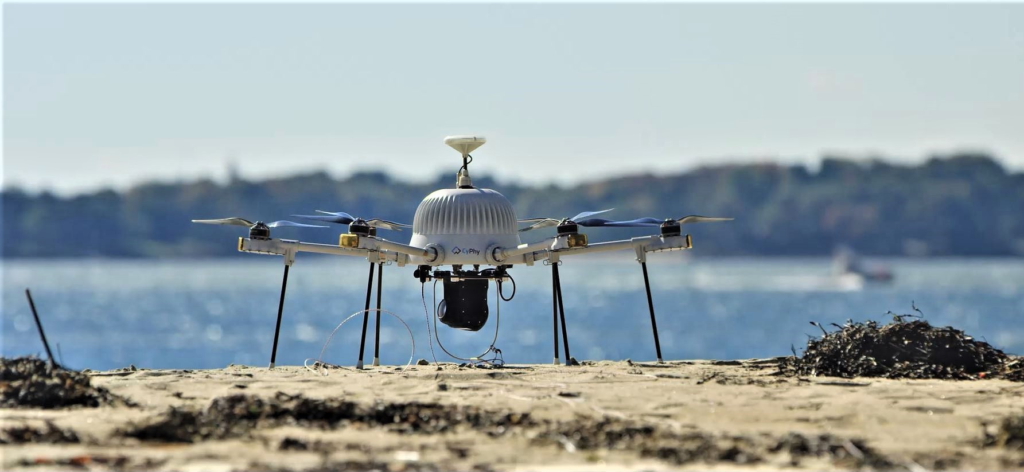 Delivery & Transport:
These companies build automated delivery systems, robots, and drones for a variety of solutions.
Starship Technologies – Builds small self-driving robotic delivery vehicles. Starship Technologies is based in London, UK. Janus Friis and Ahti Heinla are the Founders of the company. Matrix Partners, Daimler, and Shasta Ventures are the investors in the company.
Matternet – The company develops intelligent control software and flying vehicles. Andreas Raptopoulos is the CEO of Matternet. Daimler, Andreessen Horowitz, and QueensBridge Venture Partners are the primary investors.
Flirtey, Natilus, Flytrex, and Zipline International are also part of the Delivery & Transport category.
Entertainment:
Drones are changing the world of entertainment and becoming part of live performances in all types of venues and for all kinds of audiences. From rock to classical music, NASCAR to sailing, drones are part of the performance.
Verge – Based in Philadelphia, Verge Aero is a drone entertainment company that provides venues and events for live drone performances. The Drone Entertainment Platform of Verge is capable of automated and reliable control of many drones simultaneously.
Cape Productions – Provides and runs video recording drones anywhere in the world. Jason Soll is the CEO of Cape Productions. New Enterprise Associates, Madrona Venture Group, and XSeed Capital are its investors.
Drone Racing League and Prenav are also part of the Entertainment category.
Non-Aerial Drones:

Some of the most disruptive drone technology is in the non-aerial sector.
Clearpath Robotics – develops and designs UAV's for industrial applications. The company is located in Ontario, Canada. Matt Rendall is the CEO and Co-Founder of Clearpath Robotics. GE Ventures, Caterpillar Ventures, and RRE Ventures are its investors.
Saildrone – develops and designs solar and wind-powered autonomous surface vehicles called Saildrones. They are creating the world's biggest high-resolution ocean datasets. Richard Jenkins is the CEO of Saildrone. Social Capital and Lux Capital are the investors.
Orobotix is also part of the Non-Aerial category.
Navigation & Autonomy:

These are the companies that develop the technical systems which allow drones to track their location and navigate their physical environment.
Echodyne – Builds metamaterials-based radar products. Echodyne is headquartered and privately held in Bellevue. Eben Frankenberg is the CEO of the company. In-Q-Tel, Lux Capital, New Enterprise Associates, and Bill Gates are its investors.
Iris Automation – is developing high-tech computer vision solutions that can create mandatory trust in autonomous systems. Iris Automation creates robust collision avoidance systems for industrial drones. Alexander Harmsen is the CEO and Co-Founder of the company. Y Combinator, Social Capital, and GGV Capital, have made investments.
Percepto, Neurala, Swift Navigation, Dronesmith, CompoundEye, Skydio, and Fortem Technologies are also part of the Navigation & Autonomy category.
Airspace Management:
Provides complete digital maps that allow unmanned aircraft systems operators to navigate their surroundings.
Unifly – The platform of this company permits the safe integration of drone traffic. It also informs drone operators and pilots where it is legal and safe to fly. Marc Kegelaers is the CEO of Unifly. Qbic Venture Partners and PMV are the investors in the company.
Airmap – The company is the world's number one airspace services platform when it comes to unmanned aircraft. Airmap is based in Santa Monica, California. Ben Marcus is the CEO of the company. Microsoft Ventures, Lux Capital, Social Capital, and General Catalyst are the company's investors.
vHive and Kittyhawk.io are also part of the Airspace Management category.
Military & Defense:

Drones provide a variety of solutions to the military and defense industries.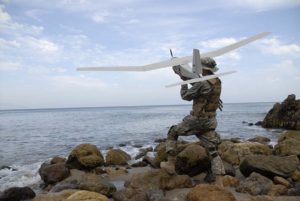 Aptonomy – develops drones that offer intelligent security, serving as flying security guards. Aptonomy was established in 2014, headquartered in San Francisco, California. Mihail Pivtoraiko is the CEO of the company. Y Combinator is its principal investor.
Aeryon Labs, SkySafe, ApolloShield, Aeryon Labs, and Airspace Systems are also part of the Military & Defense category.
Insurance Providers: 

These providers offer insurance to the people and businesses who fly of drones.
Flock – Developing Big-Data-driven risk intelligence for drones. It is located in London, England. Ed Leon Klinger is the CEO of Flock. R/GA IoT Venture Studio is its investor.
Verifly – delivers on-demand drone insurance for both recreational or commercial flights in two taps. It is based in New York, New York. Jay Bregman is the CEO of Verifly. Social Capital and Slow Ventures are the investors in the company.
Marketplace: 

These companies connect individuals to drones and drone services through the use of online portals.
DroneBase – is the number one nationwide service provider for drones. It provides aerial imagery, date and video. Its mission is to provide air support for every business. Daniel Burton is the CEO of DroneBase. Upfront Ventures, Rothenburg Ventures, and Union Square Ventures are its investors.
Airstoc – The company is a marketplace for the professional drone industry that connects customers with operators all over the world. Giles Moore is the CEO of Airstoc. Point Nine Capital and LAUNCHub are its investors.
Hivemapper is also part of Marketplace category.
DefenseNews claims that the global market for drones is anticipated to reach $22.15 billion by the year 2022. The continued good press on what drones can do – and what they are capable of doing in the future – is inspiring companies to invest in this bold venture.