How big is the esports industry? It's massive. In fact, this year, 2019, esports market revenue will reach an impressive $1.1 billion. According to Newzoo's Global Esports Market Report, a huge chunk of this revenue—that is, $456.7 million—came from sponsorship bets from high rollers like Coca-Cola, Intel and Comcast Xfinity. The impetus behind the surge of investments and financing? Viewership. It is estimated that by the year 2021, esports viewership will reach a total of 557 million.
With such a hugely passionate and engaged fan base, esports market revenue is projected to reach a whopping $1.7 billion by the year 2022. And companies are keen on capitalizing on this market reach. Undoubtedly, the industry is poised for explosive growth.
The Esports Industry Ecosystem
The esports industry is a thriving ecosystem comprised of players, team owners, game developers and tournament organizers. Supplementary participants of the esports industry, such as coaches, trainers, psychologists, and personal chefs, also contribute to the growth within the ecosystem. As the esports industry's fandom reaches fever pitch, broadcasters and streaming platforms make global viewership a lucrative business. Likewise, the massive following of the esports industry has drawn in big-name sponsors for market reach.
Players 

Recently, OG—a Europe-based Dota 2 esports team—dominated the last two annual Dota 2 world championship esports tournament in 2018 and 2019. After winning The International 2019 of Dota 2, Johan "N0tail" Sundstein from Denmark is hailed as the highest-earning esports player of all time. His total earnings have totaled to $6,889,591.79. And tailing close behind is Jesse "JerAx" Vainikka from Finland with overall earnings of $6,469,000.02. Anathan "ana" Pham, a 19-year old Dota 2 player from Australia, ranks third with a total earning of $5,999,411.96. With these last two wins, the members of the OG team take the top four spots of the list of highest-paid esports players to date.

Teams and Team Owners 

Team owners play an essential role in the esports industry. They are responsible for scouting the best talent and bringing together a formidable team to compete in international esports tournaments. Cloud 9 leads the list of most valuable esports team owners, with a valuation of $310 million. The group currently owns 11 teams playing across various tournaments. Supporting a total of 92 players, Cloud 9 announced the establishment of a training facility. Remarkably, the facility will be complete with an in-house physical therapist, psychologist, coaches and trainers, and a chef.




Game Developers and Tournament Organizers 

Game developers and publishers can take the credit for gathering the best esports players and creating a community of passionate followers. As video games gain traction, game developers gather enough support to bring the tournaments to sports arenas. Riot Games, the creator of League of Legends, hosts two major international competitions: the Mid-Season Invitational and the League of Legends World Championship. Blizzard Entertainment is also another major game developer and tournament organizer in the esports industry. Blizzard Entertainment owns some of the best-selling computer games, such as World of Warcraft, Diablo, and StarCraft.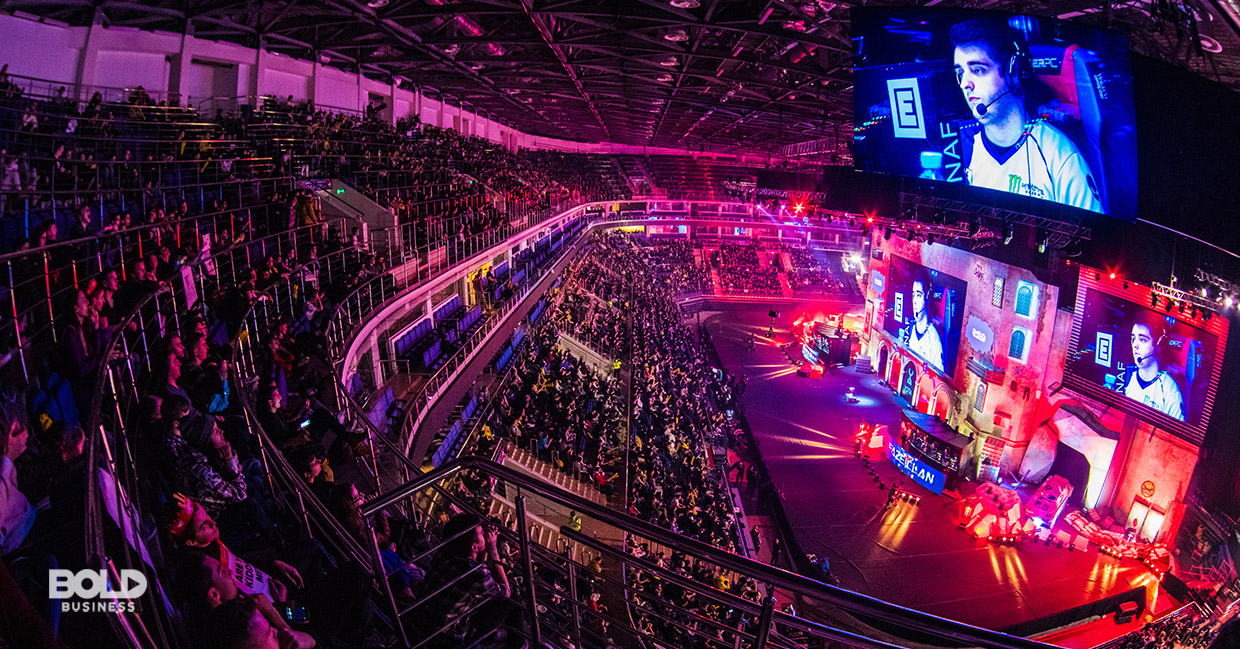 Broadcasters and Streaming Platforms

The total viewership of esports has grown from 281 million in 2016 to 380 million in 2018. With a massive and global audience, a robust broadcast method must be in place. Thankfully, the esports industry does not fall short with distribution and coverage. Whether we are talking about traditional or online distribution, the esports industry has a platform to support the requirement. With 9.36 billion of total streaming hours in 2018, Twitch tops as the preferred broadcasting platform within the industry. YouTube comes second with 2.32 billion hours of streaming. Recently, ESPN, ABC and Disney XD have joined the foray by broadcasting the Overwatch League playoffs.

Influx of Sponsors in the Esports Industry

Big-name sponsors are also flocking in the esports industry. During the early years of the esports industry, support for events came from endemic sponsors such as Intel and Red Bull. These endemic sponsors are companies that create products that are directly used within the esports industry. However, non-endemic sponsors are noticing the esports industry as a sweet spot to reach the millennials and Generation Z. Some of the non-endemic companies pouring in huge sponsorship deals include Coca-Cola, Nike, Mercedes Benz, Audi, and SAP.

Celebrities and Athletes Supporting the Esports Industry

Celebrities and enthusiasts from other sports and mainstream media are also contributing to the growing popularity of the esports industry. Magic Johnson and Tony Robbins invested on Team Liquid. EDM artist Steve Aoki is currently an investor for Team Rogue. Team SoloMid with a valuation of $250 million has also received investment from Stephen Curry.
The Future of Gaming and Esports Industry
Indeed, the tremendous growth in esports market revenue is promising. After decades of being a niche market, the esports industry is finally gaining momentum and claiming its spot under the mainstream sun. While the developments are positive, the industry is not without challenges and issues. One of its foremost challenges is the purported exploitation of players. The exhaustion brought about by long hours of play can be brutal. Being always watched and criticized by spectators can also cause undue stress. Markedly, these challenges are wreaking havoc on the well-being of esports players. Also, since esports is still a highly unregulated industry, it has become a black market for gambling and betting.
Indeed, with the growing interest in the esports industry, it's high time that these challenges are brought out in the open and discussed. Only then can the society, businesses and individuals can benefit fully from the growth within the esports industry.