No two companies know how social media engagement impacts businesses more than Spredfast Inc. (Austin, Texas) and Lithium Technologies LLC (San Francisco, Calif.). On Oct. 2, 2018, the two companies announced the closing of their merger. Thus, brands that connect with consumers through Spredfast and Lithium now have access to a comprehensive range of features to create critical touchpoints with their customers. This combined capability of both companies leads to significant digital customer engagement opportunities.
Spredfast and Lithium will be creating a new digital customer engagement company, which will develop one platform for clients to manage brand channels, social media and community engagement.
Although the announcement did not disclose any further details such as a new name, the new company will be under Vista Equity Partners—which notably acquired Lithium in mid-2017.
Merger Details Impact Digital Customer Engagement
The resulting new digital customer engagement company between the two will be helmed by Lithium CEO Pete Hess, who was also previously a senior advisor at Vista Equity Partners. Spredfast CEO and Chairman Rod Favaron will be working closely with the new teams to facilitate the transition. The company will have its headquarters in San Francisco—while its largest office will be in Austin.
Together, Spredfast and Lithium have a client base of over 2,000 brands across a hundred countries. They also have hundreds of millions of daily customer touch points across all online and social media channels. Brands that connect with consumers through Spredfast and Lithium can increase customer engagement by being involved throughout the customer journey. These brands thus can generate more revenue based on successful customer engagement and care.
"As a combined offering, there will be no better solution to help global brands understand and engage with today's modern consumer," according to Hess during the early days of the merge. "Together, we will help your brand bridge its marketing and customer care efforts to make it easy to reach, serve and build lifelong relationships with customers." Favaron also remarked, "No other company will offer the unparalleled industry and technology expertise to reimagine how businesses think about customer engagement."
Merger Promises
Lithium's clients include Post Office UK, Telus, StubHub, Sprint, Visa, Verizon, Sephora, National Instruments and Lenovo, among many others. Spredfast has British Airways, CNN, Fox Sports, Hyundai, Whole Foods Market, Abercrombie & Fitch, BBC News, and Hyatt Hotel Corporation as some of its customers. Together they bring together a diverse portfolio of success stories. Also, both companies offer very similar products.
People know Spredfast best for its social media campaign tool. It also harnesses the power of data to build brands, identify opportunities, engage with audiences, and track competitor performance.
Spredfast can also create custom social media campaigns. It's a full suite of social media tools that help companies increase customer engagement. These tools also help companies excel in campaigns, data, customer journey, and collaboration.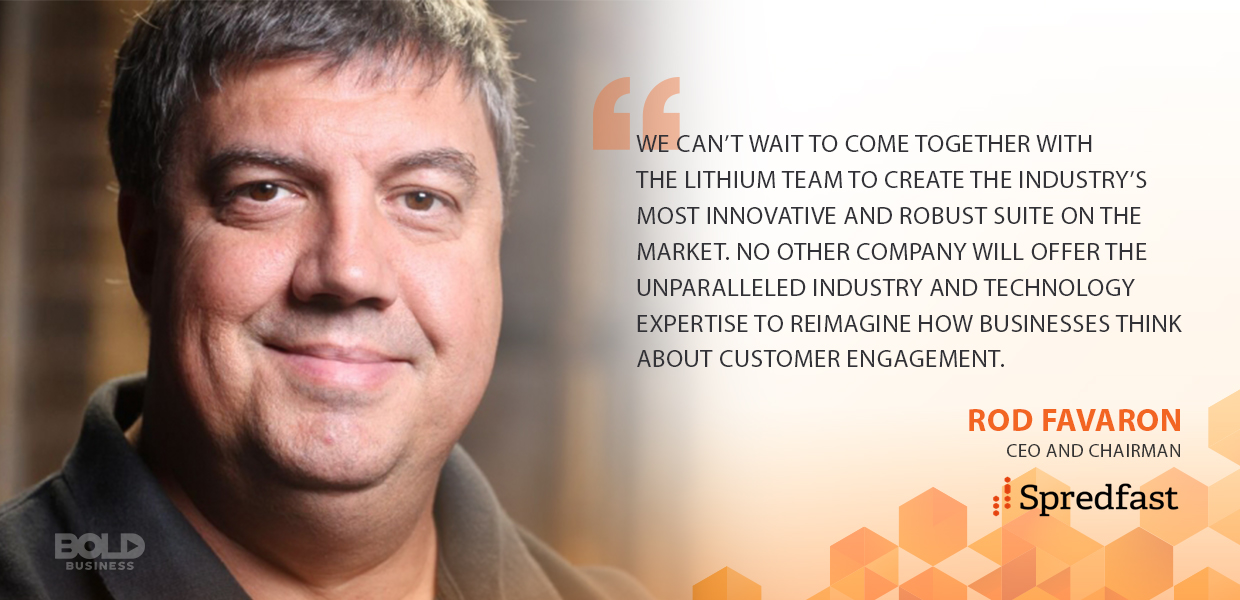 The industry knows Lithium for its digital customer and social communities care. Lithium's social media marketing platform offers analytics, centralized engagement across different digital channels, and message -filtering and -prioritizing.
As for content creation, Lithium can help plan and publish social posts with ads, events, emails and more. Lithium helps streamline the process for all marketers and generate data-driven information that can strengthen strategies.
Today, the distinction between these two aspects of marketing and customer care is blurred. The new platform of the merged company will meet all marketing and customer service needs for all its clients. It will be a promising one-stop-shop platform that will fulfill and strengthen social media and customer engagement strategies. Brands that connect with consumers will be able to cover all communication channels available. This factor ultimately allows them to create timely content and respond to customers with more agility and provide digital customer engagement.
Top Choice for Brands that Connect with Consumers
It's true that social media is an evolving platform for content creation, publishing, customer an, lytics and customer service. As a result, business teams are now thoroughly connected with their colleagues as well as customers more than ever. Companies today endeavor to create strong engagement between them and their customers—to drive their businesses to higher success ultimately.
The merger between Lithium and Spredfast has consequently become a new standard in digital customer engagement—allowing companies or brands that use their tools to show how much they know and understand their customers. The effect will enable companies to forge a more meaningful relationship with their customers, which can translate to increased revenue, trust and brand loyalty. Thus, having a robust social network teeming with satisfied customers creates a strong ecosystem or a community that supports each other.
Brands that connect with consumers are given the bold opportunity to increase customer engagement and bring it to the next level—and the consolidation of the strengths of Spredfast and Lithium are doing just that for countless clients all over the world.
Sources:
Spredfast is Merging with a Vista Equity Partners-Owned Company in San Francisco
Lithium and Spredfast merge into a social management/customer care platform