Over the last several months, Bitcoin and other cryptocurrencies have been quite volatile. But that doesn't mean many in fintech have lost faith in digital coin over the long haul. According to some statistics, roughly 80% of all venture capital is spent on technology that includes cryptocurrencies. Of course, there are some potential downsides related to cryptocurrency mining with environmental concerns being the most notable. That's why some states are hesitant to embrace the practice and invest in a bitcoin mining hub. Texas, and the city of Fort Worth, are notable exceptions to this, however. In fact, by the end of the year, there will be a Fort Worth Bitcoin mine located in its own city hall.
The Fort Worth Bitcoin mine will represent the first municipal cryptocurrency mine of its kind in the U.S. Perhaps, this is not too surprising, especially since Texas itself looks to lead the way in cryptocurrency infrastructures. But it is innovative to say the least. As one of the most rapidly growing cities in the country, Fort Worth hopes the move could put them on the map. If all goes well, other cities may soon follow suit and develop a Bitcoin mining hub of their own. It all depends on how the pilot project performs and how well it is accepted. Sink or swim, Fort Worth looks to be the first in exploring the future of municipal digital coin practices.
"Mayor Parker [of Fort Worth] is setting an example and effectively de-risking both bitcoin mining and bitcoin treasury strategies for every other mayor in the country, and I wouldn't be surprised to see more announcements like this coming in the future." – Alex Brammer, VP of business development for Luxor technologies
The Fort Worth Bitcoin Mine Proposal
The Bitcoin mining hub that the city of Fort Worth approved will start small before pursuing larger cryptocurrency mining farms. The system will consist of three Bitmain Antminer S9 mining rigs that will operate 24/7 beginning in October. The location of these mining rigs will be in the IT wing of city hall and will be hosted by a private network. Naturally, worries about the use of electricity for these mining operations have been publicized. However, the city states that operations will consume about as much electricity as an everyday vacuum cleaner. The city hopes that Fort Worth Bitcoin mine will generate more than enough Bitcoin to pay for the electricity needed.
(What's the recipe for a Bitcoin mining town? Read this Bold story to find out.)
The city did enjoy support from some key partners in the process of developing their Bitcoin mining hub plans. The Texas Blockchain Council donated the three Bitcoin mining rigs, which in essence are about $700 each. Likewise, Luxor Technologies is an important partner that operates a Bitcoin mining pool. Their mining pool consists of thousands of other miners that combined hashing power and increases the chance of Bitcoin earnings. As a result, the Fort Worth Bitcoin mine hopes to generate about 0.06 Bitcoin annual, or $2,350 in today's value. The mining trial will take place over 6 months, after which a reassessment will take place.
"When you can consume 20% of your electricity on site and sell roughly 80% back into the grid, and can shut down our miners in a minute if we need during peak hours, that offers a massive benefit with regards to smoothing our supply and demand across the energy grid." – Caleb Ward, Cofounder of Geosyn Mining
Environmental Friend or Foe?
There is significant concern about the environmental impacts related to Bitcoin mining as of late. Some states like New York have actually placed a moratorium for companies to build a new Bitcoin mining hub. This primarily pertains to those using old fossil fuel plants to generate the electricity required for operations. It's well-known that Bitcoin mining consumes tremendous amounts of electricity. But the key is how that electricity in generated. For the Fort Worth Bitcoin mine of the future, the plan is to use primarily renewable forms of energy for this purpose. And this type of approach could have additional benefits as well.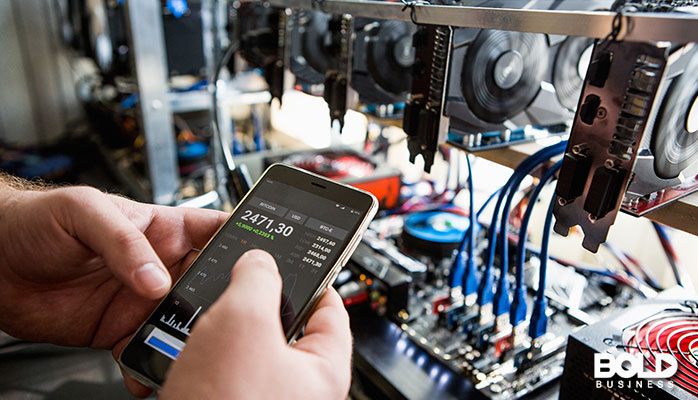 Issues with energy grid outages in Texas have been well publicized in recent years. This is where a Bitcoin mining hub electrical grid could be beneficial. If companies construct these grids using solar and wind technologies, then they may actually reduce greenhouse gas emissions. Some blockchain companies estimate that a minority share of the electricity generated would be used for mining. The remaining electricity could then be used for cities within Texas. Based on its rapid growth, the Fort Worth Bitcoin mine could similarly utilize such a strategy. This is yet another way the municipality may serve as a testing ground for other cities.
"For Fort Worth, a lot of people don't know who we are. We want to change that conversation, and we believe that tech innovation including cryptocurrency is the way we're going to do that." – Mattie Parker, Mayor of Fort Worth, Texas
A Cryptocurrency Hub Within a Hub
While Forth Worth hopes to be the first municipal cryptocurrency mining farm, it already operates within a Bitcoin-friendly state. Texas itself looks to be a leading Bitcoin mining hub not only in the U.S. but also in the world. As China placed heavy restrictions on Bitcoin mining, Texas saw an opportunity in the making. Since that time, the state has welcomed dozens of Bitcoin mining operations and sought to acquire Chinese mining equipment. Most recently, Riot Blockchain announced it would be creating a 1.7 Gigawatt electrical substation in Navarro County, Texas. Once completed, Riot Blockchain could easily become among the largest Bitcoin miners in the world.
Appreciating these trends, the city of Fort Worth sees a great opportunity as well. Currently, Fort Worth is among the top fastest growing cities, and it sees cryptocurrency as the way of the future. The city already has nearly 2,000 Bitcoin ATMs  that allows users to buy and sell Bitcoin. Therefore, it seems well-aligned with the city's vision to add the Fort Worth Bitcoin mine. Of course, its vision extends well beyond the small prototype currently being developed. Ultimately, Fort Worth hopes to be the go-to city for digital coin miners, operators and investors. In essence, the city is taking a calculated risk and assuming Bitcoin represents the future of currency.
Want to leverage offshore capabilities for business process outsourcing? Bold Business has you covered.