Walmart has long been the undisputed leader in the brick-and-mortar retail space. In fact, as of October 2018, it operated 5,352 stores and clubs in the US and over 11,200 stores under 55 banners in 27 countries. The retailer is also the world's largest company, with more than $500 billion in revenue. But a few years ago, as the traditional retail landscape shifted to digital, Walmart faced threats. Disruptions brought the rapid success of e-commerce pioneers. Online advancements tested the retail giant's ability to compete. Embracing the challenge to evolve, Walmart has been making strides in modernization. Now, the company's ongoing digital transformation continues to reinvent the shopping experience. With technology as the main driving force, the Walmart innovation strategy is set to push boundaries in retail.
Adapting to the Shifting Retail Landscape
Aside from low prices, the use of data built the Walmart competitive advantage over the years as well. Information gathered in stores led to better insights on consumer preferences. But as technological advancements emerged, many of those preferences changed. Digital retail channels and online shopping rose in popularity. E-commerce companies like Amazon took market shares. Walmart, therefore, had to innovate to keep its store network ahead of the curve.
CEO Doug McMillon shared how the retailer became aware of the importance of technology.
Walmart put digital transformation on top of its agenda. It built an internal cloud network that houses massive data. This is useful for better customization of offers. Part of the Walmart innovation strategy, such data also improves internal operations.
To represent seamless service, the name Wal-Mart Stores, Inc. changed to Walmart Inc. This was a key move in the Walmart innovation strategy. The company streamlined its e-commerce unit and assigned new executive positions.
Moreover, the Walmart technology strategy involves notable acquisitions and partnerships. The retail giant teamed up with Microsoft  to leverage the latter's tech expertise. Enterprise CIO and Executive Vice President Clay Johnson noted the importance of the alliance.
Elevating E-Commerce to Compete Effectively
Walmart made a number of investments to boost its e-commerce capabilities. In 2016, the retailer acquired Jet.com for $3 billion. Also notable is the acquisition of Flipkart for $16 billion. These ventures are part of the Walmart innovation strategy to acquire, rather than build, digital competence.
The click-and-collect service is another key tactic in the Walmart innovation strategy. Customers can order online and pick their groceries up in person. The retail leader was ahead of Amazon in offering this option.
Other efforts include website redesign and diversification of product categories. In 2017, a partnership with Google enabled voice shopping. To further push the Walmart technology strategy, more e-commerce innovations are underway.
The Walmart Innovation Strategy – Transforming the In-store Experience
Walmart spares no expense to modernize. Stores are getting major upgrades. Environmental enhancements respond to the needs of consumers with digitally-driven lifestyles. Moreover, the Walmart innovation strategy increases efficiency.
In-store Walmart.com kiosks make shopping more convenient. Customers can use the kiosks to purchase online if an item is sold out. Likewise, the Walmart app has time-saving features. It allows customers to build shopping lists. Integrated store maps are available as well. Shoppers can also initiate returns within the app through a code-scanning function. These developments help push the Walmart innovation strategy.
The upgrades are helping associates to serve shoppers better. They can access to-do lists on mobile devices. They get exact details on items they need to move or restock. A scheduling app also allows employees to swap shifts easily. In addition, associates can choose to access the workplace app suite in their personal smartphones. Another option is to use the handheld device at the stores.
The Walmart innovation strategy includes better training programs as well. Walmart has set up nearly 200 Academies nationwide and has trained more than 500,000 frontline supervisors, department managers, and assistant managers.
In some stores, there are robots that facilitate certain tasks to support the Walmart technology strategy. These include restocking shelves, tracking overstock items and ensuring updated prices. The robots operate with AI and machine learning. This Walmart technology strategy improves inventory accuracy.
A Stronger Position Through Omnichannel Mastery
 Seventy-three percent of consumers use multiple channels for shopping. Therefore, it means that for the Walmart innovation strategy to succeed, integration is a must. There should be seamless engagement with consumers across all online and offline channels.
Many compare Walmart to Amazon as the former continues to go digital. But the Walmart competitive advantage lies in the retailer's physical stores. As McMillon puts it, "Customers want to save money and time and have the broadest assortment of items, and we think that by bringing e-commerce and digital capabilities together with the stores, we can do things that a pure e-commerce player can't."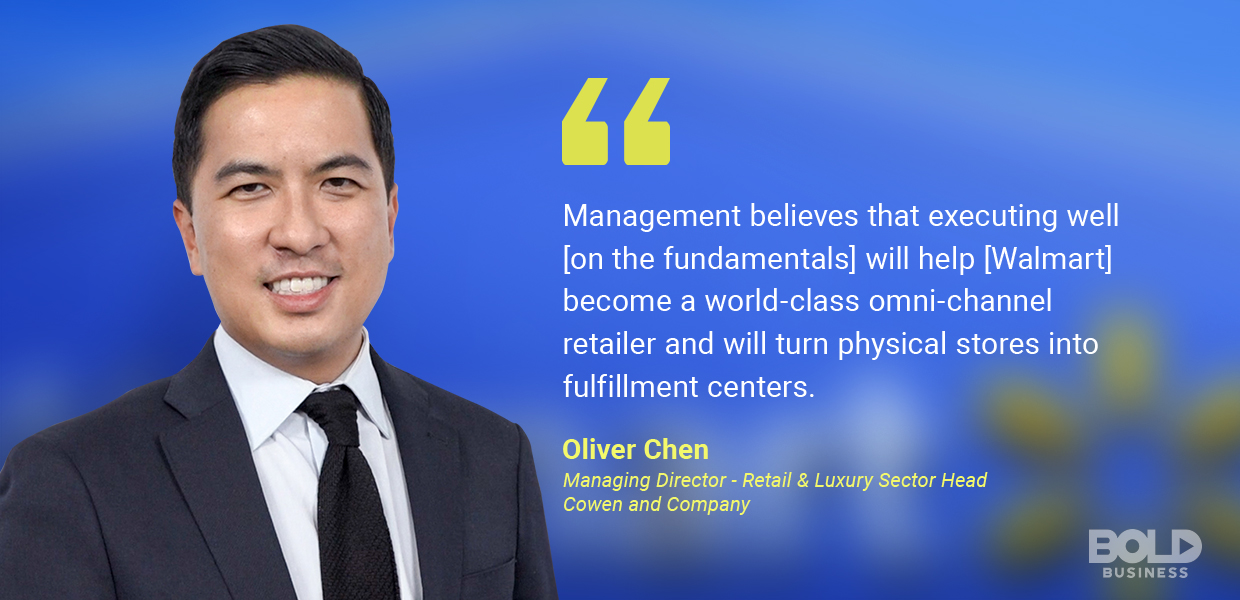 Indeed, the Walmart innovation strategy and the Walmart technology strategy can strengthen the company's position as the world's leading retailer. More than that, Walmart has the potential to be a distinguished tech company in the years ahead.
To read more about the Bold Leadership of Clay Johnson, Walmart's CIO and EVP Global Business Services, read our Bold Leader Spotlight.