Cloud computing is a term that was invented by Salesforce CEO Marc Benioff after he left employment at Oracle where he was a rising star. The bold idea of the innovative paradigm is to provide services from companies or any organization using the internet. For a very long time, cloud computing has made life easier for professionals and businesses around the globe. But with their revenue, who is winning the marketing cloud wars?
What was first doubted by many of the most powerful software CEOs, has now become a global phenomenon and has completely altered the way software is delivered and consumed.
Now, the demand for cloud computing services is continuously growing every year. It was even projected that the market will reach up to $411 billion by the year 2020.
The following are the top companies that have been providing different services of cloud computing like, Infrastructure as a Service (IaaS), Software as a Service (SaaS), and Platform as a Service (PaaS) ranked by cloud revenue.
Microsoft – Deemed as the leading developer of consumer electronics, computer software, personal computers, and laptops, Microsoft is also number one in terms of providing all cloud-computing services (IaaS, SaaS, and PaaS).
The Redmond Washington-based company has been assisting consumers and clients deploy ML, AI, and Blockchain in innovative production settings. Microsoft has a market-leading cloud revenue of $16.7 billion.
Microsoft was founded in 1975 and since then has been on top of its game. The leading developer has an estimated revenue of $98.9 billion and is headed by Satya Nadella.
Amazon – Amazon was established in 1994 and Jeffrey P. Bezos is its Chairman and CEO. The company based in Seattle, Washington, is an online retail platform that has the ability to market different household appliances, apparels, electronic products, and even books.
Experts say that the company is the poster-child for the cloud computing movement because it is the first-moving paradigm-buster and category creator. Now, Amazon has a projected revenue of $177.9 billion. Its cloud revenue is $16 billion.
IBM – The International Business Machines or more commonly known as IBM manufactures and sells computer software and hardware to other companies and businesses around the world. It presents consulting, hosting, and infrastructure services.
Just like Microsoft, the provider is also offering three cloud-computing services. It recently made a $15.8-billion cloud business. IBM is also one of the top providers in the leaderboard because it pairs both cloud and cognitive, which critics say is a great approach.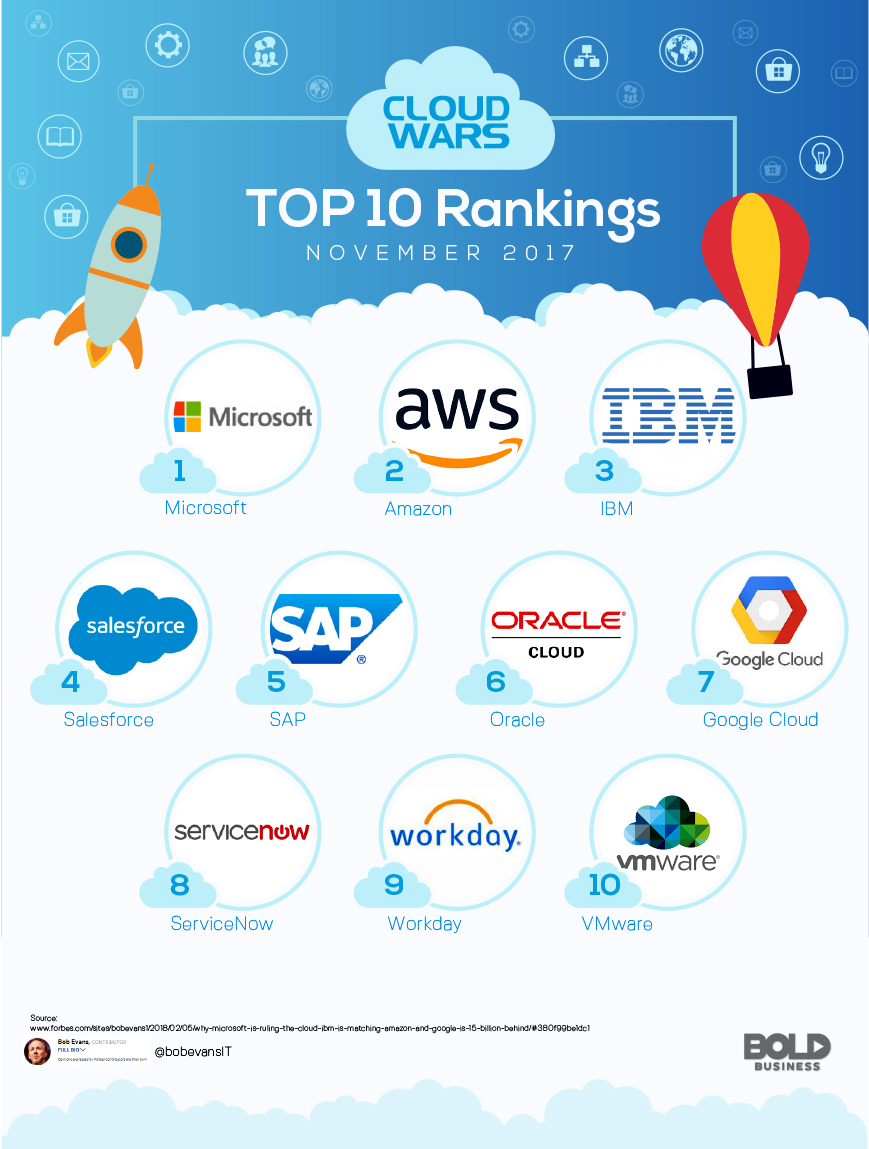 Virginia M. Rometty is the Chairman and CEO of the company. Now, the Armonk, New York-based manufacturer has an estimated revenue of $78.4 billion.
Salesforce.com – The San Francisco, California-based company was established in 1999 and since then it has made a name for itself in the industry of advertising and marketing. The CEO is Marc Benioff.
Salesforce is a platform for Customer Relationship Management (CRM) using cloud-based applications for service, marketing, sales and a lot more. The company has a projected revenue of $9.9 billion. The estimated cloud revenue of Salesforce is $3 billion.
SAP – SAP is a multinational software corporation based in Walldorf, Baden-Wurttemberg and was founded in 1972. William R. McDermott is the CEO.
SAP offers enterprise solution and software for handling customer relations and business operations. The company has an edge in its service of cloud computing. The SAP is unmatched when it comes to its tenure within all of the leading companies around the world. Reports have also suggested that SAP is the leading supplier of mission-critical business applications for most businesses and corporations. SAP now has a cloud revenue of 3.8 billion Euros.
The multinational software company has a projected revenue of $39.2 billion.
Oracle – Headed by co-CEO's Safra A. Catz and Mark Hurd, Oracle is a computer technology firm that offers all things information technology from business intelligence to storage systems for businesses. Oracle started its business as a database company. It has steadily grown its revenue to $1.5 billion.
The Redwood City, California-based company is performing well in terms of the developing excellent cloud technology.
Oracle's top competitors are Workday, Salesforce, VMware, and Microsoft. The company now has an estimated revenue of $38.9 billion.
Google – Out of all the top providers of cloud computing, Google is the most popular. With a projected revenue of $94.7 billion, Google has definitely made it big in the internet software industry. Sundar Pichai is the CEO of the company that is located in Mountain View, California.
Its deal with Puppet, a private IT automation software corporation, is giving the users and clients the chance to experience a DevOps software, which is a much easier transition to the cloud, especially for companies that are running older systems. Google has a cloud revenue of $1 billion every quarter.
ServiceNow – ServiceNow is a company led by John Donahoe. It is known as an Enterprise as a Service platform that offers real-time analytics, security, IT service, and operations management solutions.
The Santa Clara, California-based company is giving other providers a run for their money as it enters the world of cloud computing with great innovation, energy, and customer-centric tactics.
ServiceNow may be new to the scene but its revenue has already grown to $1.9 billion.
Workday – Workday is one of the leading sources of cloud-based enterprise applications. It caters the industry of finance and human resources management. Aneel Bhusri is the Co-Founder and CEO of the company that was founded in 2005.
The company based in Pleasanton, California, has made it to the top without the help from major companies. Workday is a global powerhouse when it comes to HCM and has a projected revenue of $2 billion.
VMware – Pat Gelsinger is the CEO of the Palo Alto, California-based company. With an estimated revenue of $57.7 billion, VMware has already come a long way, as it is the worldwide leader in virtualization. The company is a software firm that offers virtualization and cloud software and services.
The competitive world of cloud computing is not for faint-hearted companies. These top providers have made the impossible things become possible and easier for a lot of people, their clients, and different businesses. Cloud Computing is definitely important and it has created a bold impact on the digital transformation.