The past year has certainly been historical for the cannabis industry. As 2018 is coming to a close, the strategic partnerships in this space show no signs of stopping. Earlier this month on Dec. 7, Altria Group Inc. announced a $1.8 billion investment in the Canadian cannabis company, Cronos Group Inc. The deal marks one of the largest alliances between mainstream tobacco and the booming marijuana sector. It could be a groundbreaking moment not only for the two companies involved but also for their respective industries as well and the signs of a future Altria and Cronos Merger. With the growing legalization of cannabis across states and countries, the impact of Altria's investment in Cronos company is definitely worth a more in-depth look. And, it could show the future link between Big Tobacco and Cannabis.
Big Tobacco and Cannabis: An Excellent Strategic Fit
The legalization of recreational marijuana kicked in this year in Canada. In the United States, even though it's still illegal on the federal level, cannabis is now allowed in an increasing number of states. As a result, a rising number of consumer products companies are getting into big partnerships. One of the biggest notable deals recently is the multibillion-dollar investment of alcohol giant Constellation Brands to Canadian marijuana company Canopy Growth.
Meanwhile, tobacco sales have been facing a consistent volume decline in the past two decades. Other countries have implemented policies against smoking as well, due to the adverse health effects of cigarettes. Major corporations are left to choose between raising the price of their existing products and finding ways to innovate. Regarding the second option, the cannabis industry presents an ideal expansion opportunity for Big Tobacco. And a few bold movers have started to seize it.
In June 2018, U.K.-based tobacco giant Imperial Brands joined with seed investment firm Casa Verde to invest in marijuana research firm Oxford Cannabinoid Technologies. The company focuses on developing and researching cannabinoids that can be used to treat specific ailments. This deal marked Big Tobacco's initial entry into the cannabis market.
Experts have said that the pairing makes sense. Big Tobacco and the marijuana sector are a logical fit. 
Companies from the tobacco industry know how to cultivate the crop, can handle regulators, and have less reputational risk than other fast-moving consumer goods. In fact, Cowen analyst, Vivien Azer stated in a report back in 2016 that major companies could nearly double their underlying growth via cannabis. She predicted that assuming full legalization, Big Tobacco could gain around a fifth of the overall share of the marijuana business by 2036.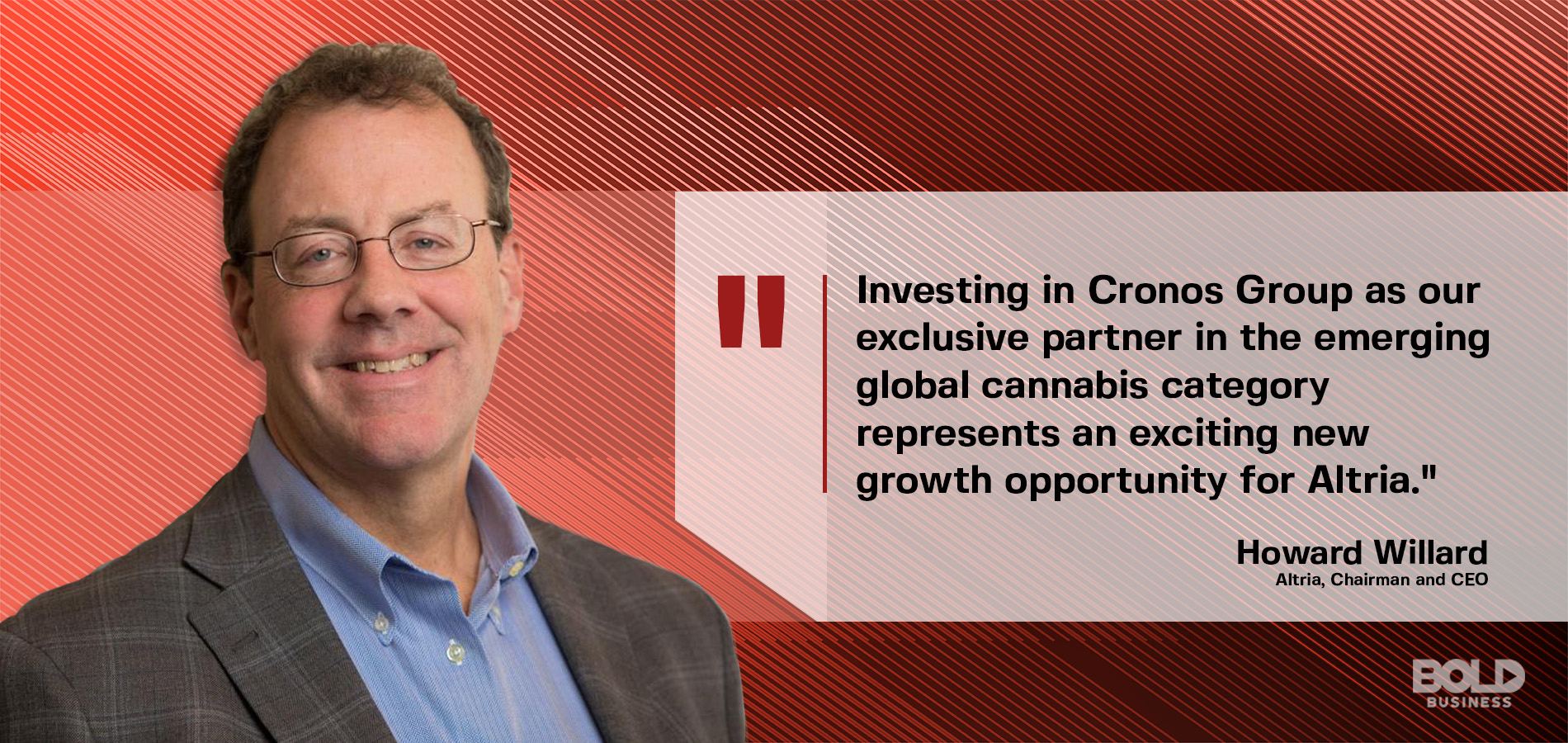 Altria Group —Taking Advantage of a New Growth Area
Altria Group, the American maker of Marlboro, is one of the biggest players in the tobacco industry. Amidst the continuous decline of cigarette sales, the company's shares have fallen by more than 20 percent over the year. Finding new avenues to expand revenue was a clear and definite must.
By acquiring 45 percent of Cronos, Altria can take advantage of the young but fast-growing marijuana market. "Investing in Cronos Group as our exclusive partner in the emerging global cannabis category represents an exciting new growth opportunity for Altria," said Howard Willard, Altria's chairman and chief executive officer.
Altria's investment in the Cronos company is an interesting move for the former, as the company has been putting more focus on domestic operations in the past. Now, it's time to go global. The partnership will allow Altria Group to diversify its business beyond traditional smokers. It will also expand the company's international reach as well.  In addition, Altria has the option to control a majority of Cronos group. The tobacco company can nominate four members of its choice to Cronos' board, which expanded from five to seven seats following the deal.
Cronos is an ideal partner for Altria Group as the cannabis company places great importance on innovation. Their research is centered on cannabis genetics and cannabinoids, which can allow the cannabis company to distinguish itself and future branded products.
"We believe that Cronos Group's excellent management team has built capabilities necessary to compete globally, and we look forward to helping Cronos Group realize its significant growth potential," notes Willard.
Cronos Group Stands to Dominate Potential U.S. Market
Altria Group is considered as one of the largest holding companies in the adult consumer products sector. It has decades of experience in regulatory, government affairs, compliance, product development and brand management.
Cronos can thus leverage the company's expertise in the tobacco industry. With resources gained from Altria's investment in the Cronos company, the cannabis company can support cannabinoid innovation. Plus, it will also be able to create differentiated products and brands. This scenario can help attract partners across the medicinal and recreational categories.
"Altria is the ideal partner for Cronos Group, providing the resources and expertise we need to meaningfully accelerate our strategic growth," said Mike Gorenstein, Cronos Group's chairman, president and chief executive officer. "The proceeds from Altria's investment will enable us to more quickly expand our global infrastructure and distribution footprint, while also increasing investments in R&D and brands that resonate with our consumers."
Cronos Group stock rose 21.7 percent to $12.72 in the stock market on the day of the announcement. The cannabis company is now the second, best capitalized Canadian licensed producer right behind Canopy—after its big investment from Constellations. With Altria's investment in the Cronos company, Cronos has an opportunity to race ahead of its competitors.
It can gain a foothold in the U.S. with the help of the American tobacco company. Therefore, this case puts Cronos in a good position once federal legalization finally happens. If the company is able to dominate the American national market—if it does ever open up—, Cronos has a strong potential to expand its business around the world easily.
Altria's Investment in Cronos Company Confirms Promising Future of Marijuana
The deal has received a positive market reaction, with the share price of Altria Group moving 2 percent higher in early trading. It was on a day when where the overall market was selling off, with the S&P 500 index dropping more than 1 percent. As for Cronos, it traded on levels it hasn't seen since September. Even other Canadian marijuana stocks—Canopy, Aurora, Tilray and Aphria—all surged on the morning of the announcement of Altria's investment in the Cronos company. This fact indicates that investors are optimistic about the partnership.
One of the most noteworthy implications of Altria's investment in the Cronos company is that more than the hype, there are concrete opportunities within the legal marijuana space. Altria's investment in the Cronos company also signals that other major deals could be on the way. Such partnerships as that of what the Cronos company and Altria Group have can pave the way for significant value creation in the years ahead. We can definitely expect bolder moves and bigger impacts in the future of the burgeoning cannabis industry. Will we see a Altria and Cronos merger? Only time will tell.
Sources:
A Grand Slam For Cronos Group
Wall Street's top pot analyst loves Cronos deal for Altria: 'Unique entry into cannabis'
Cannabis Company Cronos Group (CRON) Receives $1.8 Billion Strategic Investment from Altria Group (MO)
Cannabis Firm Cronos Soars 21.7% on $1.8B Investment From Marlboro Maker Altria
Marlboro owner Altria invests $1.8 billion in cannabis company Cronos