A global report on diabetes a decade ago predicted that the disease would reach epidemic proportions before we know it. People predisposed to diabetes ideally had to take consequential measures to keep it at bay, or, with heightened optimism, reverse the threat of it developing. Doctors and health experts could only hope that people would make swift changes to what they're putting on their plates, to give up the sedentary lifestyle totally, and to take time understanding diabetes and its consequences. However, with more than 422 million people who have diabetes today, we're looking at a continuing, debilitating health problem. The World Health Organization (WHO) has labeled diabetes a priority in its four noncommunicable diseases (NCDs).
Better outcomes don't rely on diabetes being treated using medication alone, but on interventions that include diet, physical activity, and blood glucose control, among others.
"Bold Business is committed to supporting the worldwide health community with our health series covering how our gut health and diseases like diabetes are linked. We also acknowledge how some creative companies are committed to identifying better diabetes treatment and prevention measures. From new healthcare models to revolutionary diabetic treatments, we know there is hope," John R. Miles Associate Publisher.
Despite the concern the global report on diabetes generates, it is also serving as a stimulus for business innovations.
Advanced Technology Providing Breakthroughs in Diabetic Treatment Products
For individuals with diabetes, managing blood sugars can be challenging. This is especially true for those requiring diabetic treatments with insulin. However, several companies have improved the ability to monitor glucose continuously. And others have been able to create an artificial pancreas for even better diabetic treatment control.
Abbott – The company offers its FreeStyle Libre Flash, a highly calibrated, fingerstick-free continuous glucose monitor to help diabetics track their glucose
Medtronic – The business's new product Guardian Connect requires only a smartphone for continuous glucose monitoring. In addition, Medtronic offers an artificial pancreas called the MiniMed 670G. This device continuously monitors glucose and administers necessary insulin diabetes treatments as needed
Companion Medical – Its new InPen is a smart insulin pen that keeps track of all diabetic insulin treatments
Insulet – This company will soon introduce a "tubeless" artificial pancreas to the diabetes treatment market
Dexicam and Google's Verily – A partnership developing an extended wear disposable blood glucose sensor
Senseonics – The business plans to soon release a 90-day implantable glucose sensor for better diabetic treatment and management
Each of these companies has utilized new technologies to enhance diabetic treatment options of care. These include smaller and more accurate continuous glucose monitoring devices.  It involves more innovative insulin administration devices, software applications, and cloud technologies. These novel ideas are likely to make a very favorable impact on the future global report on diabetes.
AgeX Therapeutics' Cell Therapy as an Innovative Diabetes Treatment
In addition to technology and new healthcare models, science is also playing a role in advancing diabetes treatment. The involvement of AgeX Therapeutics lies in creating regenerative cells. The introduction of regenerative cells to the body help maintain its youthful metabolism. In doing so, the development of diabetes could become less and its management better.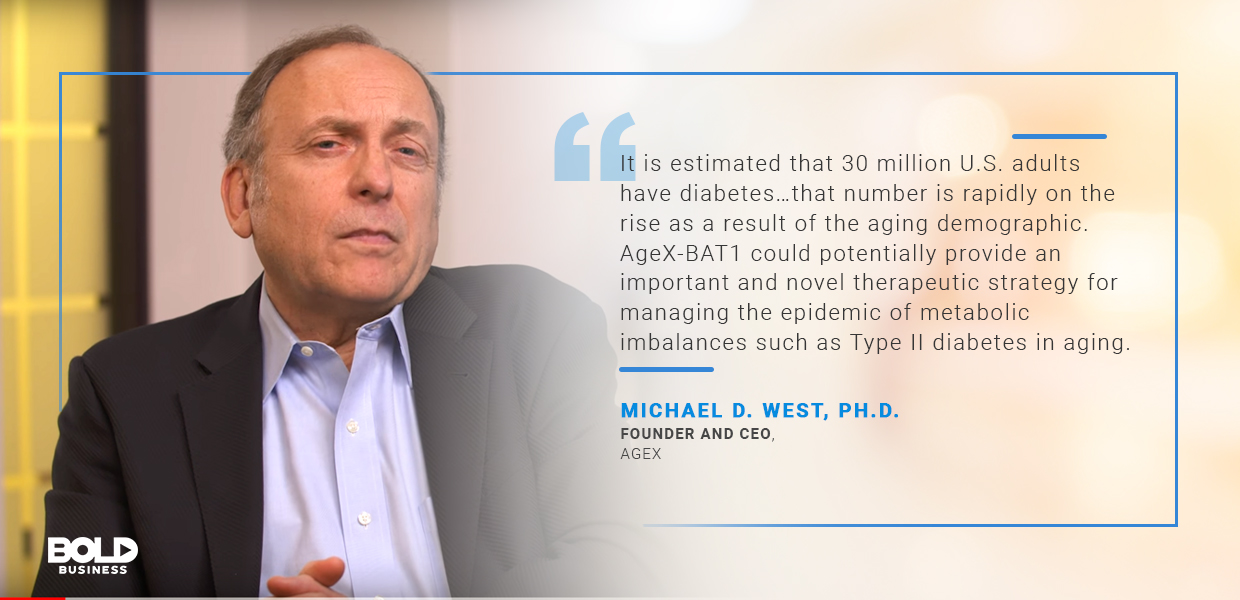 In essence, AgeX's recently developed regenerative cells go by the name BAT1. The "BAT" stands for brown adipose tissue, better known as brown fat. Unlike white fat, brown fat responds better to insulin and provides a more stable energy metabolism. But it also declines as we age leaving other types of adipose tissue that are a higher risk of causing diabetes. AgeX supports that an anti-aging injection of BAT1 can help return brown fat levels to that of young adults. In this way, it could be used as a diabetes treatment or prevention.
Hope for Improving the Future Global Report on Diabetes
In the U.S. today, medications for diabetic treatment topped the list of pharmaceutical advertisements. Companies spent over $725 million last year on the promotion of diabetic treatment medications. This clearly supports the diabetic epidemic that the current global report on diabetes identifies.
Without question, current healthcare approaches must change to overcome the existing diabetes epidemic. And it will require more than simply a new pill or public service announcement.
From new technology devices to scientific breakthroughs, to revolutionary changes in healthcare delivery—there is definitely hope. The commitments these companies are giving us helps us to know that there will be future changes in the global report in diabetes, and this time, it will be one with a significantly decreasing number of diabetes cases.