Though healthcare may be late to the game, there is little doubt that digitization is rapidly occurring in the sector. Fueled by demands created by the COVID-19 pandemic, healthcare strategies had little choice but to adapt. Certainly, electronic health records were already in place. But telehealth services had to rapidly evolve to accommodate lockdowns and infection risks. At the same time, the ever-increasing burden of rising costs has similar forced new considerations. Understanding this, one of the notable shifts in recent months has been the presence of gamification in healthcare. Not only does gamification for wellness embrace digital strategies. But it also is placing a greater portion of responsibility on patients.
In short, gamification simply refers to introducing game-like features into non-game areas. Often, games offer rewards and sometimes penalties, which can grab users' attention. Gamification in healthcare strategies thus hope to better engage patients and to encourage them to adopt healthier behaviors. Ideally, these games can be used as a way to augment fitness. (Read more about how augmented reality is augmenting fitness in this Bold story.) But there remains a great many questions about the best approach and design. Many believe gamification for wellness has significant potential in improving healthcare outcomes and reducing costs. But thus far, the jury is out as to whether this approach will yield a large enough impact to make a significant difference.
"Wearable devices and digital weight scales are increasingly being adopted…these technologies are powerful when combined with behavioral science to guide people toward better habits and better health." – Kevin Volpp, M.D., Director of the Penn Center for Health Incentives and Behavioral Economics
The Push for Gamification in Healthcare
It's no secret that healthcare costs continue to rise in the U.S. Healthcare expenses account for 18 percent of GDP in the nation presently. Likewise, aging of the population and increasing longevity are cause the prevalence of chronic diseases to increase. By 2025, it is estimated that more than half the population will have at least one chronic illness. This not only means a reduced quality of life for the majority of Americans. But it also means more frequent utilization of healthcare services on a regular basis. Because of this, the healthcare system overall is increasingly placing a greater responsibility on patients. And this is where gamification for wellness comes into play.
In terms of statistics, the numbers for patient compliance with medical advice aren't great. Each year, non-adherence to medical recommendations account for $100 billion in additional healthcare spending. Likewise, this also accounts for an additional 100,000 deaths annually as well. The challenge in reversing these trends requires strong engagement of patients to make better choices. Gamification in healthcare has this potential, especially with increasing expenditures on digital health. In the last 2 years alone, the amount spent on digital health tools has quadrupled. For 2021, spending in this area is approaching almost $30 billion. This sets the perfect stage in pursuing gamification for wellness strategies.
"Gamification is commonly used in wellness programs and smartphone apps, but often is not designed to incorporate insights on how people behave and have not been well-tested over longer periods." – Mitesh Patel, M.D., Director of the Nudge Unit at University of Pennsylvania
Best Practices in Gamification for Wellness Approaches
Over the last few years, there have been an increasing number of research studies exploring gamification in healthcare. Combining behavioral economics concepts like loss aversion and behavioral rewards, some notable insights have been gained. Games that result in some type of loss to the patient when a behavior isn't performed are the most impactful. For example, patients might be given a set amount of tokens at the start. Then, if they fail to adhere to medical advice, they risk losing those tokens. This approach result in much better response rates than reward-only games without any risk of loss.
In addition to tapping into loss aversion strategies, there are other best practices when considering gamification in healthcare. Games that require opting-out instead of opting-in have been shown to promote greater patient engagement. In a study of diabetics, this feature alone increased adherence from 13 percent to 38 percent. Also, allowing patient to participate in their own goal-setting similarly promotes better engagement. And accountability measures also can boost gamification for wellness results. Having patients pledge participation in writing or being held accountable by family and friends is powerful. Based on research thus far, these gamification for wellness strategies look to yield the best results.
"The world of mobile and digital health has created an environment where rolling these programs out is easier and more interactive. Time will certainly tell in how these incentives can be used to in equitable and sustainable ways." – Anish Agarwal, M.D., Researcher at Perelman School of Medicine, University of Pennsylvania
Current Gamification in Healthcare Businesses
In today's current environment, there are a handful of companies already offering gamification in healthcare applications. In each case, they combine various rewards and, in some cases, setbacks, in an effort to incentivize healthier behaviors. For example, Paceline allows consumers to link their credit or debit card to their Paceline account. Every time they receive a fitness reward, they can then claim wellness rewards on select purchases. Sweetcorn takes a similar approach in converting wellness behaviors into purchase discounts. However, it hopes to actually create its own "fitness currency" in the process.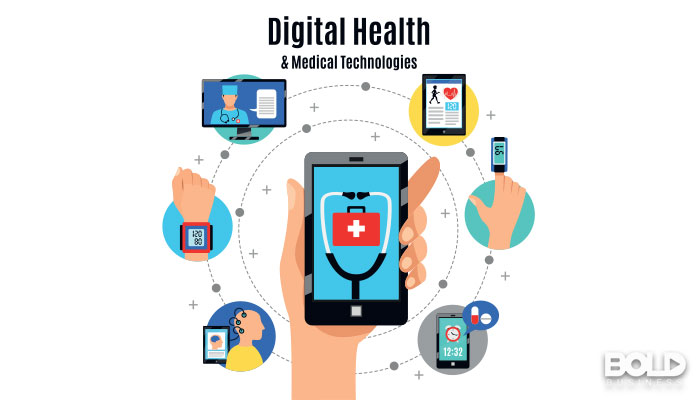 Other companies are approaching gamification for wellness on the healthcare administration side of things. For example, Betterfly lets consumers leverage healthy habits into charitable donations or embedded insurance protections. (Can embedded insurance protections fix the coverage gap? Read more in this Bold story.) Sempre Health reduces consumers' out-of-pocket costs when they adhere to medical advice. And Wellth provides direct financial rewards for things like on-time prescription refills and regular monitoring tests. As is evident, no single strategy for gamification for wellness is being adopted. But as these companies gather data, it's likely that some approaches will be more fruitful than others.
Patient-Centric and Dis-Aggregated Healthcare
Gamification in healthcare definitely aligns well with trends toward patient-centric care. Understanding that adherence to medical advice is essential for better value outcomes, responsibilities are shifting toward patients. But at the same time, healthcare is experiencing a type of disaggregation similar to the financial industry in the past. Apps and platforms gradually dissected the banking industry, offering specific services in payments, lending and investing. This now seems to be occurring in healthcare with gamification for wellness reflecting one example. Specifically, gamification in healthcare appears to be tackling adherence and prevention issues at a consumer level. Given how this has been effective in other sectors, it's therefore likely that gamification in healthcare will persist. It's simply a matter of determining how to best utilize this approach to address the challenges today's healthcare system pose.
Want to leverage offshore capabilities for business process outsourcing? Bold Business has you covered.