Partnership Hopes to Bring Breakthrough Epidural Stimulator Technologies to Millions
Spinal Cord Injuries (SCI) have left people paralyzed and traumatized for a long time. The Christopher and Dana Reeve Foundation ("Reeve Foundation") spent over $130,000,000 searching for answers to this debilitating condition. It built large awareness for its cause. And now, after 25 years of research and trials, the Foundation has made a giant step forward towards implementing a plan that may finally make large impacts on those with this serious condition.
The answer: Develop, with partners, commercially an epidural stimulator that creates breakthrough improvements in walking, limb mobility, and organ functions. Eventually the Reeve Foundation hopes to bring this breakthrough to millions through a unique partnership with the Presidio Venture Partners and NeuroRecovery Technologies, Inc.
Idea Phase: Looking for Answers and Research
Bold Business CEO Ed Kopko, in exclusive interviews, sat down with key leaders of the Reeve Foundation to discuss the Foundation's exciting next steps. Henry Stifel III, Vice Chairman of the Board and Peter Wilderotter, CEO and President of the Reeve Foundation were both genuinely excited about the new era for the Reeve Foundation.
Stifel, who was the first namesake of the Foundation, and whose story is told in Ed Kopko's book "Project Bold Life: The Proven Formula for Taking on Challenges and Achieving Happiness and Success", explained, "The Reeve Foundation funded research at many fine Universities over the years. The work done at Cal Tech, UCLA and University of Louisville led to the creation of tests and research on epidural stimulation." It was out of this research that the breakthrough would come.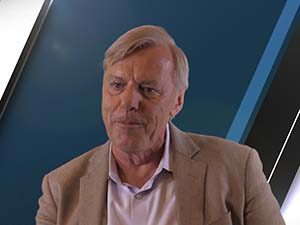 The role of the Foundation, for the past 20 years, according to Wilderotter, was research. "If you think about the not-for-profit sector, it really exists to do what the governments can't do and the market is not interested in," said Wilderotter. With its fund-raising capabilities, the Reeve Foundation funded research in spinal cord injury (SCI), a condition that impacts over 5 million people worldwide. It was risky research that did not have a clear path to results. Tirelessly raising funds and seeking answers for over 20 years, the Foundation's quest eventually led to a research breakthrough.
Action Phase: An Unprecedented Breakthrough: Epidural Stimulation Yields Exciting Results
The Reeve Foundation found cause for hope with epidural stimulation. The first four participants in a study, conducted by Dr. Reggie Edgerton (UCLA) and Dr. Susan Harkema (University of Louisville), showed surprisingly strong results. Epidural stimulation is the application of a continuous electrical current, at varying frequencies and intensities, to specific locations on the lower part of the spinal cord. It involves an implanted microarray over the dura of the lumbar cord. It is believed that epidural stimulation reawakens the nerve networks in the spinal cord.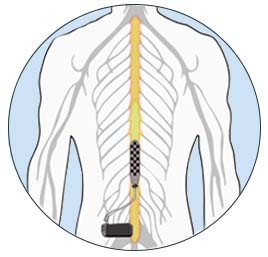 The first four participants in the experiment have not yet achieved the stepping goal, as originally hoped. They did achieve the ability to bear weight and recover voluntary movements in the legs, hips, knees, ankles and toes in the early stages of the trial. According to Stifel, "the first trial was limited by our use of an off-the-shelf stimulator. It was a stimulator used for pain management, not for varied spinal cord stimulations. We are very encouraged that such a basic device yielded such results."
The first trial using the Epidural Implant stimulator was conducted between 2011-2014, inspired all involved. According to Harkema, who is also director of the Christopher & Dana Reeve Foundation's NeuroRecovery Network, "We've opened up a whole new knowledge base of understanding that is going to lead us to even more discovery." Because of the success of the Epidural implant, the Edgerton team also raised the idea of a second, more commercially feasible, form of neuromodulation. The Transcutaneous Modulator is an over the skin stimulator that eliminates the need for an epidural implant.
More Action: The Foundation Turns to Private Business to Create a Specialized Stimulator
Inspired by the results of the first trial and the possibility of two very significant neuromodulation methods, the Foundation was motivated to accelerate its work. The prize of completing its mission and finding cures for spinal cord injury now seemed even more possible. The Foundation creatively turned to private business for help in bringing a commercially viable cure to the millions impacted by SCI. According to Wilderotter, The Foundation turned to Presidio Partners and jointly created a new entity, which formed NeuroRecovery Technologies (NRT) in November of 2016.
According to the Presidio Partners website, "NeuroRecovery Technologies is a new, cutting-edge medical technology company focused on the design and development of devices and applications to help restore function & movement in patients with paralysis. Our current technology evolved from collaborative research between The University of California Los Angeles, The California Institute of Technology, and The University of Louisville.
NeuroRecovery Technologies is dedicated to developing disease and injury specific devices to help restore optimal physiological function to damaged neural circuits and their target end points. Our goal is to commercialize and make readily available new technological advancements in medical devices, complemented by good clinical practices, which bring about the recovery of neuromotor and sensory function of the brain and spinal cord."[1] SEC filings[2] show NRT was funded as the Reeve Foundation – Presidio Partners NRT, L.P. and formed in 2016. It is owned by the Foundation through a special purpose vehicle (SPV) that enables the Foundation to maintain its not-for-profit status. Initial funding was for $2.460 million yet Wilderotter said Reeve funding has increased to over $ 4million with a goal of $8 million by mid 2018.
Why Private Business is Important to The Reeve's Foundation Goals
In addition to limitations of the initial stimulator, the Reeve Foundation knew that successfully bringing this technology to market and worldwide adoption requires much-specialized expertise. Manufacturing, research, marketing, cost management, distribution and regulatory clearances are just some of the disciplines needed. Wilderotter said, "The Bold Idea we had was that we were going to lean forward, put money on the table and direct it. We know we could not do this ourselves. The complexities of developing a specialized stimulator and getting it FDA approved, built for SCI and successfully marketed is beyond our scope of talent. Our goal is to cure spinal cord injury and working with NRT is our best hope to do so. This is one of the most exciting things out there."
Why NRT?
People with know-how and expertise to manage a medical devices company startup were needed. Lots of capital will be needed. To make an impact, the foundation could not do it alone.
Established in 2011, NRT is led by CEO and Co-Founder, Nicholas Terrafranca, Jr., a serial entrepreneur with 27 years of experience in the various disciplines of the Life Science Industry touching upon every facet in the healthcare delivery system from clinical practice, and product development to healthcare provider programs. Founder & CEO Freedom Health, LLC; Co-founder and CEO Spectrum Mobile Diagnostics; Medical Director Medisens Wireless.
NRT's COO, John Fischer also has significant industry experience. Prior to joining NRT, Mr.Fischer was Director, Program Management of Cameron Health (acquired by Boston Scientific), where he led multiple product development efforts that delivered Class II and Class III medical devices to domestic and international markets. Prior to Cameron Health, Mr. Fischer held various management positions in Operations, R&D, and Program Management at St. Jude Medical's Cardiac Rhythm Management division.
One of the Board members of NRT is Jay Shepard, who also serves on the Board of The Reeve Foundation. Mr. Shepard's experience and background will further enable collaboration with the Reeve Foundation and NRT. Shephard stated, "We are excited to see 2 very significant products in the area of Neuromodulation being developed to help people with paralysis.
Moving to Impact: More Work Ahead
With the NRT/ Presidio partnership, the Foundation is actively raising funds and funding more trials to accelerate the epidural stimulators' adoption. A new trial has been started and NRT is starting on its journey of commercially developing these exciting medical devices. The path to commercially develop specialized stimulators will be challenging and risky. There have been other stimulators that have now been tried by others outside of the U.S. FDA approvals can take a long time and add to costs. Part of the reason for partnering with Presidio was to add the talent needed with the knowledge and experience to maneuver through these challenges and possibly open new applications for others. Stifel stated, "This technology has potential beyond SCI. It may have applications to victims of stroke, cerebral palsy and even Parkinson's disease. Our work could lead to many more breakthroughs!"
Bold Business applauds the work and foresight of the Reeve Foundation. Its partnering approach gives it the best chance for making the large societal impact of curing SCI. The Bold Business Societal Impact Curve™ shows the journey of how ideas and actions ultimately impact the world. After 30 years, the Reeve Foundation is on the verge of breaking into the high impact phase of its mission. From the chart below you can see there are still some important steps to take in order to meets its goals.
We look forward to reporting about further successes in its journey. The journey from Bold Idea to Bold Action leading to Bold Impact can be a long and challenging one. The Reeve Foundation has shown for over 30 years an amazing tenacity. The Reeve Foundation, Presidio and NRT are entering a very exciting chapter in pursuit of the noble goal of curing SCI.
[1] http://presidiopartners.com/portfolio/neurorecovery-technologies/
[2] https://www.sec.gov/Archives/edgar/data/1688986/000168898616000001/xslFormDX01/primary_doc.xml
Ed Kopko
Mr. Kopko is the CEO and Publisher of Bold Business and formerly served as CEO and publisher of Chief Executive Magazine. Ed has been a prolific writer and commentator on business matters with articles appearing in numerous outlets including The Wall Street Journal and Forbes and with regular TV and radio appearances on CNBC, Fox News, MSNBC and other media outlets. Ed holds an M.A. in Economics from Columbia University.