It's no secret that technology is driving incredible change in nearly every industry today. However, the technological evolution of the healthcare sector has been one of the slowest to respond — and for a good reason. Poor system interoperability increased privacy requirements, and excessive costs are among the biggest obstacles healthcare leaders face. The most adept leaders have struggled in these situations to realize positive change. Not Angela Yochem, though. Named Novant Health's Chief Digital and Technology Officer in 2017, Angela embraces this challenge. Her capacity to excel in such a formidable environment – as well as her willingness to take risks believe in others, and challenge the status quo – makes her a very bold leader.
A Rich Background of Diverse Leadership Experiences
She may have gotten a bachelor's degree in music, but it was a pivot to computer science and her subsequent master's degree in the field that started Angela off on her bold leadership path. Soon, she was moving from one executive spot to the next, making her mark on Dell (where I had a chance to work with her side-by-side), AstraZeneca, Rent-A-Center and BDP International. She is able to seamlessly jump from not only different companies but completely different industries.
These past experiences prepared Angela for her current position at Novant Health. As one of the nation's most innovative health systems, Novant Health saw tremendous potential with her on board. Today, her bold leadership is fueling exciting changes in the health system's digital technologies.
Bold Leadership with a Belief in Others
One of Angela's key pursuits at Novant Health involves promoting interdisciplinary teamwork. Through innovative digital technologies, her bold leadership is connecting healthcare professionals. At the same time, Angela is developing more effective ways to engage and connect with patients. These types of digital media solutions make Novant Health an industry leader of tomorrow. By empowering others, Angela strives to attain the resource utilization advantages that diversity and inclusion bring.
Of course, her bold leadership qualities of empowering others extend well beyond her role at Novant Health. Angela is very active on numerous corporate boards throughout her career. Likewise, she shares her bold leadership experiences by mentoring and guiding entrepreneurial startups in Silicon Valley. Angela's natural confidence in others and ability to empower them reflects on her major bold leadership practices.
Balancing Risk, Resources, and Research Innovations
A key trait of bold leadership involves taking risks and challenging the status quo. But at the same time, bold leadership does so through effective change management and with an eye on objective results. Rather than waiting on digital technology to fit an existing need, Angela constantly searches for new innovations. Change is ever-present in her mind.
Though happy to embrace change and innovation, Angela does so logically and responsibly. In fact, her approach to new technology at Novant Health reflects these bold leadership traits. Traditionally, new technology ideas would be considered through third-party vendors and take months to evaluate. This not only wasted valuable time, but it also misused valuable resources. Angela instead introduced "experimentation as a service" to Novant Health. New technologies are evaluated immediately on a smaller scale to determine if they are feasible as larger deployments. This bold leadership approach creates a much more efficient and effective R&D system for enterprise innovations.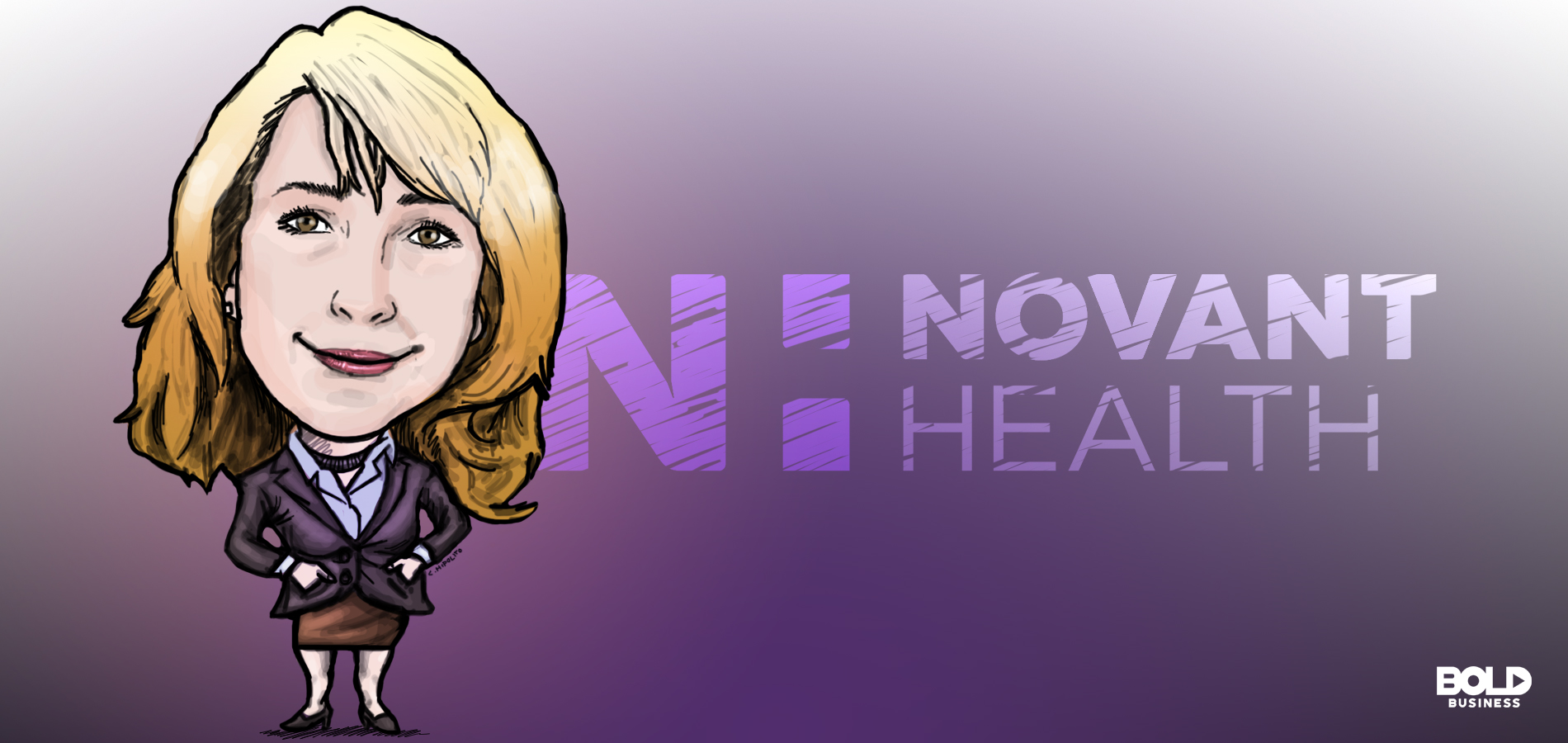 An Interview with Angela Yochem
I recently had the opportunity to interview Angela, and we discussed her bold leadership style in detail.
John R. Miles: What do consider are the traits that make a leader bold?
AY: Bold leaders:
Recognize opportunities and are willing to seize them
Enable resiliency and adaptability
Promote a culture of inquiry, learning, inclusion
Create constructs that allow for broad experimentation
Pursue the right kind of excellence at the right time
Understand that organizational constructs are artificial boundaries – we are all partners, working to solve difficult problems and serve our communities
JRM: What trait is the most important?
AY: Enable resiliency and adaptability – bold leaders need to create a culture of resiliency due to the rapid change and innovation that comes from being bold in your leadership.
JRM: I had the pleasure of working with you at Dell and was able to witness your leadership firsthand. You were really able to influence both up and down the chain of command. It is a difficult thing to do. What is your secret?
AY: Thank you for the compliment. I think that my natural desire to understand the perspectives of our colleagues up and down the chain of command helped me influence. Recognizing the different contexts in which our colleagues were working helped me build strategies to deliver on our collective objectives, not just my own. As a result, we were able to win together rather than competing for funding, resources, or even recognition.
JRM: You and I have known each other a long time and worked together in very trying situations. I have always admired your use of empathy in handling situations. Can you discuss with me the importance of empathy in Bold Leadership?
AY: Empathy is tremendously important, and not just in the classic case of promoting effective teamwork. If we can put ourselves in the shoes of our customers (patients), partners and community members, we can best anticipate how they want to be engaged, how they want to be served, and how the decisions we make may affect them.
Regardless of the type of business a leader is in, their products and services are ultimately serving people. The markets in which they operate are driven by the behaviors of people. The ability and willingness to understand and consider the ultimate stakeholders in every scenario can be a significant differentiator for leaders.
JRM: Microsoft CEO Satya Nadella was also recently featured in our Bold Leader Spotlight. In his book "Hit Refresh," he discusses empathy as a key to sparking innovation. Do you agree with this and if so why?
AY: Great point! Innovation often happens when we radically shift our thinking about solutions to known or emerging problems. What is more radical than putting ourselves in the shoes of someone else? Seeing things through their eyes, appreciating their experiences, and understanding their perspectives? Yes, this sort of empathetic behavior is absolutely a trigger for innovative thought. The secondary effect is, of course, that we can more easily build strong diverse teams, which we know can lead to more rapid innovation.
JRM: Oftentimes leaders see humility as a weakness. Do you think humility is an important trait as a leader?
AY: Humility may be one of the most important traits of bold leadership. How else can leaders learn quickly, if not through asking questions and engaging with people who are expert in areas we're not? How else can we connect with our teams, encouraging them to be transparent with us if we show no humility with them? Also, how can we build an innovative leadership team if we don't invite people to think out loud, and challenge each other (and us)? It is difficult to build a culture of learning and trust if we are not willing to humble ourselves occasionally.
JRM: What is your personal passion? How does this manifest itself in your leadership style?
AY: I have a passion for learning, and I expect our team members to be very intentional about learning as well. This promotes adaptability in our organization. I also have a passion for community engagement and it is very rewarding to be able to directly impact the health of our communities as part of my day job.
JRM: If you could have lunch with any leader, who would it be? Why?
AY: That's a fun question! Since you're offering, I'd love to have lunch with Dr. Mary Lou Jepsen. Her work has transformed many established and emerging industries, improved education in global communities, added significantly to the body of knowledge in many areas of study and is respected and followed by discerning people from all walks of life. I admire her capacity for deep, critical and creative thought, and her track record of influence and contribution.
JRM: What advice do you have for our readers on steps they can take to being a bold leader?
AY: Don't hesitate to solve problems for your company (or community) just because nobody's asked you to. Go find the gaps and work creatively with colleagues to fill those gaps. Look for new opportunities for your company to grow, to serve, to engage, and find ways to make it happen. Create your own work groups (buy pizza), your own study groups, create an unofficial team even before you have your own team to help you do great things for your company. Make sure other leaders know what you are doing – not so that you can be recognized, but so that the existence of the gap is recognized and adjustments can be made to ensure no future gap arises. Behave like a leader, and you will become one.