The prevalence of digitalization has been transforming the field of marketing. As such, the leaders who craft the vision, message and strategy of companies have been at the forefront of the shift. Amidst constant disruptions, the Chief Marketing Officer (CMO) can help steer a business forward. The role is challenging and ever-changing. It's not enough for a CMO to simply lead advertising, brand management and market research. Now, the expectations also include differentiating the customer experience while driving measurable growth. Likewise, CMOs must integrate the marketing strategy with the organization as a whole, rather than treating it as an isolated function. Instead of backing down from the growing set of challenges that comes with the title, top chief marketing officers rise to the occasion.
What Makes a Bold Chief Marketing Officer?
Undoubtedly, the role of a chief marketing officer has become increasingly important in the C-suite. One portfolio analysis from 2013 supports this fact. The study showed that stocks of companies with a CMO led to higher long-term returns than portfolios without. Moreover, there were magnified results for businesses with relatively high advertising spend.
Top chief marketing officers are also leaders of innovation. They influence a broad range of business operations. While success as a CMO cannot be reduced to a formula, there are some traits that top marketing executives share.
They have strategic leadership skills coupled with an intensive customer focus. Likewise, they can foster results-driven engagement. Top chief marketing officers also have a strong desire to learn and improve continuously. At the same time, they maintain the discipline needed to turn their ideas into reality. All these traits allow top chief marketing officers to come up with bold strategies that grow their company.
The Bold Business staff conducted comprehensive research to develop our list of Top Chief Marketing Officers. Each CMO in the roster fits the following description:
1. He or she has one or more characteristics of a bold leader.
2. He or she has led marketing efforts and campaigns that exhibited one or more of these attributes:
Stand-out creativity and storytelling
Effective integration of multiple channels
Proactive response to a brand crisis
Transformation of the brand image through rebranding efforts
Delivery of messages that highlight pressing societal issues
3. The company he or she belongs to has experienced growth in either revenue, shares, profit or engagement during their term.
4. The CMO (and their related business) has a focus on making positive societal impacts and advancing Corporate Social Responsibility.
We looked at hundreds of businesses and using these criteria are highlighting the following top chief marketing officers in businesses below.
Bold Business Lists 20 of the Top Chief Marketing Officers Today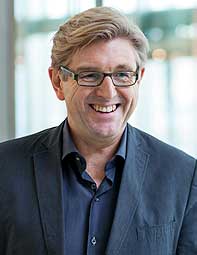 For Keith Weed, there's much to do in shaping responsibility in the digital world. According to him, "We need to build brands with purpose. We need to go from 'marketing to consumers', to 'mattering to people'". This advocacy is the kind of legacy that he wants for his career as a CMO. "I hope what I've been able to do is lead in a positive way, and a way that is positive both for the business and society."
Keith Weed
Chief Marketing and Communications Officer, Unilever
Advocating better standards in the industry
Keith Weed is one of the most influential global marketers today. The Chief Marketing and Communications Officer has led Unilever's marketing, sustainability, and communications for nine years. He gained recognition for advocating better standards in the industry, particularly in digital advertising. Weed urged digital media giants to consider three V's as transparent metrics of ad success. The V's are viewability, verification, and value. Under his leadership, Unilever launched the #unstereotype movement to remove negative stereotypes from its ads. Weed also encouraged other top chief marketing officers to follow suit, co-founding the Unstereotype Alliance with UN Women, which now includes 35 companies. When asked about his proudest achievement, Weed says it's how he helped Unilever drive profitable growth while building the business case for sustainability. He is currently focusing on what advertisers need to do to promote trust across the industry.
"Today is no different; we continue to lead, innovate and transform our business to meet the needs of our consumers." As a catalyst for change, Muriel Lotto believes that embracing change is critical to marketing success.
Muriel Lotto
Global Head of Brand and Marketing, Western Union
Supporting those who want to make a difference
Digitizing a 165-year-old brand is no easy task. Muriel Lotto has taken on the challenge as the Global Head of Brand and Marketing for Western Union. She's in charge of developing marketing strategies underpinned by solid measurement and analytics. Muriel is also one of the winners of the 2018 CMO Awards for the Marketing Innovation category. One of Western Union's most notable campaigns under her direction is the 'Chain of Betters' initiative. Through the campaign, Western Union funded projects that focused on making lasting positive change for individuals and communities. When it launched in 2015, the campaign received more than 3,200 total entries from 57 different countries. Moreover, the films that documented the entries generated nearly 200 million views with over 11 percent engagement on Facebook compared to 1 to 2 percent category average. Her focus is now in converting this top of funnel engagement into business results, by reframing the brand from being a retail brand with an app to a digital brand with a retail footprint.
According to Raja Rajamannar, constantly taking advantage of technological advancements is a must. "New technologies and capabilities are emerging at a tremendous pace. And they bring unique challenges with them, as much as opportunities," he said. "You need to stay on top of these, else the risk of obsolescence is real!"
Raja Rajamannar
Chief Marketing and Communications Officer, and President of Healthcare Business, Mastercard
Leveraging technology while contributing to global issues
Raja Rajamannar—who has been recently named as World Federation of Advertisers' (WFA) Global Marketer of the Year for 2018—has been helping Mastercard thrive in a digital world. Aside from being the president of the company's healthcare division, the Chief Marketing and Communications Officer has been reinventing the Mastercard brand through the digital age. He has led the evolution of its visual identity through to its bold and current status as symbol brand, as well as its most recent advancement in the unveiling of its sonic brand—a complete and comprehensive sound architecture that takes into account geographies, platforms and environments. Rajamannar also champions experiential marketing through Mastercard's 'Priceless' campaign. More than a creative concept, Rajamannar has led the evolution of priceless from a traditional advertising campaign into a holistic experiential marketing program,  that today brings to life unique and exclusive experiences for its cardholders. The division reduced the number of campaigns running globally at any one time and segmented into four areas. As a result, the messages became more targeted and manageable. One of the segments, Priceless Causes, has contributed to solving challenges such as cancer and hunger. The influential CMO is also part of several other lists that highlight top chief marketing officers, such as the 2018 Top 5 World's Most Influential CMOs by Forbes.
"A brand isn't what a communications program says it is," Delta CMO Tim Mapes stated. "A brand is what customers experience. For a service business like ours, that experience is defined by our 80,000 employees and their efforts to connect with our customers on a human level."
Tim Mapes
Chief Marketing Officer and Senior Vice President, Delta Air Lines
Empowering employees and inspiring innovation
With Tim Mapes' help, Delta has been innovating in the customer experience and digital spaces. As a chief marketing officer, Mapes handles the airline's digital channels. He has also helped developed the Delta One Suite, the world's first all-suite business class. Moreover, Mapes has led the brand's community engagement efforts and sustainability partnerships. Among such programs is an initiative to offset carbon emissions through tree-planting. Mapes believes that effective branding lies in empowering employees to provide the best service to customers. Additionally, he has received a few awards as one of the top marketing executives. The American Advertising Federation has inducted him to the Hall of Achievement for his notable marketing initiatives.
Chris Capossela believes that the measurements of growth are not what they used to be.
"We'll know we're making progress in adopting a growth mindset when Microsoft is more customer-obsessed than we are today, when Microsoft is more diverse and inclusive than we are today, and when Microsoft behaves more like a single company as opposed to many small companies under the same stock symbol."
Chris Capossela
Chief Marketing Officer, and Executive Vice President of Marketing and Consumer Business, Microsoft
Helping others embrace a new mission and vision
As one of the top chief marketing officers, Chris Capossela leads a global marketing organization with billions at its disposal. He has been helping CEO Satya Nadella in communicating Microsoft's mission. That mission is to "empower every person and every organization on the planet to achieve more". Capossela and his marketing team are helping both internal and external stakeholders embrace the big picture or vision. The chief marketing officer has also helped the company transition from a 'know-it-all' culture to a 'learn-it-all' culture. Additionally, Capossela pushes for diversity across Microsoft's different divisions. For him, it's one of the primary measurements of progress in adopting a growth mindset. Capossela's efforts prove that a CMO's impact on other business aspects can help strengthen brands.
During the Association of National Advertisers' Masters of Marketing Conference, Kristin Lemkau described the complex role of a CMO. According to her, a CMO is "a data scientist, a psychologist, a media planner, a technologist, a media buyer, and a revenue producer".
Kristin Lemkau
Chief Marketing Officer, JPMorgan Chase
Advancing measurable growth and compelling content
Kristin Lemkau is one of the top chief marketing officers actively tackling issues of ad fraud. She notably reduced the number of sites that JPMorgan advertises on from 400,000 to 10,000. For Lemkau, less visibility was better than wrong visibility. Moreover, Lemkau pushes her own team to think in terms of KPIs, rather than brand awareness. Accordingly, she directs the brand's marketing budget towards the development of an in-house data and programmatic team. For Lemkau, one of her career highlights was working on the viral JPMorgan ad that featured Serena Williams. It garnered praise for its powerful and realistic portrayal of a working mother. The CMO leads the creation of other compelling, non-interruptive content series as well. To read more about Kristin, read our bold leader spotlight on her.
Kelly Bennett believes that effective targeting lies in understanding different emotions that different audiences have. "I create advertising that forms an emotional connection with people globally—my boss has referred to my job title as 'Chief Emotion Officer'," he said. "Advertising in countries in Europe versus Latin America varies. One size doesn't fit all."
Kelly Bennett
Chief Marketing Officer, Netflix
Providing thrilling experiences through stand-out creativity
Over the past few years, Netflix has made waves with its meteoric growth. Its Chief Marketing Officer Kelly Bennett plays a big role in the company's success. He's in charge of global marketing and social media across 150 countries. Under his leadership, the streaming giant has been promoting its series through thrilling experiences across digital, mobile and out-of-home media. As such, Netflix produces incredibly creative trailers for upcoming seasons. It also creates clever social media accounts for the characters from the series. As one of the top chief marketing officers, Bennett has helped the brand win awards. The activation for the "House of Cards" series bagged an Integrated Grand Prix Award at Cannes Lions 2016. It utilized a Republican presidential candidate debate on CNN to launch the fictional campaign of the series' main character. In doing so, it effectively leveraged the current culture to draw in viewers.
"Great brands are built to stand the test of time—and great brands begin with purpose." As a marketer, Antonio Lucio has a purpose is to promote diversity and inclusion. According to him, "Diversity and inclusion has to move out of the HR Department and become a true business imperative."
Antonio Lucio
Global Chief Marketing Officer, Facebook
A champion of diversity ready to take on bigger challenges
Before joining Facebook, Antonio Lucio was the Global Chief Marketing and Communications Officer at Hewlett Packard. He helped reframe the company's vision and mission. Lucio also transformed HP's marketing and communication approach. During his term, the company's total valuation increased by over 50 percent. Moreover, he drove one of the company's most important initiatives: diversity and inclusion. Lucio led a systemic change to increase the number of women and ethnic minorities in leadership roles. Now serving as Facebook's Global Chief Marketing Officer, Lucio faces bigger challenges. He has the responsibility of repairing the company's reputation in the face of recent crises. As one of the top chief marketing officers in the world, it's noteworthy to see how he handles the new role.
For Jill Cress, one of the keys to maintaining brand relevance is tapping into people's curiosities to tell compelling stories. "As people, we're all inherently curious. And curiosity matters more than ever in storytelling today."
Jill Cress
Chief Marketing and Communications Officer, National Geographic Partners
Taking a historic brand into the digital era
National Geographic is one of the few print-first publishers dominating social media—so much so that they're poised to be the first brand ever to amass 100MM followers on Instagram. The effort to bring National Geographic from reverence to relevance has been spearheaded by  Chief Marketing and Communications Officer, Jill Cress. In her tenure at National Geographic, Cress led an overhaul of the 131-year-old brand that has allowed the publisher to meet its consumers where they are – providing them with the content experiences they want on the platforms they want it on. As one of the top chief marketing officers today, Cress' goal has been to embrace innovation while preserving the foundational tenets National Geographic was borne from. To do this, she has led the creation of a number of technology-rich experiences too promote the brand's portfolio of television, print, digital and social content. Moreover, Cress has helped push the concept of the yellow National Geographic border as a portal. Under her lead, the symbolism of the yellow border has been amplified to convey National Geographic's unique ability to take people to places they wouldn't otherwise have the opportunity to visit. Through an excellent omnichannel distribution strategy, Jill is also leading the company to monetize content across platforms. Cress' work has led to her recognition across numerous lists of notable marketing executives.
Diana O'Brien understands firsthand how CMOs need to help stakeholders understand the importance of marketing. "People don't always understand the role marketing can play—the extent to which it can drive growth when structured to do so," she said. "We really had to articulate and demonstrate the benefits, and we had to give everyone the opportunity to be heard."
Diana O'Brien
Global Chief Marketing Officer, Deloitte
Organizational overhaul for a competitive edge
Named as the first ever CMO of Deloitte US in 2015, and then Global CMO in 2018, Diana O'Brien leads the company's marketing function to drive growth and champion the voice of the customer. When she took on the role, she initiated the transformation of Deloitte's marketing organization. To address the complex collection of often redundant efforts, she led the creation of an in-house agency model. The initiative helped save the company more than $10 million in costs within two years of implementation. During her more than 30-year tenure at Deloitte, O'Brien also led the groundbreaking and opening of Deloitte University. Being one of the top chief marketing officers, she intends to leverage tech innovations for further success. O'Brien and her team are looking into how analytics, artificial intelligence and virtual reality can help Deloitte connect better with its clients. Outside the company, the Global CMO runs a charity supporting adults with autism.
"You have to be empathetic. You have to be able to listen to your guest or your consumer, understand their needs, and then be able to develop solutions for them," advises Rick Gomez. According to him, listening means living, breathing and walking in the customers' shoes to be able to provide the best experience possible.
Rick Gomez
Executive Vice President and Chief Marketing Officer, Target Corp.
Breaking barriers with Empathy and Confidence
Rick Gomez has been at the helm of Target's marketing as Executive Vice President and Chief Marketing Officer. His team translates insights from data into real solutions. Gomez also helps Target leverage the power of creativity fueled by data science, automation, artificial intelligence and cross-functional collaboration. Moreover, the CMO works on providing an inclusive shopping environment for Target's customers. Addressing body image challenges, he initiated the expansion of the retailer's women's swimwear offerings by showcasing sizes from 4 to 24.  Gomez also led the #NOFOMO campaign to help women feel confident in their bathing suits no matter what size they are. Moreover, he has broken through glass ceilings as a top-level executive who's also a proud member of the LGBT and Latino communities.
"You need to create a great experience for your customers across every possible area that you have, whether it's your website, your mobile application, your in-store experience," Adobe CMO Ann Lewnes advises. "You need to learn about your customers, you need to not be afraid of digital, digital is your friend, it's a gift to marketing, it's what's put us on the map."
Ann Lewnes
Executive Vice President and Chief Marketing Officer, Adobe
Overcoming brand challenges through technology
Ann Lewnes has been driving worldwide marketing and communication efforts for Adobe. Aside from being a leading design and publishing software provider, the company also offers marketing cloud solutions. Even for top marketing executives, the distinction of the offerings can be challenging when it comes to brand positioning. Lewnes and her team face it head on with robust digital content initiatives. Additionally, she ensures that Adobe's annual summit would be educational and enlightening for industry members. Efforts under her leadership have led to significant improvements in online customer retention, customer engagement and brand loyalty. Moreover, Lewnes oversees the company's Corporate Social Responsibility efforts. Among them is the Adobe Foundation. As one of the top chief marketing officers, Lewnes believes that marketers must have a firm grasp of technology. They must also be adept in technical processes that drive many powerful advertising tools today.
Tom Herbst believes in the power of authentic stories. "The North Face is a brand that is true to its core," he said. "It has real stories to tell, and not only do I think that's important for today's marketing world, it also builds a lot of belief in the product itself."
Tom Herbst
Global Vice President of Marketing, The North Face®
Pushing fearless purpose-driven marketing
The North Face® has made a business commitment to strive for equal representation of women. Global Vice President of Marketing Tom Herbst takes the lead in communicating such commitment. Under his leadership, the brand launched a campaign that aimed to empower the next generation of female explorers. Named "Move Mountains", the global effort also includes a multiyear collaboration with the Girls Scouts of the USA. Moreover, the brand supports female exploration through the Explore Fund grant. Another purpose-driven campaign led by Herbst has been generating buzz for its political slant. The brand's campaign "Walls Are Meant for Climbing" highlights the brand's focus on diversifying the world of exploration. In line with this, the brand posted a tweet that seemed to take aim at President Donald Trump. The tweet featured a video with quotes about overcoming walls—one quote was from the president himself. Forbes also recognized Herbst as one of the top chief marketing officers for leading The North Face® in its fearless marketing efforts.
As a chief marketing officer, Kinjil Mathur is determined to motivate others to action. "…my main objective is to inspire the makers, thinkers and doers of the world to bring their creative business ideas to life with our platform," she stated. "This is what makes me pop out of bed each morning."
Kinjil Mathur
Chief Marketing Officer, Squarespace
Driving growth while pursuing missions that matter
Kinjil Mathur has emerged one of the top chief marketing officers today. With her direction, Squarespace has been using marketing to support missions that matter to the company. Mathur believes that social impact is synonymous to business impact. She led a campaign for Equal Pay Day to raise awareness around issues of pay equity. The initiative brought together a group of inspiring women, such as Bridget Everett, Deun Ivory, and Gloria Steinem. The group talked about their causes and shared personal experiences on the matter. As the CMO of Squarespace, Mathur also aims to inspire customers to bring their creative business ideas to life. She pursues the goal by intrinsically learning about consumers' motivations. Aside from social purpose, Mathur also prioritizes business growth. She continues to work on scaling the e-commerce business without sacrificing brand integrity.
"I would probably read every single comment, I would want to respond to people, I would want to reach out to influencers who are working with the brand and have relationships with them," Ukonwa Ojo said about the importance of having a founder's mentality to push a brand forward. "That's how you stay ahead because if you keep your ears close to the ground, people will share feedback with you."
Ukonwa Ojo
Global Chief Marketing Officer, COVERGIRL and Sally Hansen, and Chief Marketing Officer of Consumer Beauty, Coty Inc.
Leading a brand revolution through diversity and empathy
More emphatic beauty is at the center of Ukonwa Ojo's marketing endeavors. In 2016, she led the overhaul of the COVERGIRL brand with the "I Am What I Make Up" campaign. According to Ojo, the relaunch was the most significant transformation in the brand's 60-year history. Within a year, she was able to turn triple digit market share losses to market share growth. Additionally, Ojo pushed COVERGIRL to develop products that are more inclusive of racially diverse skin tones. Moreover, she credited the success of the campaign to the diversity of the team that worked on it. As the Chief Marketing Officer of Consumer Beauty at Coty Inc., Ojo also helped deliver sales and market share improvements across all brand groups. Her transformative leadership has earned her a spot in several lists of top marketing executives.
For Fernando Machado, not taking risks can be a blunder. "If you just play by the book, it's like trying to survive another day without any excitement or risk," he noted. "Doing that is probably the fastest way to end up with a brand that's undifferentiated, and doesn't stand out, nor connect with the minds and the hearts of people."
Fernando Machado
Global Chief Marketing Officer, Burger King
Boldly venturing into unexpected territories
Burger King has been generating buzz for its creative and daring takedowns of rival McDonald's. Recently, the brand's Swedish operation renamed its sandwiches to poke fun at McDonald's for losing its Big Mac trademark in the EU. But beyond the advertising efforts against competitors, Burger King has been proving its fearlessness by venturing into social and political territory. Behind such undertakings is Fernando Machado. The CMO continues to put Burger King's marketing at the center of pressing issues. These include LGBT rights, bullying and net neutrality. Moreover, Adweek named Machado as Grand Brand Genius for 2018, making him the only person to earn the distinction twice. His growing reputation as an innovator and risk-taker makes him one of the top chief marketing officers worldwide. Notably, Machado also led Burger King in marking its return to the Super Bowl on Feb. 3 after 13 years of the brand not airing an ad during the event.
With years of experience behind him, Phil Schiller knows that making tough decisions is part of being a CMO. "There's a little bit of pain in every transition, but we can't let that stop us from making it. If we did, we'd never make any progress at all."
Philip W. Schiller
Senior Vice President of Worldwide Marketing, Apple
Proven track record of leading innovation
Year after year, Philip Schiller has been part of prominent lists that feature the world's top chief marketing officers. The Apple veteran has contributed significantly to revolutionizing the brand. Undoubtedly, 20 years of various marketing management positions in the company have shaped his expertise. He helped lead the digital music revolution with the iPod and iTunes. He championed the iPad during its initial introduction. He took part in framing the way Apple interacts with its customers. Indeed, Schiller has demonstrated the importance of the CMO function in driving the success of a company. He also aids in setting product direction for Apple, taking the stage during keynotes to introduce new Mac and iOS devices. Many industry heavyweights consider Schiller as a media influencer, a technology guru and a marketer par excellence.
Daniel Cherry III applies strong ideas about cross-culturalism in leading marketing initiatives. He notably stated, "There are many variables around why someone buys something, and it's not always because of their race or their orientation. Cross-culture to me is recognizing the new America, the mixing of cultures, thoughts, beliefs, and it's not always based on the way you look."
Daniel Cherry III
Chief Marketing Officer, Activision Blizzard Esports Leagues
Helping shape the future of an industry
Daniel Cherry III has been actively joining conversations about the future of Esports. He has been advocating the elevation of the industry and how it can set itself apart from traditional sports. He has noted that it's necessary to celebrate player communities in unique ways beyond gaming. Also, the CMO has weighed in on how brands in the space must get rid of stereotypes. Cherry also leads innovative approaches to support the promotion of Activision's franchises across different platforms. Moreover, he works to position esports as entertainment platforms and as distinct professional leagues. Such efforts contribute to achieving the goal of growing the esports fan base worldwide. Cherry is also among the finalists in the 2018 CMO Awards for the Creativity and Storytelling category.
"But if you [embrace data], you will find you drive your growth much more efficiently than people who don't. It's like an automobile versus a bicycle." For Chris Tung, data provides marketers with the visibility, actionability, and trackability to respond to consumers' needs.
Chris Tung
Chief Marketing Officer, Alibaba
Driving growth through data-driven marketing
As the CMO of the world's largest retail commerce company with a market cap of more than $430 billion, Chris Tung is in charge of an ecosystem of brands. It spans e-commerce, payments, digital media and entertainment, cloud computing and marketing tech. Under his leadership, Alibaba embraces opportunities from data-driven marketing. According to Tung, data enables marketers to respond to consumers' needs in real time. With the help of Tung's marketing innovations, Alibaba is reinventing the shopping experience for nearly 700 million consumers and enabling brands of all sizes to tap into the massive opportunity in the China market. Its record-breaking 11.11 Global Shopping Festival in 2018 generated $30.8 billion in sales over 24 hours. As Alibaba works with more than 180,000 global brands, Tung continues to lead content experimentation. Formats range from short video clips to text, graphics, photos and live broadcasts.
One of the biggest lessons Manny Rodriguez has learned about undertaking a brand initiative is that collaboration is vital. "Make sure that your stakeholders are supportive. Make sure that your leadership is on board," he said. "As long as you can get the 80 to convince the 10 who don't care to be on board, you'll be great."
Manny Rodriguez
Chief Marketing and Experience Officer, UCHealth
Revolutionizing customer experience
Aside from overseeing brand marketing and advertising for UCHealth, Manny Rodriguez is also responsible for the overall experience and plays a key role in innovation for the Colorado-based health care system. Rodriguez focuses on enhancing every patient and visitor interaction throughout the continuum of care. Rodriguez and his team deploy innovative technologies and enter partnerships to achieve that goal. In addition, he has launched a new brand for UCHealth. The move strengthened the company's position as an innovative and patient-centered health system. As one of the nation's emerging top marketing executives, Rodriguez was a finalist at the 2018 CMO Awards for the Creativity and Storytelling category and a winner at the 2017 CMO Awards for Customer Experience.
Maximizing the Impact of Top Chief Marketing Officers
Without a doubt, the corporate function of a chief marketing officer goes beyond shaping the brand and positioning of a business. Top chief marketing officers also mold the means by which a brand connects with its consumer base. In addition, a chief marketing officer's ability to leverage technology has become a baseline across different industries. The expertise of most CMOs when it comes to digital advancements can define competitive advantage for their companies.
For top chief marketing officers to achieve success, support from the entire C-Suite is a must. Company leaders should continue to seek the CMO's advice on all business concerns. This way, the whole company will be able to fully experience the impact and benefits of various marketing initiatives.