Walmart is a tremendous, international conglomerate with nearly $500 billion in net sales each year. This includes e-commerce revenues of $11.5B for FYE 2018, with nearly half a billion visitors to Walmart's website each month. Given this, it's understandable that bold leadership is needed to drive Walmart's ongoing success with effective information technologies. That bold leader is Clay Johnson Walmart CIO and EVP of Global Business Services.
While ensuring effective IT processes are in place for customers is a major responsibility, this is not Clay Johnson's primary concern.  He sees his internal IT commitments as a priority in creating strong global business services. From store and department integrations to information access for employees, Clay Johnson shows what a bold CIO leader looks like. However,  his actual leadership influences extend well beyond the sphere of IT.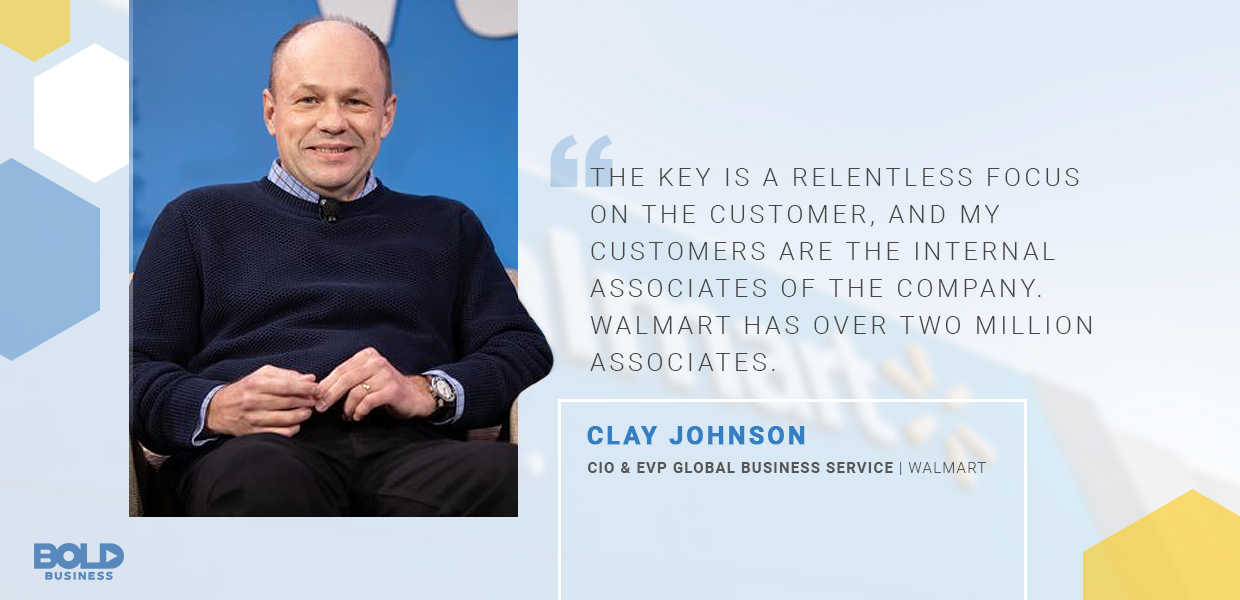 Bold Leader Clay Johnson's "People First" Mentality
Some of the most important attributes of a bold leader involve their relational skills and commitment to others. Not only does a bold leader have confidence in others, but they feel comfortable delegating responsibility and engaging their participation. Clay Johnson demonstrates these bold leader features well as he has repeatedly identified this as a professional priority. But it just so happens that Clay Johnson views Walmart employees as important as he does Walmart's customers.
Clay Johnson acquired his commitment to teamwork after receiving his MBA from the University of Texas. Unclear about his immediate future, Clay Johnson joined the U.S. Coast Guard where he served five years and learned the value of teamwork and collaboration.
Encouraging others to participate and contribute to the goal of fostered success while getting the most out of others' talents. This has remained a foundation of his bold leadership approach ever since.
Transparency and Openness as Bold Leadership Tools of Empowerment
In Clay Johnson's current leadership role at Walmart, he has been responsible for Walmart's digital transformation. Likewise, he continues to combine IT and shared services through broad integrations and innovations. In doing so, he has noted that a bold leader must be transparent to be successful.
In order to get everyone on board and focused on a shared vision, transparency is vital. Openness naturally creates a level of comfort for everyone in the company, and it promotes a culture of trust and commitment.
Openness and transparency also offer additional advantages for a bold leader. Specifically, they serve to empower others to do their best and to work together. Clay Johnson has stated that a positive workplace culture requires open debates and a high level of participation. This invites dynamic innovation and overcomes resistance to change. As a foundation, however, a bold leader must be transparent to achieve these critical components of a positive workplace environment.
Clay Johnson Walmart – Continually Advancing Innovation and Positive Change
Clay Johnson strongly believes in the need to take risks and leverage failure for future success.  He learned the importance of this bold leader mentality while serving as CIO at GE Power.  For businesses to compete in dynamic and competitive industries, an attitude that constantly challenges the status quo is necessary. This is exactly the type of environment Clay Johnson has brought to Walmart today.
Recent developments at Walmart offer an example of Clay Johnson's bold leader mindset in this regard. Recently, Walmart announced a joint partnership venture with Microsoft pursuing innovative cloud-based strategies. Utilizing Microsoft's cloud services (Azure), internal apps and chatbots are being advanced to improve internal information access. These types of major shifts in company practices showcase a culture that embraces change —  and Clay Johnson is a major reason for its presence.
Cultivating Bold Leaders of Tomorrow
As a bold leader, Clay Johnson takes his responsibility in cultivating future leaders seriously. Certainly, he serves as a tremendous role model for others, and he constantly mentors Walmart associates in their progress and advancement.  
As Vice President of IT at Boeing, Clay Johnson was the executive leader of their accelerated leadership program.
Throughout his career, Clay Johnson has recognized the importance of leadership in realizing ongoing success.  He appreciates how such leadership ultimately makes all of society a better place. By demonstrating bold leadership in every setting that he has faced, Clay Johnson has been a catalyst for positive change. Indeed, this change has benefitted Walmart, as well as make a positive impact on the hundreds of lives Clay Johnson has touched along the way.
To read more about Walmart and how they are driving innovation and digital transformation, read our accompanying article.