A newly-minted top honcho in January 2008, Brad Smith was at the cusp of an extraordinary journey as the Chairman and CEO of Intuit Inc.—maker of QuickBooks and TurboTax. Inheriting the post from founder Scott Cook, Smith found himself with a successful financial software company resting on his shoulders. Thus, armed with the goal of reinventing Intuit, Smith began his six-month transition period asking the board members, shareholders and employees crucial questions. The answers helped him gain valuable insights—which, in turn, set the tone of his tenure for the next 11 years and ultimately the course of the company. But, that is just the beginning of the story of Brad Smith and his approach to Bold leadership.
In beginning his journey as the company's CEO, writing the next chapters of Intuit meant two things—first, reimagine the company's innovation process, innovate fast, and match the needs of the changing times and trends; second, encouraging design-driven thinking and change technology by bringing in new talents.
Through Smith's leadership, Intuit has ranked No. 13 in the prestigious list of "Fortune 100 Best Companies to Work For® 2018". Soon, the company's revenue has doubled to almost $6 billion annually, and stocks have increased to nearly 600 percent.
Intuit CEO Brad Smith: The Humble Beginnings of a Rock Star Chairman and CEO
Born and raised in West Virginia, Brad Smith has always been proud of his small-town roots in Kenova. To this day, he still looks back to the lessons he picked up from his family and from the community that helped raise him. For Smith, Kenova, W.Va. had everything he ever wanted or needed. He adds, "Everybody in town was friends and helped raise each other's children."
One event that left an indelible mark on Smith—imparting lessons on teamwork and resilience—was the crash of the chartered jet carrying the Marshall University football team members. Furthermore, Smith attributes qualities such as discipline and leadership traits from his martial arts training during his high school years.
After high school, Smith attended The United States Military Academy—also known as West Point. He decided to pull out of the academy after a semester and proceeded to continue his education at Marshall University. Brad Smith's humble but solid foundation has helped his quick ascent up the corporate ladder.
He moved from PepsiCo to ADVO Inc., then to ADP, and finally to Intuit in 2003. He initially managed the Accountant Central & Developer Network Division, leading to his meteoric rise in just five years as Intuit's CEO—which ended up with him leading a company of 8,000 employees across different countries.
The Bold Leadership of Brad Smith
The annual Employee's Choice Award for 2018 conducted by Glassdoor, ranks Brad Smith as No. 22 out of the Top 100 CEOs and No. 11 among Tech CEOs. With an approval rating of 96 percent, Smith is definitely doing something remarkable. Here's a closer look at Brad Smith's bold leadership.
Brad Smith challenges the status quo and takes risks
Taking the helm as CEO in 2008, Smith recognized the need for Intuit to reinvent itself. The tech ground was going through tremendous change; the iPhone was launched; the social media phenomenon was spreading like wildfire, and the world was becoming more interconnected.  Thus, from being a desktop-based platform, Intuit moved to be a mobile-and-globally-connected services provider.
Additionally, looking at the innovation process of the company then, Smith discovered that Intuit was optimizing for features and ease. Thus, challenging this culture, Smith introduced a design-driven innovation process that was meant to create an impact on the consumer and weave emotion into the product. An example of this was when Intuit hired editors to review and revise the texts and copy of the interface of all their products and software. This step added a more personal, light and whimsical touch to otherwise dull and boring financial software products.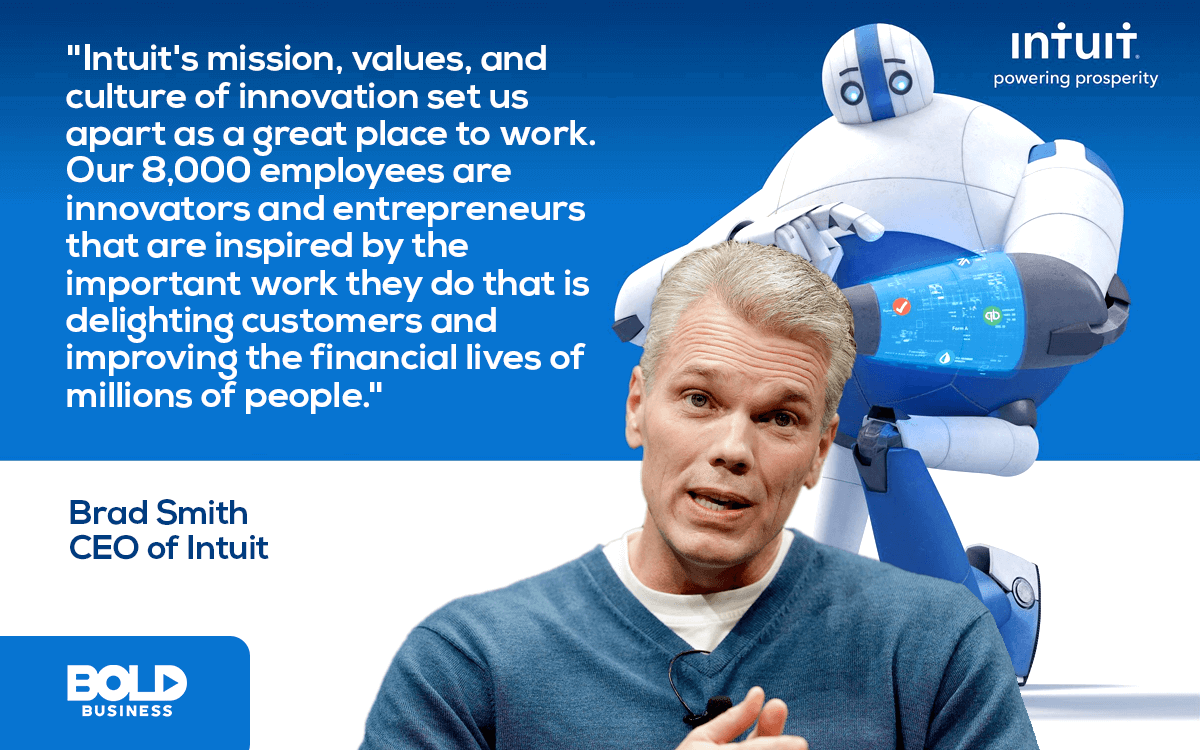 Brad Smith Empowers Others to Succeed by Creating an Intuit Leadership Environment that Taps Future Potential
Within 100 days from his appointment as CEO, Smith adapted and implemented unstructured time—wherein 10 percent of the employee's time can be spent on any project they want that they think can solve a customer's problem. Through this exercise, Intuit was able to raise an additional $100 million in revenue from products borne from unstructured time.
In an interview by Harvard Business Review, Smith shared one great example from this exercise— the ability to do taxes on mobile phones. He explains, "We had to find a way to use this computer at the palm of our hand." He challenged the engineers saying, "You are smarter than me, and you will figure it out."
Through experimentation, Intuit was able to find a way to convert photos taken by the phone's camera and translate this information to pre-fill tax forms, making tax filing faster and easier for their customers. This feature has been one of the growth drivers for TurboTax.
Intuit CEO Brad Smith Leads by Example and with Humility
Despite his success as a rock star CEO, Brad Smith remains grounded and humble. He follows leaders in Silicon Valley to learn best practices and do benchmarking. Likewise, Smith regularly touches base with Scott Cook—his predecessor and Intuit founder—to seek feedback and advice in leading the company. He also doesn't shy away from criticism. Smith seeks and accepts them wholeheartedly and even shares his unedited performance review from the board to all of Intuit's 8,000 employees.
Smith attributes this transparency and humility to his father—who was Kenova's mayor during his formative years. His father said, "…this is who I am. And look out there. This is who they are. And if they can see me be imperfect and be the mayor, then one of them will aspire to be the mayor, too. People prefer their leaders with flaws because it makes these positions more attainable for the rest of us."
Brad Smith is mission-driven
Delighting the customers is at the core of Intuit's focus. This mission—a battle cry which they express aptly as to "Deliver Awesome"—is at the heart of the company's operating values,  To achieve this, Smith shares, "You need to have employees doing awesome things, who are fired up in changing their customer's lives. This means customer loyalty; this means benefit for the shareholders, this means building a stronger foundation for Intuit's future."
Furthermore, as a leader, Smith creates a horizon management plan, by allotting 70 percent of resources strengthening products that are already thriving, 20 percent towards young products that need to be developed, and 10 percent of the time to experiment, innovate and discover new products.
After Intuit—So what's next for Brad Smith?
When asked what is next for Brad Smith, his response was a safe reference to his new role as the executive chairman in Intuit. Additionally, he mentions his board duties at Nordstrom and Survey Monkey. His passion for improving public education in peripheral zip codes will also grab more of his time now.
This bold leader points out, "I never wanted to be that athlete who loses half a step or can't complete the pass. I wanted to step down when I was still in my learning zone and still had gas in the tank." In truth, with his track record, Brad Smith is sure to find new frontiers to overcome.