There are countless videos and books dedicated to the topic of leadership. You do not have to go far to see titles from Peter Drucker, Seth Godin, Clayton Christensen, Steve Covey, Patrick Lencioni or Jim Collins. However, they don't cover what it truly means to be a bold leader and the characteristics of bold leadership. You may be asking yourself, are not all leaders bold? The quick answer is absolutely not! Bold leaders see opportunity and the challenges impacting society. Bold Leaders are transformational. They are people of action who do not settle for the status quo and think strategically about where and how they invest money and time.
If you are someone who leads a company or a team—or if you're merely someone who aspires to be a Bold Leader—you must remember to be conscious about how your actions influence and impact those who are around you. You must always ask yourself: "Am I delivering the best for the client? Am I truly making a difference? Does my purpose positively impact society? Do I lead with vision? Am I authentic?
What is Bold Leadership and Who are Examples of Bold Leaders?
"If you desire to make the significant difference you want and society needs, you must practice bold leadership," according to John Miles, Associate Publisher Bold Business.
Bold Business publishes a weekly series we call the "Bold Leader Spotlight".  The spotlight features articles on leaders who are positively demonstrating bold leadership traits. The segment recently included Jack Dorsey, Satya Nadella, Jessica Alba, Ann-Marie Campbell, Lt. General Lori Reynolds, Brad Smith, and Keith Krach to name a few.
We also asked a handful of senior business executives at the Diversity MBA National Conference what they think are the characteristics of a bold leader —that is, a person who possesses bold leadership. We summarized their keen insights below.
A Bold Leader is Transformational
Bold leadership is not attained merely by staunchly following the rules. Genuine, bold leaders are trailblazers who create a significant paradigm shift that improves the current situation. Think of leaders like Melinda Gates who is making healthcare and birth control for women more accessible across the globe. Or, consider Airbnb CEO and co-founder Brian Chesky who has revolutionized the way people experience real estate.
Bold leaders are people who transcend the conventions of everyday customs or set patterns. Instead, they apply novel, lofty ideas to create innovations for countless people under their leadership. They intentionally strive to think and act differently with the purpose of offering something new to the world and create positive impacts on those who need them.
Chief Diversity Officer of Nielsen, Angela Talton echoes this sentiment: "I think it is an opportunity to really strive for higher heights, strive to do something a little bit differently… and really engage with new, bold, different ideas."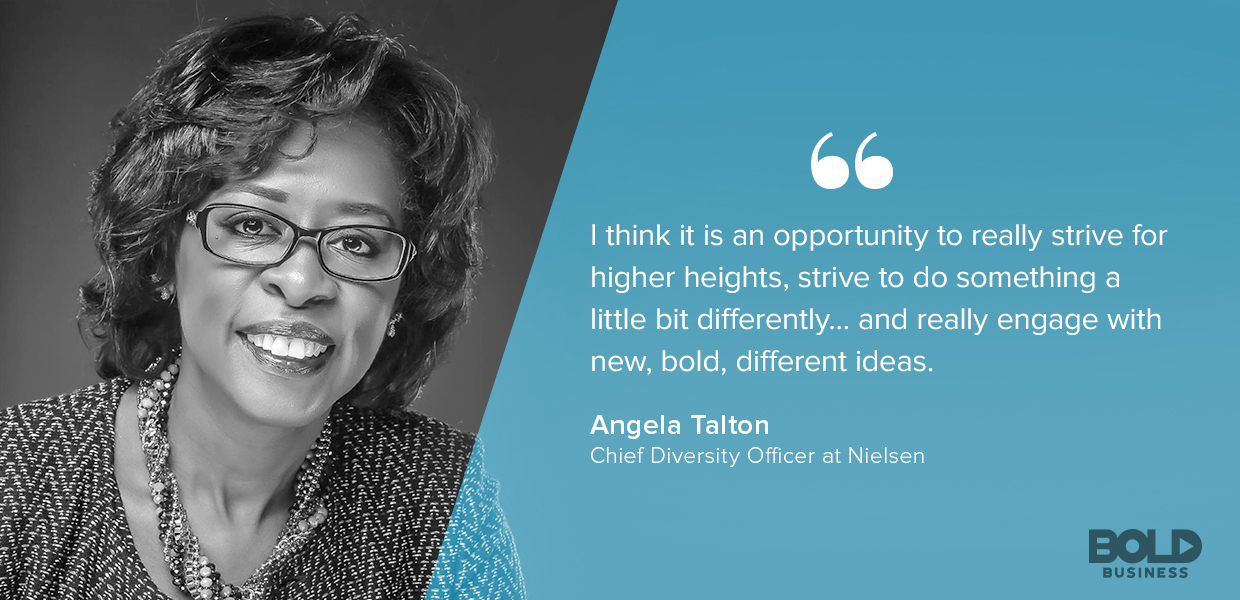 Bold Leadership Cultivates Trust
A leader who fosters trust among his or her team members is essentially doing his or her team a big favor in the long run. In truth, trust among employees and teams makes each one feel comfortable to share ideas and insights with his or her co-workers. This situation creates a motivating work environment where everyone feels welcome, appreciated and valued.
Trust also boosts morale, productivity, and satisfaction, and develops strong work relationships.
A work environment built on the pillar of trust is one that will stand the test of time. Employees who are aware that their leaders trust them are even more motivated to work with their best and to emulate them especially in being better decision-makers. As a result of developing a culture of trust in your team, you become a trustworthy leader who is surrounded by trustworthy people. Chief Diversity, Inclusion and Talent Management Officer of UPMC, James E. Taylor put it aptly when he said, "… with trust, you build a sense of followership. You can't be a great leader unless you have individuals that believe you, that trust you, and that are willing to follow you."
A Bold Leader is a North Star
Bold leadership is a constant inspiration and aspiration for many people. Bold leaders use their extensive knowledge and experiences to lead their people into being their best selves in the workplace. These leaders are evidently passionate about what they do—and their passion is infectious!
As people who are well-versed in their respective fields, these passionate leaders are articulate about what they believe. Their vision moves and stimulates their people's own passion—no matter the industry or department. They are inspiring figures who ultimately propel their organizations forward.
Marsha Jones, executive vice president and chief diversity officer of PNC Financial Services Group, expressed this well when she said, "When you are able to lead by example, when you're able to actually speak about the experiences that you've had… [that] create[s] that kind of an environment that resonates [and] enables the organization… to move forward."
A Bold Leader is a Selfless Voice Who Positively Impacts Society
Naturally, the words and actions of leaders have a more significant impact compared to most people. People with bold leadership use this special platform to raise issues that others deem important and to truly make a positive impact on society. They are leaders who are genuinely considerate of the needs of those around them. They will do everything in their capacity to make a bold difference in today's world.
The bold leader is the one who envisions a solution to societies most significant problems or biggest opportunities. They possess a vision of a future destination that is not yet real or deemed achievable. A person with bold leadership not only sees the idea, but they also act on it and lead towards it boldly and without hesitation.
These great leaders boldly express the thoughts, ideas, and feelings of those who are not comfortable or are just not able to speak up, making sure their voices are heard.
A Bold Leader Builds Up Other People (especially other leaders!)
With years of experience under their belt, bold leaders feel it is their privilege and duty to help others develop themselves as workers—and as leaders themselves—by understanding their needs and wants. Great leaders don't just listen. They also act to make great things happen for other people.
They create purposeful plans or programs to meet the life and career development needs of those they command. Thus, by supporting these needs and helping meet them, bold leaders consequently attend to the livelihood, personal, and mental health requirements of their employees.
Rebecca Lupfer, Vice President Center Store Grocery at GIANT Food Stores LLC, reiterated the value of this quality when she said, "It's really about understanding each individual's needs and development plans and making sure that we as leaders are supporting each other and growing and having honest conversations."
A Bold Leader Openly Focuses on Improving Others
Admirable leaders know that there is always room for improvement. Thus, they put a premium on looking for opportunities where their people can grow and diversify their knowledge and skills.
Great leaders don't waste great talent—they invest in them.
They are willing to go the extra mile to help their employees be more creative, more agile, and more innovative. They know that giving employees opportunities for training and self-improvement certainly makes for a stronger and bolder organization.
A Bold Leader Engages the Whole Workforce
A personable and approachable leader can unite everyone in the organization to work towards a common goal—that is, for the benefit of the organization and all its members. They can connect, talk and collaborate with others in a warm, realistic manner no matter the difference in age, background, tenure, and beliefs.
In short, a bold leader is a relatable figure who can rally people together and capitalize on the strengths of each one to achieve their collective goals.
Characteristics of a Bold Leader —The Genuine, Bold Business Leaders Have it!
Bold leaders are more than mere bosses—in fact, bold leaders are better than bosses. Bosses are more concerned about keeping power for themselves while forgoing any thought to those with fewer opportunities. On the other hand, bold leaders are not consumed with gaining titles or power. They focus more on making a difference in the lives of those they work with, improving society, overcoming obstacles and inspiring others to do what they do best.
Bold leaders, regardless of their positions, are doers who lead their organizations to success by leading by example and purposefully providing others the same opportunities that helped make them the esteemed and inspiring leaders that they are.