The beer industry is considered one of the few remaining bastions of masculinity in the US. Until today, when Heineken USA made the bold move of appointing its first female chief executive officer—Maggie Timoney. She assumes the influential US post on September 1. Maggie served as the CEO of Heineken Ireland for five years. She is replacing Ronald den Elzen who will take on a more global role in the Amsterdam-based company.
Maggie will be the first female to lead a major player in the US beer industry.
Heineken is the fourth largest beer supplier in the US. It is the second largest beer company in the world. Besides Heineken, the brand also carries Dos Equis, Tecate, and Strongbow. The bold action breaks the industry's virtual glass ceiling and shifts Heineken's position in the beer-drinking market.
Maggie is a competitive and energetic leader who is known for inspiring teams, operationalizing plans and mobilizing organizations to deliver business results. She understands the challenges and opportunities that exist within the U.S. market, and she has the right mix of strategic vision, people leadership and grit to ignite future growth for Heineken USA.
–Marc Busain, Heineken Americas Region President
Busain also added that, while Maggie was in Ireland, she "over-delivered on volume, revenue, profit, and market share targets."
Who is Maggie Timoney?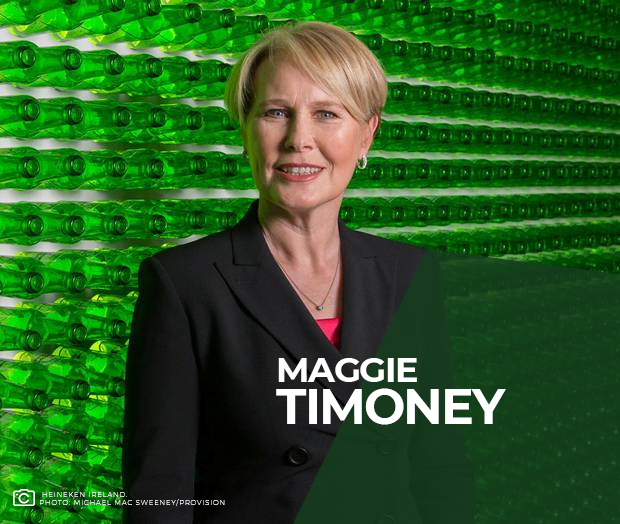 Maggie started her career with an Anheuser-Busch wholesaler in New York's Bronx, as well as sales with E&J Gallo. Maggie started working for Heineken USA in 1998, in national planning. She also held posts in sales, distribution, and strategic planning. In 2006, she became the managing director of Heineken Canada. Four years later, she was back with Heineken USA in the role of Human Resources senior vice president. She was also a member of the management team.
Playing in a male-dominated field isn't new to Maggie Timoney. She graduated from Iona College in New Rochelle, NY, with a Bachelor of Arts degree in 1989 and an MBA in 1992. Maggie played basketball during her college years. In 1986, she received the Metro Atlantic Athletic Conference Rookie of the Year award. From her second to fourth years, she was the team's leading scorer. She became captain of the Irish National Women's Basketball Team and holds the record as one of the top 25 greatest Irish women's basketball players. She is on the Iona College Sports Hall of Fame and the MAAC Basketball Hall of Fame.
A Nod to Female Beer Drinkers in the US
A female CEO at the helm could help increase the brand's connection with women beer drinkers. While alcohol is still largely consumed by men, there is a steady rise in the number of female Americans who drink beer.  Heineken can leverage this previously untapped market for brand expansion and marketing.
Incidentally, Heineken USA used to have a female marketing lead. Lesya Lysyj was the CMO between 2011 and 2013.
Reports reveal only a handful of other female executives in the American beer industry. These include AB InBev's US General Counsel Katie Barrett and VP for procurement and sustainability Ingrid de Ryck. At MillerCoors, Kelly Grebe sits as their general counsel.
Diageo, a British multinational alcoholic beverages company, has the most number of female executive directors. Their global chief marketing officer, Syl Saller, is also female. She has held the post since 2013.