Founded in 1972 by Robert Kraft, The Kraft Group has been recently valued at $4.6 billion by Forbes. The Kraft Group, in essence, is a holding company of an array of diverse interests of the Kraft family. These interests include the Rand-Whitney Group and International Forest Products, which represent Robert Kraft's paper product company successes. The Kraft Group also includes a number of equity holdings and investments. And, not surprisingly, it also includes the New England Patriots as well as other sports interests. Perhaps what's most notable for The Kraft Group is its business strategy used to determine various companies' potential.
Without question, these interests are quite diverse. But underlying the company's interests is a common thread that highlights some important characteristics whether business or sports. And without question, this common business strategy is a direct reflection of its founder, Robert Kraft.
Continuity of the Team – A Business Strategy for Sports and Companies Alike
The New England Patriots have now appeared in the Superbowl a total of 11 times, more than any other team. And they recently earned their sixth Superbowl championship.
When asked, Robert Kraft doesn't attribute the success to a single individual…not even Tom Brady or Bill Belichick. Instead, he notes that true champions on the field and success in business come from a team mentality. Sports teams and companies win when they are able to put egos aside and effectively collaborate toward a common goal.
The Kraft Group has achieved incredible success by identifying business and sports enterprises that embrace such a team mentality. The Patriots, purchased in 1994 for $172 million, are now worth $3.7 billion.
Likewise, the company applied this business strategy when purchasing the New England Revolution. The Revolution was one of the charter ten teams in Major League Soccer. And like the Patriots, the team business strategy has been applied by The Kraft Group to its operations. As a result, the Revolution is now worth $225 million and has been to the MLS Cup Finals five times.
Embrace Dynamic Innovation – The Kraft Group
Change is ever-constant, and incorporating this into a business strategy has been a key for success for The Kraft Group. Specifically, it pursues various companies and investments that have an eye for the future. In applying this business strategy to sports, the Patriots have had to adapt in the salary-cap era to achieve constant success. The company has adopted a similar business strategy with Gillette Stadium. Recognized as the 9th busiest stadium in 2017, Gillette Stadium had diversified its events broadly. From NFL and MLS games to the NHL Winter Classic, NCAA games, and concerts, Gillette Stadium operates all year round.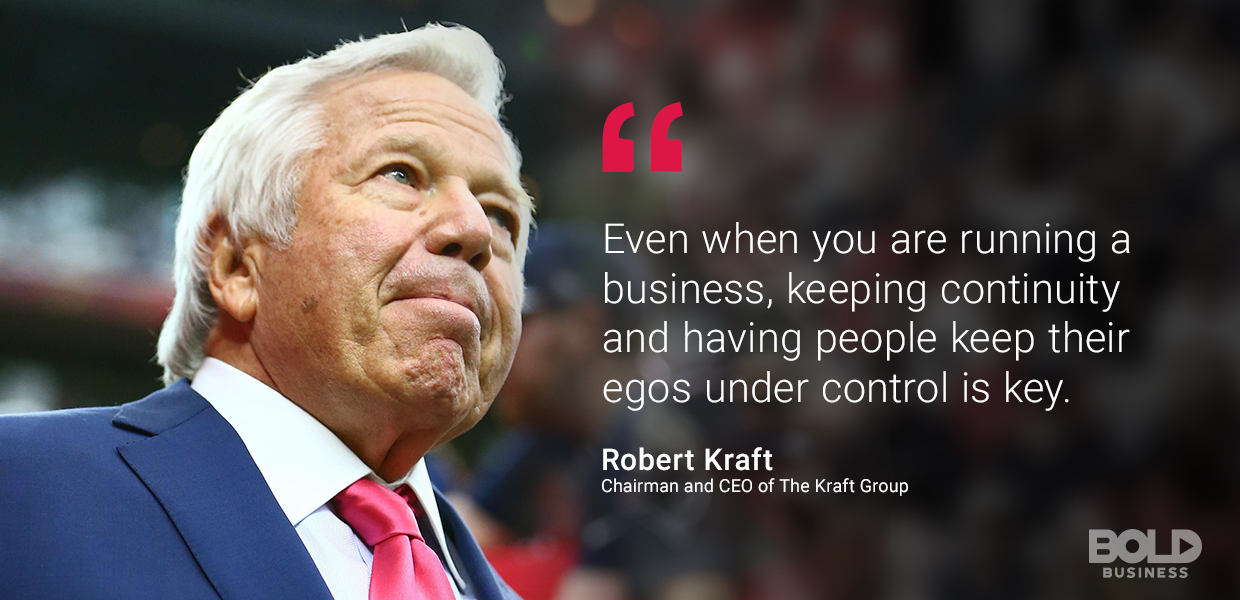 In addition, the company extends its interest in dynamic innovation in other sports areas. For example, it was part of the recent $4 billion purchase of Ultimate Fighting Club (UFC). And The Kraft Group was one of seven buyers of Activision Blizzard's Overwatch e-gaming league. These non-mainstream sports are capturing new and emerging markets fueled by social and technological change. By pursuing a business strategy that considers future trends of innovation, The Kraft Group gains opportunities to excel even further.
 Follow Passion, Dream Big and Put in the Time
As a season ticket holder of the Patriots since 1971, Robert Kraft was passionate about the team. He had to be given the team's losing record during those years. But by investing in his passion, and buying the team in 1994, the Patriots are anything but losers today. In his own words, Robert Kraft always dreamed big and followed his passions. These are the same values that The Kraft Group adopts in its business strategy today.
The Kraft Group also values diligence and hard work as well as passion. Robert Kraft learned this early in life from very humble beginnings. Today, he sits as Chairman/CEO of The Kraft Group, ranked in the top 100 largest private companies in the world. Just as Robert Kraft earned his success the old-fashioned way, The Kraft Group assesses its investments in a similar fashion. By creating a portfolio that aligns with its own passions, dreams, and values, The Kraft Group has excelled. This formula is one that works not just for sports but as a business strategy as well.
To learn more about Robert Kraft, please read our bold leader spotlight featuring him.