Florida-based urban agriculture social enterprise and nonprofit Fleet Farming is making a difference in Central Florida, one lawn at a time. With a mission to redefine local food systems, Fleet Farming operates by converting lawns into edible gardens and micro-farms. To date, the movement has converted 70,140 square feet, harvested 3,840 pounds of produce and enlisted 4,392 volunteers. With more communities adopting this model, could fleet farming cities serve as food oasis for an urban farming future? It certainly underscores the importance of urban farming. Bold Business Associate Publisher John R. Miles and Project Bold Life President Dawna Stone interviewed Fleet Farming Co-Creator Chris Castro at the 2019 Synapse Innovation Summit.
The Journey to an Urban Farming Future Starts Now
Lawns, with their well-kept carpet of grass, are a quintessential American fixture. Sadly, a lawn is a symbol that comes at a considerable cost. According to a study conducted by NASA and Mountain West, there is now a total of 63,000 square miles of lawn in America. This number is three times larger than the lot area allotted for the corn crop and constitutes 1.9 percent of the surface of the continental United States. Lawns also contribute heavily to pollution and water shortage. Its maintenance consumes 9 billion gallons of water per day, 2.4 million metric tons of fertilizer, and 70 million pounds of insecticides and herbicides.
Meanwhile, our diet has a carbon footprint. If we account the amount of energy needed to plant, grow, process and transport our meals from farm to table, it's easy to see how the agriculture and farming industry contributes to one-third of global greenhouse gas emissions. For instance, a small serving of potatoes every day can compound to 16 kilograms of carbon dioxide in a year. This number is enough to run a regular petrol car for 43 miles.
Fortunately, amidst these challenges, organizations, and communities such as Fleet Farming are discovering innovative ways to approach food security problems. With an urban farming future, challenges such as food shortage, environmental concerns and access to a wholesome food source, can all be tackled.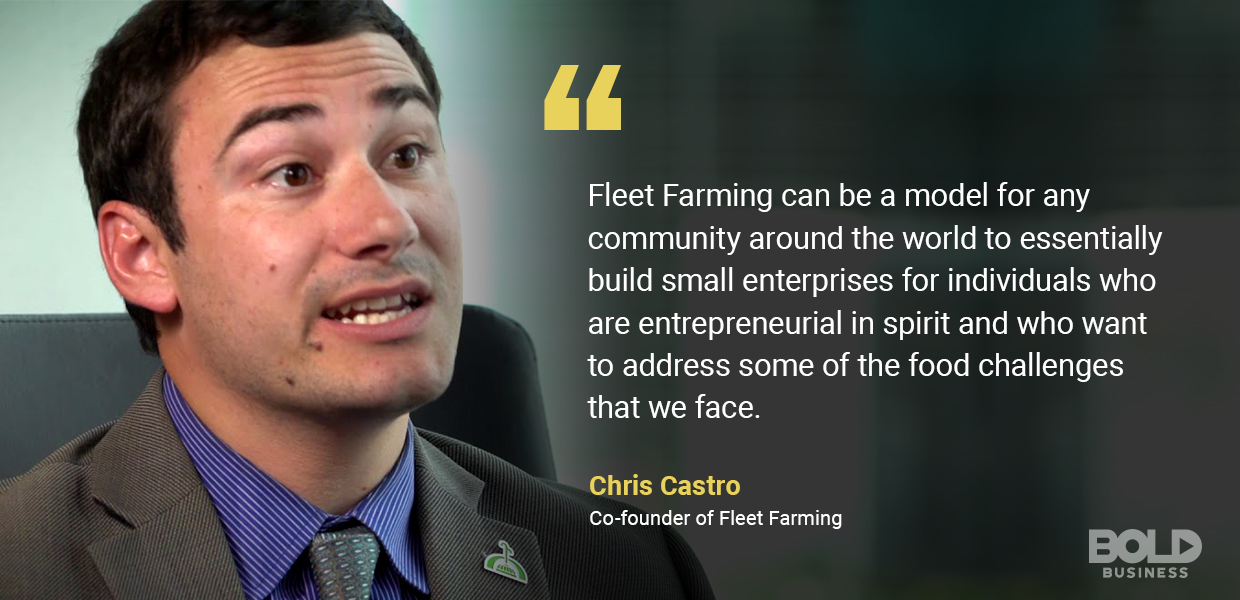 Urban Farming Future Through Fleet Farming: Local, Communal and Environmental
A product of a design-thinking workshop sponsored by IDEAS For Us, Fleet Farming was born right at the heart of Florida in 2014. The concept was first tested in the Audubon Park of Orlando. Five years since its inception, Fleet Farming has sponsored various programs built upon the mission of increasing food accessibility and creating a healthier and more connected world.
Mobilizing the community through Swarm Rides. Volunteers within a branch use Swarm Rides to create awareness and encourage residents to come out and engage in Fleet Farming's food system. This program works by assembling bike-riding volunteers three times in a month to tend to micro-farms on common lands within the community.
Shortening the farm-to-table food cycle by converting common spaces, school gardens, and private lawns as Fleet Farmlettes. By getting the support of local restaurants and food establishments, produce harvested from these Fleet Farmlettes are sold in community food markets and used as ingredients in the food they serve.
Helping landowners convert lawns and unused outdoors spaces into edible gardens. Through its garden installation service, Edible Landscapes, the organization is laying the foundations of fleet farming cities. In small but meaningful ways, Fleet Farming has been making a difference in the lives of landowners who joined the movement.
Educating the next generation of urban farmers to support fleet farming cities through Fleet Education. The organization provides lectures and workshops around the application of plant science. Their team of educators provides engaging lectures from Gardening 101 to Food Systems and private team-building farming events.
How Do You Feed the World? Fleet Farming Co-Creator Chris Castro Believes Cities May Be the Answer
Human population is predicted to reach the 9 billion mark by the year 2050. Inherently, a growing population requires an increase in food supply. To meet the population's growing food requirement, experts estimate that crop yield should be doubled by the year 2050.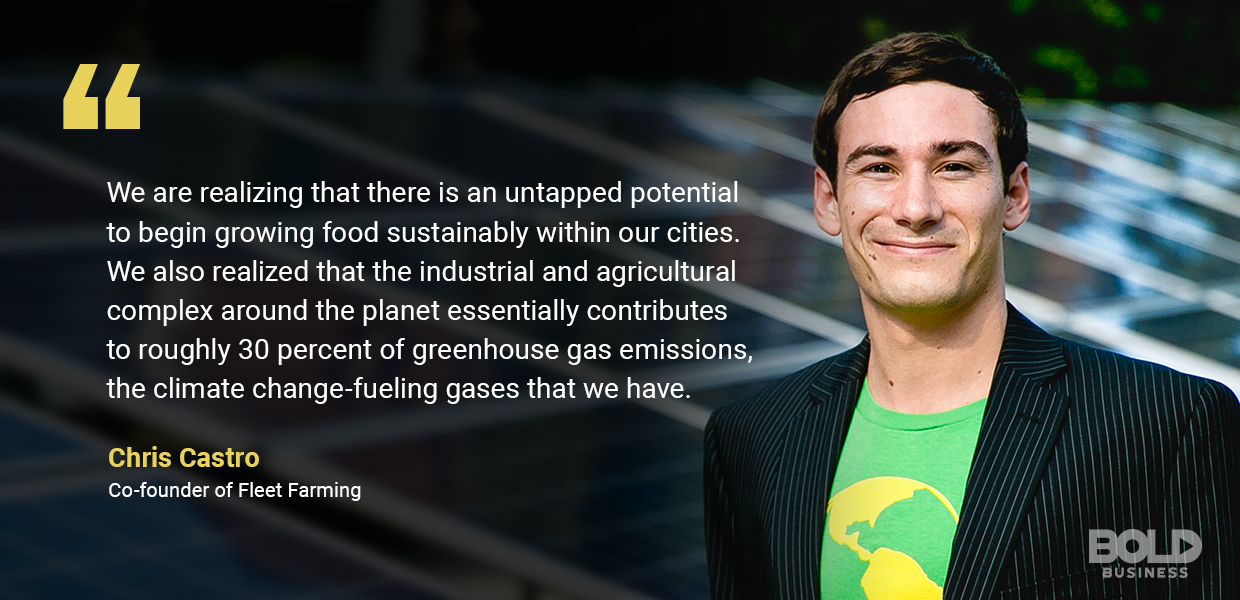 Presently with a 7.5 billion total global population, 30 percent of greenhouse gas emissions come from the agriculture sector. Similarly, we must mention the declining quality of the soil due to excessive fertilizer, pesticide, and herbicide use. Amidst these environmental challenges and dwindling natural resources, businesses and the environment sector are looking for answers.
While some say that large-scale commercial farming is the solution we are looking for, environmentalist and local-organic growers are clamoring for sustainable alternatives. The debate is raging, but the question still stands: How do you feed 9 billion people without exhausting the planet?
Fleet farming cities offer possibilities and may hold the answers that the world is looking for. By reallocating resources, decreasing carbon footprint, and shortening the farm-to-table food cycle, we are not just feeding people. We're also nourishing the future of humanity.