The trick for any business eager to stay relevant is to fully integrate innovation with operations. However, for the healthcare industry, integration isn't just about relevancy  – it's about saving lives. Such is the case with Novant Health. As a network of hospitals, clinics and outpatient centers, the company has employed a digital-first approach to keeping their nearly 600 locations in sync. And it's working. With almost 30,000 team members in the southeastern United States, and Novant Health hospitals communicating seamlessly with others in the Novant Health system, it's bold innovation applied to healthcare.
"Digital capabilities are essential to providing enhanced access to care, high-quality care, and a world-class consumer experience while supporting continued growth," says Novant Health's Chief Digital & Technology Officer Angela Yochem.
"If you can imagine the advances happening in science and medicine, it's impossible to think about leveraging those advances without equal strides being made in the technologies we use to serve our patients and providers."
For their efforts, the growing company is emerging as a role model for the healthcare industry.
A Snapshot of the Novant Health System
There are Novant Health hospitals in North Carolina and Virginia. The Novant health system includes over 1,500 providers, 28,000 team members, and nearly a million patients. Moreover, now under a single brand, Novant Health hospitals embrace common values, a single mission, and shared goals. Considering the scope of services and populations Novant Health represents, realizing quality, cost-effectiveness, and consistency is challenging. But Novant Health hospitals have repeatedly exceeded expectations throughout their history.
Novant Health was formed officially in 1997 with the merger of Carolina MediCorp and Presbyterian Health Services. However, the organization has since expanded significantly through mergers, acquisitions, and the opening of new facilities. In 2013, all in-patient facilities changed their name to reflect their single focus as Novant Health. Likewise, the business aligned marketing efforts toward six well-defined patient segments. These pursuits are just the beginning of their efforts to revolutionize modern approaches to healthcare.
Cultivating Diversity, Inclusion, Engagement, and a Healthy Culture
Carl Armato has been CEO of Novant Health for over seven years. Though he has several major goals for the organization, accessibility has been at the top of his list since he began. In this regard, Novant Health's CEO continually seeks team member engagement through weekly blogs and regular visits. This may not sound too innovative, but Armato's approach invites team member feedback. As a result, employee engagement has gone from 49% to 74% throughout the company's hospital network.
In addition, Novant Health pursues a decentralized, inclusive, and empowering workplace culture. Team members are invited to participate and experiment with new ideas. At the same time, Novant Health hospitals strive to engage patients as well as participants in their own healthcare. As an example, Novant Health now engages its 90,000 diabetic patients in programs to help predict problems in advance.
Leveraging Digital Technologies for Marketplace Advantage
For the last decade, Novant Health hospital's have invested in a strong digital healthcare platform. And since so much of effective healthcare service revolves around the managing of data, this has influenced the shaping of the companies business model. "We have a new chief data officer who has a strong background in retail, utilities, and telecommunications," says Yochem. "He's transforming the way we leverage our data, and it's been a great differentiator for us."
"We are passionate about providing enhanced access to care for the communities we serve. Our digital strategy includes not only several digital channels for care delivery, but also digital enhancements across all channels by which our patients engage Novant Health. This includes significant experience enhancements in the physical channels, omni-channel consumer experience across channels, extreme personalization, and so on. We are also relentlessly focused on quality care delivery, and there are many digital components to providing best care for our patients in our clinical settings." – Angela Yochem, Chief Digital & Technology Officer
But the Internet of Things and all the smart devices that can gather patient data and communicate it instantaneously adds yet another wrinkle to the equation. Says Yochem, "The proliferation of advanced sensors means that we have exponentially more data available to us about the behaviors and status of our patients and team members, the operational status of our facilities, and so on. Healthcare delivery will continue to be streamlined, accelerated, and more personalized as a result of this advance."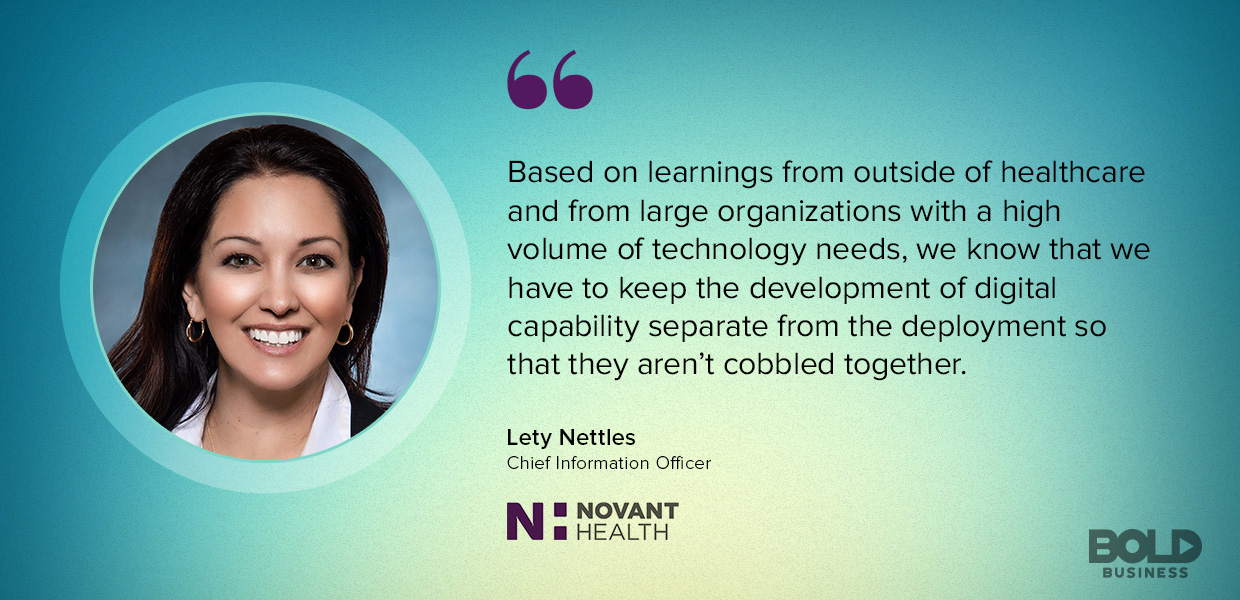 Bold Innovations That Make a Difference
Implementing digital innovations to better leverage data is great, but Novant Health's efforts to excel extend to their choice of executives. Recently, the company hired two heavyweights in Yochem and Lety Nettles. Recognized as a bold leader in digital solutions, Yochem was named Chief Digital and Technology Officer. Nettles was named the company's Chief Information Officer.  She has executive histories at Baker Hughes, Walmart, and Dell Technologies. Both women leaders look to take Novant Health into the future through developing and deploying innovative digital solutions.
What else is on the innovative company's plate? "We are also opening Novant Health clinics in these under-served areas and partnering with other organizations to staff existing clinics with Novant Health physicians and advance care providers," says Yochem. "Through these partnerships, we screen for social determinants and provide resources to assist when possible. For example, we screen for food insecurity and prescribe healthy food for those who identify as food insecure. By partnering with the food banks, we can provide a long-term solution for families who are food insecure."
Novant Health Hospital Next Steps
In addition, Novant Health offers scholarships to nursing assistants eager to attain the education required to become full-fledged nurses.
What healthcare trends lie on the horizon that the company planes to tackle? Says Yochem, "Personalization in all aspects of care delivery and engagement, a greater focus on wellness and preventative care, value-based care delivery, and the emergence of the patient as a consumer. Patients have choices for care and we want them to choose us. All of the above are important to delivering the most remarkable patient experience in every dimension, every time.
Novant Health excels in an industry recognized as incredibly challenging. By applying strategies proven to be successful in other industries, Novant Health hospitals are fast becoming tomorrow's healthcare leaders.