Over the course of the last year, the pandemic caused serious disruptions of many industries. Border closings between countries, quarantines, lockdowns, and social distancing forced many sectors to make changes. This led to a variety of new trends and innovative developments as a result. For instance, major advances were made in the health sciences related to vaccines. Also, many businesses and employees embraced remotely working-from-home, realizing notable advantages. But while many of these changes were anticipated, some were not. One notable one involves the wine industry where some vineyards were forced to consider agricultural robots. And now, it looks like this may be the future of farming in this sector.
(Read more about how work-from-home has become the preferred workforce posture in this important Bold story!)
Faced with shortages in workers, many winemakers had to make some tough choices over the course of the last year. Should they adhere to longstanding traditions that involve picking grapes by hand? Or should they embrace technology and invest in agricultural robots to ensure vineyards were harvested on time? For winemakers, this is no easy decision as both choices have benefits as well as risks. But when the pandemic forced some winemakers' hands, several decided to give agtech a try. Based on their experiences, many believe this may now be the future of farming for vineyards across Europe. But the jury is still out, and some remain quite opposed to bucking tradition.
"It was a very hard decision for a small farm like ours—it will take a long time to make the investment back. But now when the grapes are ready, I can go pick them. We don't have to worry about finding workers." – Mirko Cappelli, Vineyard Owner, Tuscany, Italy
The Pressures of a Pandemic
When it comes to wine making, the industry boasts a number of longstanding traditions. Specific regions are well known for producing select grapes and varietals. Climate and terroir are respected and dictate which grapes are most likely to thrive. And when it comes to harvesting, the tried-and-true accepted approach is picking grapes by hand. This is especially evident in regions of Italy, Spain and France where such traditions have been in place dozens of centuries. Thus, it's understandable how resistance to agricultural robots might exist among winemakers in these areas. Many refuse to see this as the future of farming when it comes to grape harvesting.
Of course, such resistance can suddenly evaporate when unexpected pressures arise. Such has been the case with the pandemic for a variety of industries. For winemakers, the pressures experienced included those associated with labor. Typically, migrant workers from Eastern Europe and other locations come to Italy, Spain and even France to assist with the harvest. But with COVID forcing national borders to be shut, these options didn't exist. As a result,  vineyard owners struggled to find help. Local pickers were simply not high enough in number in many areas. And the low page, hard work required hardly attracted large numbers of workers during a pandemic. Understandably, many vineyards were forced to consider alternatives, including those related to agricultural robots.
"The whole cluster of grapes has to arrive to the press intact, without any damage. There's no machine that can harvest without damaging the grapes." – Philippe Wibrotte, Spokesperson for Comité Champagne
The Pros and Cons of Agricultural Robots
In many sectors, the future of farming is clearly aligned with automation and robotics. (Dive deeper into 2021's innovations in automation and robotics in this Bold story.) This is even true for corn and soybean harvesting in Europe where many farms have embraced the technology. But for winemakers, seeing this as the future of farming and grape harvesting is more challenging. Grapes must be harvested without damaging the skins in order to attain high yields and quality results. So, when it comes to agricultural robots, there remains a healthy dose of skepticism. Concerns about machines reducing the amount of intact grapes collected continue to exist among vineyard owners. For this reason, many refuse to consider automation as the future of farming for wine production. And in some areas like Champagne, France, the practice is actually against the law.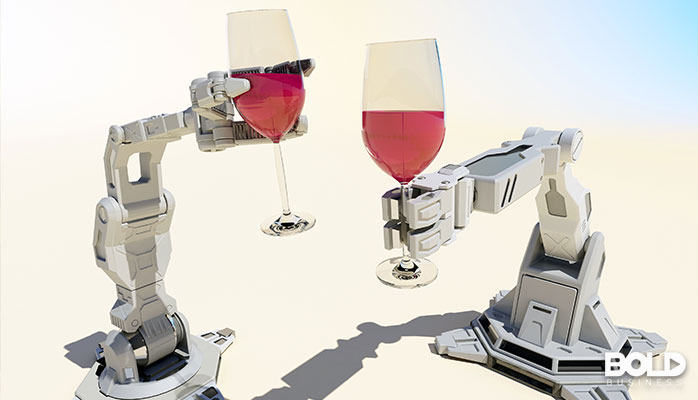 While many European winemakers balk at agricultural robots, that doesn't all of them have. In fact, the pandemic forced many to purchase such robots once it was clear that a shortage of workers threatened harvests. Trends embracing automation as the future of farming have been occurring even prior to the pandemic. Sales of machines for automated harvesting have been steadily rising at 5-10% per year. But this past year, amidst the pandemic, sales rose 20%. And many who invested in these technologies have been impressed with the results. Compared to handpicking, machines improve efficiency 10-fold and require minimal labor. Plus, overall harvest time is reduced by 40 percent. This combined with quality harvesting that doesn't damage grapes have convinced many this is indeed the future of farming.
"…[L]ast year was the worst labor shortage of his half-century career in wine. Use of harvesting machines among the group's members increased 20% this year in response. Even smaller producers started looking at buying machines." – Ritano Baragli, President of Cantina Sociale colli Fiorentini Valvirgilio, a winemaker's group in Tuscany
Vineyard Harvesting and the Future of Farming
It's clear that the pandemic convinced many winemakers that now was the time to invest in agricultural robots. But these investments have been difficult given the expenses involved. Automated harvesting equipment isn't cheap, and it generally requires many years of harvesting to realize financial benefits. Some smaller vineyards have decided to purchase older equipment as a result. But of course, you get what you pay for, as these older machines may have repair costs and lower-quality results. Because of this, it seems agricultural robots make the most sense for larger vineyards currently.
Despite these challenges, trends suggest that automation is slowly changing more traditional farming industries like winemaking. There will always be traditionalists who appreciate the advantages that handpicked grapes and wines offer. And indeed, for select vineyards and grapes, this may be the best approach. But for others where mass harvesting is in place, agricultural robots are beginning to be considered. And at least for these types of vineyards, it seems that automation will play a definite role in the future of farming.
The official Bold Business survey results are clear: most favor work-from-home over going back to the office. Read more in this important Bold story!