Supplemental nutrition bars have saturated the health foods market, each one claiming to be healthier than the next. But these supposedly healthy snacks actually contain processed ingredients and chemicals that simply aren't as healthy as they claim. Consuming these snacks would be damaging to a person's diet and fitness. If you look at the back of each package, it's unlikely that you're familiar with every ingredient listed (and a lot of these ingredients are difficult to pronounce). That's why when the RXBar protein bar entered the market in 2013, it quickly upended the health food industry for its transparent, no-frills approach.
How bold of a business is RXBar? In late 2017, Kellogg Co. acquired RXBar for $600 million.
That's a sure sign of boldness right there.
The RXBar Protein Bar Formula
Peter Rahal and Jared Smith, CEO and RXBar co-founders, were long-time health enthusiasts and nutrition bar consumers themselves. They began questioning why there were no raw food protein bars that were thoroughly honest and healthy. They tried making their own raw food protein bars using only whole foods, and without additives, fillers, and preservatives. In the end, they made very straightforward products with minimal ingredients, and no pretensions and lofty claims.
They started out from Rahal's parents' basement, which served as RXBar's first makeshift kitchen. Even without investors, and with amateur labels, they began selling RXBar protein bars to the River North CrossFit gym near their house. This soon became their first customer.
After its first year in business in 2014, the company earned $2 million in sales. Then, in 2015, it redesigned and streamlined its packaging to the one everyone knows today.
Every RXBar protein bar is very upfront about what goes into every package: three egg whites, two dates, and six almonds. Sometimes even with a few cashews or peanuts. When industry experts thought the packaging was nondescript and had no appetite appeal, they stuck to their guns for authenticity's sake.
And this type of product packaging was that X-factor that drew in millennial fitness enthusiasts—its biggest consumer. Its customers admire its distinctly honest articulation and its bare-faced design.
The humble RXBar protein bar has also diversified to 11 different flavors, almond butter, and a children's line. Each one bears the brand's signature simple, honest, and recognizable packaging.
Uncompromising Brand Voice in the Nutrition Bar Market
The most admirable aspect of RXBar is its simple brand voice. The co-founders are advocates for easy, clear, and uncomplicated products in a world populated by brands with inaccurately marketed products. This attitude permeates its operations, product development, and marketing. It has created a unified brand voice that is real, honest, clever, and practical. With this attitude, they have created an exceptional raw food protein bar made only with healthy, whole foods. This is quite unlike the many competitors that have come before them.
Since 2013, the company workforce has exploded to over 70 employees. Its products are also readily available at Target, Whole Foods, Starbucks, Trader Joe's, and through its website. With an increased circulation across the country and a strong online presence, it has become one of the standout choices in the nutrition bar market.
International food manufacturer Kellogg's took notice of the RXBar protein bar and its unique take on healthy snacks. The food giant then bought RXBar for $600 million in 2017. RXBar contributed $59 million in sales to Kellogg's during the second quarter of 2018, and a total of $110 million during the first half of the year.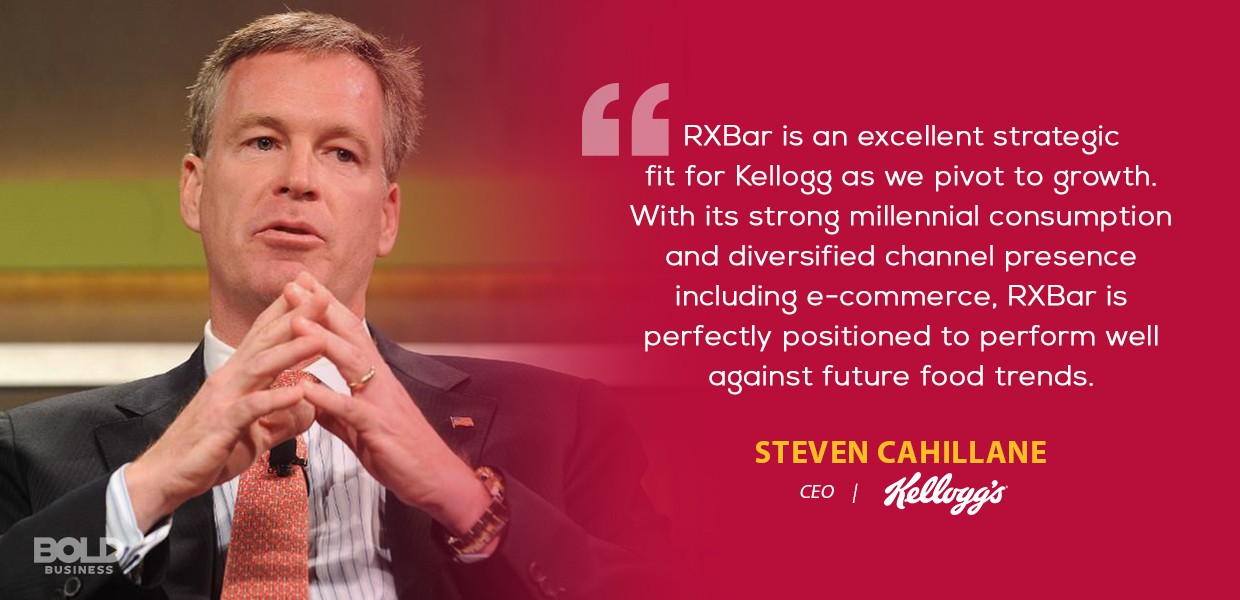 This year, the brand amplified its quirky voice by featuring rapper and actor Ice-T in their ad campaigns. With minimal effort and Ice-T's deadpan delivery and humor, RXBar showed that it cuts through the nonsense of advertising. The RXBar protein bar really is a distinct and valuable product in the market, a brilliant star among Kellogg's diverse product portfolio.
Back-to-Basics Bestseller For Raw Food Protein Bars
There are a few brands out in the market that are as simple, honest, and straight-to-the-point as RXBar. The raw food protein bar has also proven itself to be one of the best nutrition bars around, and consumers continue to support the business because it is authentic. Customers are drawn to RXBar as it gives them one less thing to worry about in their fitness journey.
And with just a few years in the market, RXBar has set the trend and influenced and redefined customer behavior toward healthier foods.