Technology has awarded us many conveniences these days. Nearly everywhere we go, we can connect to Wi-Fi and the Internet. If we have a question, Siri, Alexa, or Google are happy to provide us with the answer. Concerned about traffic or the weather? No problem! A quick check of an app, and we can plan accordingly. And soon, robotics and automation will take all of this to a new level. In essence, every industry has been influenced by these conveniences, and the retail sector is no exception. In fact, thanks to new dyeing technology, we might even be having our wardrobe colored on-the-fly. (Read more about how 2021 was the year of convenience-driven innovation in robotics in this Bold story.)
Sustainable dyeing innovations have emerged in the last few years thanks to a few committed companies. Among them are Ralph Lauren and Dow Chemicals who have partnered to introduce new dyeing technology into the retail arena. Certainly, underlying motivations for pursuing this approach is to entice consumers back into physical stores. Given the impact e-commerce has had on retail trends, this is understandable. But this is not the only driver for embracing new dyeing technology and in-store offerings. In fact, there are several reasons sustainable dyeing innovations are appealing to clothing retailers today.
"E-commerce has gained points of penetration and mindshare and will not give it back. But strong stores that made it through the pandemic are even stronger and are not likely to go away…The store will become more experiential each and every day." – Simeon Siegel, Retail Analyst, BMO Capital Markets
Trends in Sustainable Dyeing Innovations
Before the pandemic struck, many major retailers had bog projects in the works to attract consumers in-store. The buzzword at the time was "experiential retail," which attempted to create a memorable experience for customers. This meant tapping not only into their desire but their feelings as well. The stronger the positive emotion, the more likely they were to purchase and return. But COVID caused retailers to place these ideas on shelf…until know. For larger clothing retailers that survived, they are beginning to re-explore not only experiential retail but personalized offerings as well. And this is where new dyeing technology comes into play.
Recently, Ralph Lauren announced a collaboration with Dow Chemicals to pursue sustainable dyeing innovations. Dow has developed its ECOFAST Pure new dyeing technology that uses 90% fewer chemicals and 50% less water. But it also approaches the fabric dyeing process differently, using less heat and pressure. This not only means it's a more sustainable dyeing innovation but also one that might be done on-demand. This fits nicely into Ralph Lauren's Color on Demand Project where consumers can choose the color polo shirt they want. Being able to do this efficiently in-house could persuade customers to choose in-store shopping experiences over e-commerce.
"Ralph Lauren will be able to do something like put Color on Demand in one of their flagship stores in New York next year so that you can go in and get your Ralph Lauren polo dyed in the store. That would have never been possible without this technology." – Jim Fitterling, CEO, Dow Chemicals
New Technologies, New Retail Possibilities
While the pandemic and changes in consumer preferences have require new strategies, technology has enabled them. The retail industry has actually seen a number of new innovations as of late that are expanding opportunities. For example, 3-D printing and 3-D body scanners as well as advanced camera technology are introducing new clothing options. Each of these invite more personalized clothing sizes and styles, moving away from standard ones. Digital printing may also have a notable impact on clothing color choices in addition to new dyeing technology. With a more sustainable dyeing innovation in the works, this is quite likely down the road.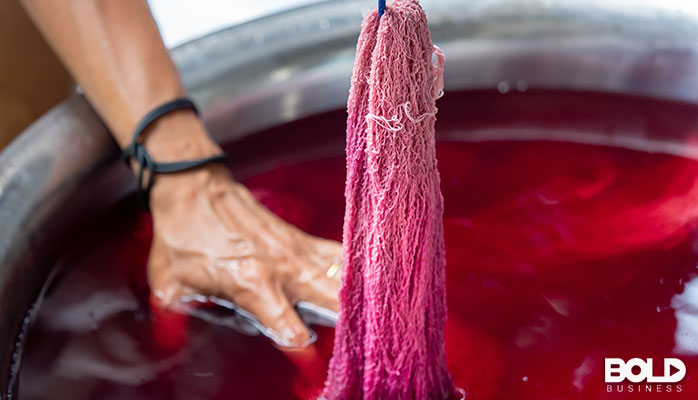 Several companies besides Ralph Lauren are making similar moves toward a more personalized consumer approach. Nike and Amazon have already made significant acquisitions of body-scanning technologies. Levi Strauss and Company is doing the same. And companies like North Face are already allowing customers to choose individual components of some jackets before they're manufactured. Combined with accelerated manufacturing techniques, this all signals major changes in the retail world. With new dyeing technology and other developments, there will soon be a blending of e-commerce and in-store experiences for customers.
"You can eliminate all the big pigments in the machines but at the end of all of that you are still left with a garment or fabric. That question still has to be addressed. I like seeing improvements in the coloration process, but we still need to address sustainability from an end-to-end view." – Ken Butts, Global Key Account Manager, Datacolor
A Need for Sustainable Dyeing Innovations
As noted, Dow Chemicals has invested heavily in the pursuit of sustainable dyeing innovations. The reason for this because current dyeing processes consume a tremendous amount of resources. Not only does the process require large amounts of energy, but it also uses trillions of water worldwide. Estimates suggest dyeing fabrics account for 20 percent of the world's waste water overall. This is why companies like Ralph Lauren are hopeful that new dyeing technology could improve our ability in water resilience. Not only could smaller-scale, in-store clothing coloring attract customers, but it would also improve a clearly unsustainable system.
In this regard, Ralph Lauren wants to develop a scalable, zero-wastewater cotton dyeing system. With the help of Dow Chemicals, they could reduce chemical usage by 85% in the near future. And ultimately, they hope to utilize their Color on Demand Project for 80% of their products by 2025. Whether or not this will be achievable remains to be seen. But it's clear that retailers appreciate the need for sustainable dyeing innovations and new dyeing technology. This alone will not address all areas of waste in retail and in overall consumption. However, it is a step in the right direction.
Want to leverage offshore capabilities for business process outsourcing? Bold Business has you covered.