According to the Equine Business Association, the equine industry today is worth about $420 billion. Kentucky alone has nearly $7 billion of this total and represents one of the hotspots in the sport. But increasingly, places like New York, Kentucky and even England no longer represent the only equestrian-heavy destinations. With numerous businesses in the equine industry now involved, expansion is on the rise. And for those looking to invest, the horse industry looks to have tremendous potential in the coming years. By most analysts' accounts, the future of this sector looks to be incredibly favorable.
While purses received from horse racing receive the lion's share of attention, gambling represents only one revenue stream. Sales and breeding also bring in big money, and investors in the equine industry are realizing the potential of these activities. Of course, that's not to say racing and gambling aren't also gaining momentum. Sizable investments by some businesses in the equine industry are laying the groundwork for the future in this post-pandemic world. Whether you're new to horses or not, it's worth taking a deeper look into the equine sector. This is especially true if one is exploring new investment opportunities moving forward.
"The current state of the U.S. thoroughbred breeding and racing industry is strong. The resilience of our sport and industry was on full display as we weathered what we all hope was the worst of the coronavirus pandemic." – Tom Rooney, President/CEO of National Thoroughbred Racing Association
Breeding Revenues Remain Strong
When it comes to horses, bloodlines mean everything. Thus, while an existing racehorse might attract hundreds of thousands of dollars in price, their offspring are even more valuable. The reason for this is because the average sports lifespan of a racing thoroughbred tends to be only three to four years. But its breeding potential extends for a much longer period of time. As a result, many businesses in the equine industry are increasingly focusing on this particular area of expertise. Kentucky, in particular, has become a goldmine for thoroughbred breeding over time, serving the majority of North America. This makes horse investments within the equine industry that much more attractive.
As an example, a well-bred thoroughbred often sells for a price between $7,000 and $105, 000. However, the offspring of such a horse attracts much larger sums, ranging between $35,000 and $215,000. Overall, breeding remains strongest in the equine industry among thoroughbred populations. However, there are many other businesses in the equine industry involved by breeding other key bloodlines. These include those with special expertise in Dutch Warmbloods, Andalusians, and Friesian horse breeds. Thus, from a global perspective, revenues being generated from horse breeding continue to attract major investments.
"There are three profit centers to our industry: breeding, racing and sales. We are the principal producer of thoroughbred foals in the United States, responsible for 38.5% of the national foal crop. Our stallions cover over 50% of the broodmares across North America." – Chauncey Morris, Executive Director of the Kentucky Thoroughbred Owners and Breeders
Nothing Against the Horse Traders
While breeders earn strong revenues within the equine industry, those trading in horse sales fare well also. Sales in Kentucky alone exceeded $824 million in 2021, which was up about $100 M from the preceding year. These figures are even more impressive in Europe where a larger variety of breeds are sought. While thoroughbreds attract the greatest offers, plenty of other businesses in the equine industry deal with other horse sales. Depending on the type of equine activity being considered, different breeds offer different features. As a result, sales involving all breeds of horses tend to start at the tens of thousands of dollars.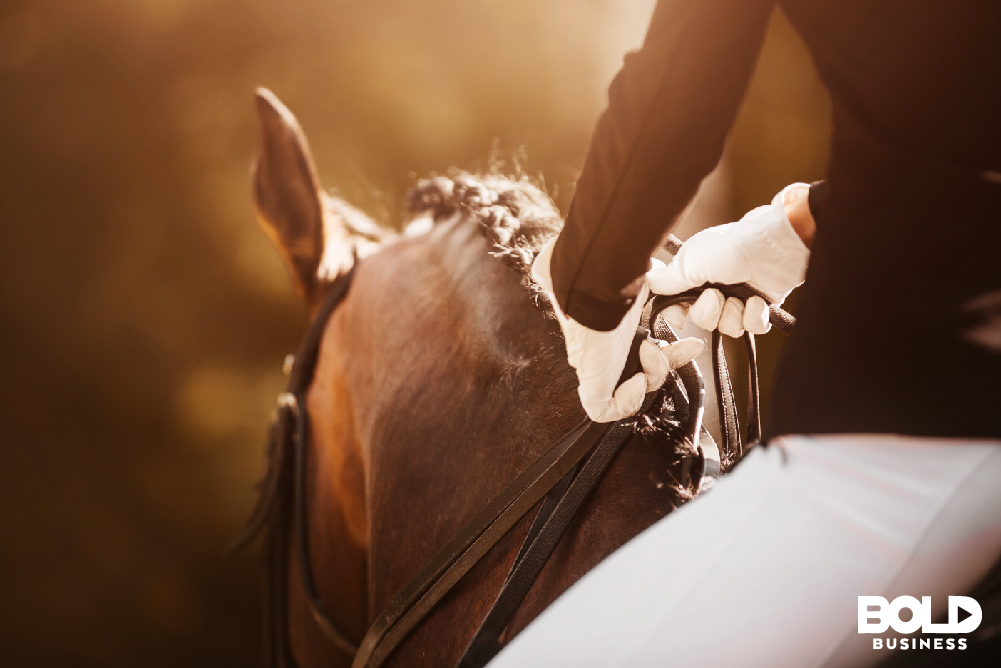 Several other horse breeds besides thoroughbreds remain highly popular among buyers today. For example, Friesian horses, known for their calm demeanor and durability, are often sought after for equine events and dressage. They routinely attract sales ranging from $40,000 to $65,000 in price. Andalusian horses, also recognized for their hardiness and athleticism, are routinely used for trail riding and also for equestrian events. Their average sales prices within the equine industry may be anywhere from $15,000 up to $55,000. Unlike thoroughbreds, which have a limited number of racing years, these other breeds have longer duration of productivity. This is why some businesses in the equine industry have chosen to focus more on sales rather than racing.
"Over the past three years, Churchill Downs Inc. has made significant investments in our historical racing operations in Kentucky, and the success of these properties allows for us to contribute in a vital way to Kentucky's signature horse industry." – Jason Sauer, Senior VP of Corporate Development, Churchill Downs Inc.
Betting on the Farm
Breeding and sales are great rainmakers, but racing and gambling still provides the bulk of the equine industry's revenues. The top 300 horse earners each generated more than $1 million each with some earner several million dollars. This has not gone unnoticed by many businesses in the equine industry either. Specifically, corporations like Churchill Downs Inc. is investing heavily in their gambling and racing sites. They are in the midst of a $76 million expansion of its Derby City Gambling site in Louisville, Kentucky. They have also allotted $145 million for its Turfway Park Racing & Gaming project in Florence, Kentucky. Plus, it's also involved in a multi-year capital improvements project of the 137-year-old Churchill Downs racetrack.
In most of the gambling sites, Churchill Downs is installing horse racing machines as well as restaurant and entertainment venues. The former are essentially like slot machines where patrons place bets on horse races. But instead of providing results according to chance, the machines use previously recorded horse races to determine results. These gambling opportunities have become immensely popular and generating tremendous revenues for the equine industry at large. (Dig deeper into the future of gambling in this Bold story!) At the same time, the state of Kentucky's legislature recently granted legal protection to horse race gambling on a permanent basis. If businesses in the equine industry weren't all in on racing revenues before, they are now. Projections for this portion of the equine industry in particular look extremely bright for the future.
An Industry on the Verge
From a worldwide perspective, the equine industry is definitely gaining momentum. New arenas are appearing in places like Miami Beach, Monte Carlo, and near the Eiffel Tower. Showjumping shows are also on the rise in Europe and in the U.S. And big sponsors like Rolex, Gucci, and Hermes are providing major support for businesses in the equine industry. All of this suggests that investing in the equine sector could have favorable returns. From breeding, to sales, to gambling, all signs point toward positive gains ahead.
Want to leverage offshore capabilities for business process outsourcing? Bold Business has you covered.