Italian luxury brand Gucci filed a lawsuit against American fashion chain Forever 21 over an alleged copyright issue concerning Gucci's trademark stripes. This is not the first time the American fashion retailer has tangled legally with the Gucci brand. This latest battle includes Gucci filing a motion to dismiss Forever 21's earlier lawsuit completely.
In a copy of Gucci's trademark stripes filing for infringement, trademark dilution, and unfair competition, it was stated that Gucci Counters Forever21 raised "challenged its most valuable and widely known marks" – the "blue-red-blue" and "green-red-green" stripe webbing used on much of their sportswear. The high-end fashion brand has used this distinctive banding for over 50 years.
Also, in the Italian fashion bigwig's filing, it stated that Forever 21's legal action is "like its business model … on undermining the very notion of trademark protection, which is of critical importance to Gucci's brand."
This back-and-forth between the two brands has been centered on Forever 21's use of a specified stripe pattern and specific colors that supposedly belong to Gucci's trademark stripes. These designs appear on items in question which are no longer on the Forever 21 shopping site, including an embroidered sweater, choker, floral bomber jacket, and faux leather bomber jacket.
Forever 21's Freshest Fashion Faux Pas
Forever 21 is no stranger to trademark and copyright lawsuits, having previously encountered issues with other famous and high-end brands like Puma (specifically Rihanna's designs under her brand Fenty), Adidas, Levi Strauss & Co., Anna Sui, and Anthropologie, as well as independent designers like LA women's clothing brand Valfré, Richmond family-run company Granted Clothing, and Brooklyn eco brand Feral Childe.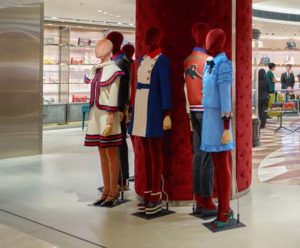 The latest complaint by Gucci was filed months after they sent some cease-and-desist letters in December 2016, worrying Forever consumers would mistake 21's strangely similar designs as one of Gucci's trademark stripes.
Forever 21 countered this on June 26 with a lawsuit of their own. In it, they asserted, "Many clothing and accessory items adorned with decorative stripes colored many third parties sell blue-red-blue or green-red-green. The colors red, blue, and green, and striped designs are among the most favorite, popular and widely used colors and design features on clothing."
In their complaint, Forever 21 also said the Italian brand should not be allowed to have a "monopoly on all blue-red-blue and green-red-green striped clothing and accessory items… Any use of stripes or color bands on clothing sold by Forever 21 is ornamental, decorative and aesthetically functional."
The Italian fashion house filed a lawsuit on August 8, with a motion to completely dismiss everything Forever 21 has been claiming in court. The released statement to Refinery29, an online global digital media company, focused on women.
Gucci said they were "committed as ever to protecting its long-established intellectual property rights, which are at the heart of the brand's identity, and to ending once and for all Forever 21's reprehensible exploitation of its distinctive trademarks and those of other brands who have suffered the same type of piracy."
Forever 21 is still taking a bold stand, with their lawyers Sheppard Mullin Richter & Hampton LLP, releasing a statement on their behalf. "Forever 21 brought its lawsuit because it believes that its position has merit. It is not our policy to comment on pending litigation, and Forever 21 looks forward to presenting its case to the court."
Susan Scafidi, founder and director of the Fashion Law Institute at Fordham Law School, elaborated that Gucci's trademark stripes are not only registered trademarks but that they have been registered long enough that they have gained "incontestable status." Gucci first used their striped webbings in the U.S. in 1963, subsequently registering trademarks for the "blue-red-blue" design in 1979 and "green-red-green" in 1988.
On the one hand, if Forever 21 wins this case, other high-end brands may need to evaluate their use of trademark protection. On the other hand, Gucci's trademark stripes have a high chance of winning but needs to prove trademark infringement. This means they need to demonstrate – to a significant degree – how consumers, looking at Forever 21's alleged knockoffs, would be deceived that they are actually by Gucci. A solid example would be if they could prove consumers mistakenly think these products were a collaboration between Gucci and Forever 21.