Unmanned aerial vehicles (UAV) have come a long way since the first time they were used as aerial surveillance during the First World War. The Drone Racing League is quickly becoming the fastest growing sport in history. Today, the impact of drones on society is paving bold ways no one could have ever predicted, given their ubiquitous presence not only in many different industries but also in the domestic garages of hobbyists. Current registered drone owners are estimated to be over 770,000 in the US alone—a number that makes one ask, how will a drone-driven world change us? 
How Are Drones Shaping Society?
Industries have largely been using drones in their operations – from oil companies that want to monitor their pipelines to real estate agents who want to take aerial shots of a property, and people in the entertainment industry.
Startup companies have ventured into the drone market and it is for a sound reason. From $17.82 billion in 2017, the market share of UAVs is expected to hit $48.88 billion in 2023. The use of drones in commercial, recreational, scientific and agricultural purposes is making an economic impact and is opening doors to thousands of job hunters. For instance, more than 100,000 new jobs will reportedly open for drone pilots in 2025.
Drone trainer and pilot Mahmood Hussein says that the rewards are great for people pursuing a career as a drone pilot. We're looking at six-figure salaries that can go as high as $150,000 a year.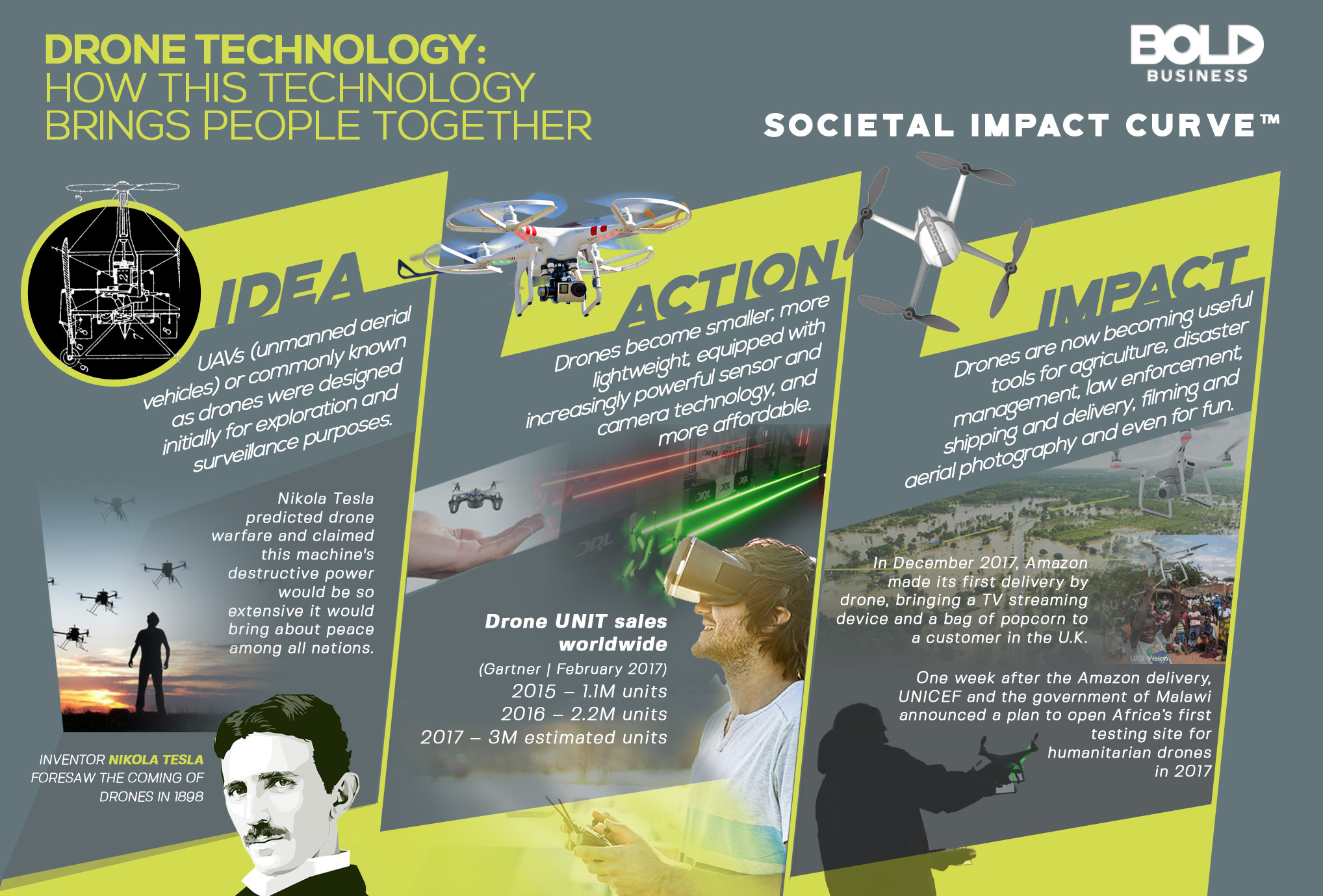 Impact of Drones on Society  is Effecting in Many Ways
While it's natural to think of aviation as the sector where most of the drone activities happen, there are other fields about to be disrupted by drones.
The immense problem of poaching persists, with 30,000 elephants slaughtered every year for their tusks. Rhinoceros suffer from the same fate – all to supply ingredients for spurious cancer treatments. There are other technologies used to attempt to stop poachers, but none of them have been successful so far. Drones are taunted to be one of the technologies that will help control poachers as they can be used to hover in dark jungle areas using an infrared camera.
Safety on the road can be difficult and costly to manage. The better understanding of roadways and highways will save many lives, that is why state and federal departments of transportation (DOTs) now use drones to help them with monitoring. Drones are used to document the condition of areas affected by rock slides and flooding that may put drivers and passengers at risk. This will help them send prior warnings, so accidents can be avoided.
Demands for Drones are Increasing
By 2025, the human population is projected to hit 9 billion, a number that is likely going to put a strain on agriculture if the current population is not already doing that. Sustainability is one of the problems that drones will address through high-tech planting systems, crop monitoring and spraying, assessment and field analysis.
One of the most popular demands for drones is the courier service. People welcome the idea of directly receiving small packages right at their footsteps delivered by a drone. What this means for the environment is the reduction of green gas emission and energy use, which is good news. Drone delivery of medicine and medical supplies to remote areas saves millions of lives. In fact, a California-based logistics company called Zipline has already done more than 1,500 flights delivering units of blood. These life-saving efforts have won for Zipline the INDEX: Design to Improve Life award in 2017.
Drones have also attracted the interest of students who not only learn how to fly the aerial vehicles but to design and build them as well. Building drones have allowed students to develop skills in robotics, software and hardware design.
Other areas where drones make an impact are in policing, fire-fighting and helping the displaced population in search and rescue operations. Anti-cheating drones are also used in examinations – probably the most powerful and effective technology for this kind of job.
How Are Drones Influencing People's Connections?
Humans are now communicating through technology, and even with technology. There is a massive interaction among drone enthusiasts around the world, and as Nicholas Horbaczewskie, CEO and Founder of Drone Racing League, has observed, drones are bridging the gap. There are drone competitions in many parts around the world, and it knows no race, age, and color. Drones are universal, and they are bringing together people from all walks of life.
Horbaczewski previously told Bold Business, "I'd like to say we're raising a generation of pilots. Everyone I know who's under the age of 15 has a drone or wants a drone. We're creating a whole generation of people who know how to fly."
The DRL is the most sought-after organization established in 2015 by the former Tough Mudder chief revenue officer. The 100 million views it garnered through broadcasts in more than 80 countries on the biggest sports networks such as ESPN, FOX Sports Asia, Disney XD, ProSiebensat.1, and OSN has never been before accomplished by any other new sport. Its partnerships with the world's top brands and the US Airforce also raised the game for DRL.
On the other side, there are business-client connections inspired by drone technology. BioCarbon Engineering is a UK startup that aims to rescue rainforests all over the world. Prox Dynamics and Clearpath Robotics, on the other hand, are looking to support defense organizations around the world such as the US Marines, British Army, Australian Army and the Armed Forces of Norway. There's also Google-connected Alphabet Incorporated that's working perfecting on a food delivery system.
How Are Drones Affecting People's Air Space and Privacy?
It would be difficult to find a person nowadays who does not know anything about drones. What once was a technology that only the military had access to has become a household name.
As in most technological advancements, the drone is experiencing drawbacks. People like to embrace new technologies, but not when they're flying around and invading their private spaces. A UAV doing fascinating maneuvers can be a treat to watch for many, but it is another story when it is hovering over your head, possibly taking live videos of you and your home.
The Federal Aviation Administration (FAA) and authorities concerned are yet finalizing the rules for flying drones.
40 Societal Impacts of Drones
We can't emphasize enough how drones are shaking up industries and people's lives. We've rounded up a list of 40 industries and sectors that are innovating with the use of the drone technology.
Problem of poaching
Safety on the roads
Home Deliveries and Courier Services
Reduction of green gas emission and energy use
Delivery of medicine and medical supplies
The way we teach students
Oil companies monitoring pipelines
Real Estate
Advertising
Anti-cheating drones
Recon amphibious insertion
Anti-Submarine Warfare
Rescue operations
Exploring the marine world
Map the ocean floor
National Security
Journalism
Sports
Home & Business Security
Pharmacies
Telecommunications
Disaster Relief
Insurance claims