The global pandemic thrust the entire world into lockdown, forcing businesses to transition to a virtual workforce to survive. But some have done more than just survive–they have thrived! The reason? The pivot to a virtual world gave them a chance to assess their business processes, and fix what was broken while improving what wasn't. More importantly, this rethinking of organizational structure allowed them to become more cost-effective and efficient, and realize the new outsourcing opportunities found in a virtual world!
On June 25, Bold Business hosted New Outsourcing Opportunities in a Virtual World, a webinar that featured business process experts James Hummer and Melvin Clomata, Bold Business' Senior Vice President and Director of Business Excellence, respectively. And of course, the webinar featured Ed Kopko–Bold Business' CEO and resident guru of global outsourcing strategies. 
The COVID-19 Lockdowns Weren't an Obstacle – They Were an Opportunity!
When nearly everywhere on Earth goes into lockdown mode, businesses in one way or another suffer. It can be a disruption of supply chain, a strain of continuity, an impediment to reaching potential customers–the issues that can plague a business due to a plague are as numerous as they are troubling. 
But that old adage about every cloud having a silver lining holds true when it comes to business, too. Because what better time to reexamine all the processes involved in producing an enterprise's products or services than when that company has to change how it functions?
"COVID-19 really created an opportunity for companies to rethink how they're organizing themselves," said Kopko. "We kind of had an emergency wave to push a lot of our employees outside of offices. We moved from an office-centric environment to a distributed workforce, where employees are working home or other places."
This has opened up more and more businesses to the benefits of virtual workforce. Said Kopko: "I believe that the evolution of a virtual workforce is an immutable force to be reckoned with. It is going to continue because we as human beings want things to be easier. We bring heat into our houses, entertainment into our houses, and now we're entering into the next paradigm, which is called 'bring more work to our houses' so we don't have to travel so much."
No Matter What, The Virtual Workforce Will Be Permanent
Clearing out the offices and sending employees home with laptops and remote logins was a dramatic turn. Necessary, for sure, but dramatic. Yet the shift to a virtual workforce revealed some surprising truths.
The first was that an economy based on people moving to receive products or services or traveling for work is on its way out, with the "Come-to-Me Economy" its replacement. 
The second surprising truth: virtual workforces work just as well (if not better) than those that must show up to their cubicle every day. Add to that the lower overhead that comes with not having to rent out office space, plus savings on commuting costs, and it's easy to see that the remote workforce is here to stay!
Making The Virtual Transition a SMART One
Any shift in business function is an opportunity to examine organizational structure and process, and that especially includes the change to a virtual workforce. But how best to conduct that examination? After all, the successful operation of any enterprise touches upon a variety of aspects, from management and quality control to a strict eye on cost effectiveness.
Enter: The SMART+ Operational Excellence framework, an optimizing evaluation procedure that helps businesses work smarter while leveraging global assets.
"This is Bold Business' framework for systematically evaluating and improving operational processes," said Hummer. "We use this framework both internally, and withclients who are looking to optimize their business processes either for internal use or for preparation for outsourcing for a BPO."
Where should a company start when they want to review their business process operations? "First step is identifying which workflows that have the greatest impact on your business," said Hummer. "Generally, these workflows are the ones that your company performs the most often and have the greatest impact on revenues or costs.
Does SMART+ Operational Excellence work for every business? According to Hummer, it does. "This is applicable to all companies," he said. "For example, if you're in healthcare, you are billing patients and tracking that bill all the way to payment. If you're a retail organization, you're shipping products, following up with customers and making sure those customers are happy. If you're a sales organization, you're tracking leads to close deals. Every component of a business has performance indicators that should be   tracked and optimization." 
Added Hummer: "This is more relevant now that everyone has gone virtual. Four or five months ago, most of us worked in an office together so we had tribal knowledge. We could walk across the hall, tap someone on the shoulder and say, 'How does this work?' Now that we're all dispersed and working from home, lack of documentation and lack of metrics are really impacting businesses and forcing them to take a hard look at how effective their businesses work." 
SMART+ Operational Excellence focuses on three core metrics.
Speed

, meaning the time it takes for the entire process to produce a particular product or service

Quality

, meaning the high-level of standards that product or service must meet for optimal customer satisfaction

Cost

, meaning the resources it takes to create that specific product or service
As a general rule, businesses want speed and quality to be high while cost remains low.
With those metrics in mind, SMART+ Operational Excellence puts business processes under a microscope. Is the process in question replicable? Are all elements of it measurable? Is it scalable so it can meet any rise or fall in demand? Is it intelligent? The framework asks these questions, and the answers shape what the process in question should be.
The Framework in Action
For a closer look at how at the SMART+ Operational Excellence framework in action, Clomata walked us through the steps.
"Basically, this is an iterative framework where each step is part of a continuous cycle," said Clomata. "The goal here is to go through each step of the process and consistently improve, building and creating synergies and operations to reach business goals and objectives."
Clomata broke down the steps as follows: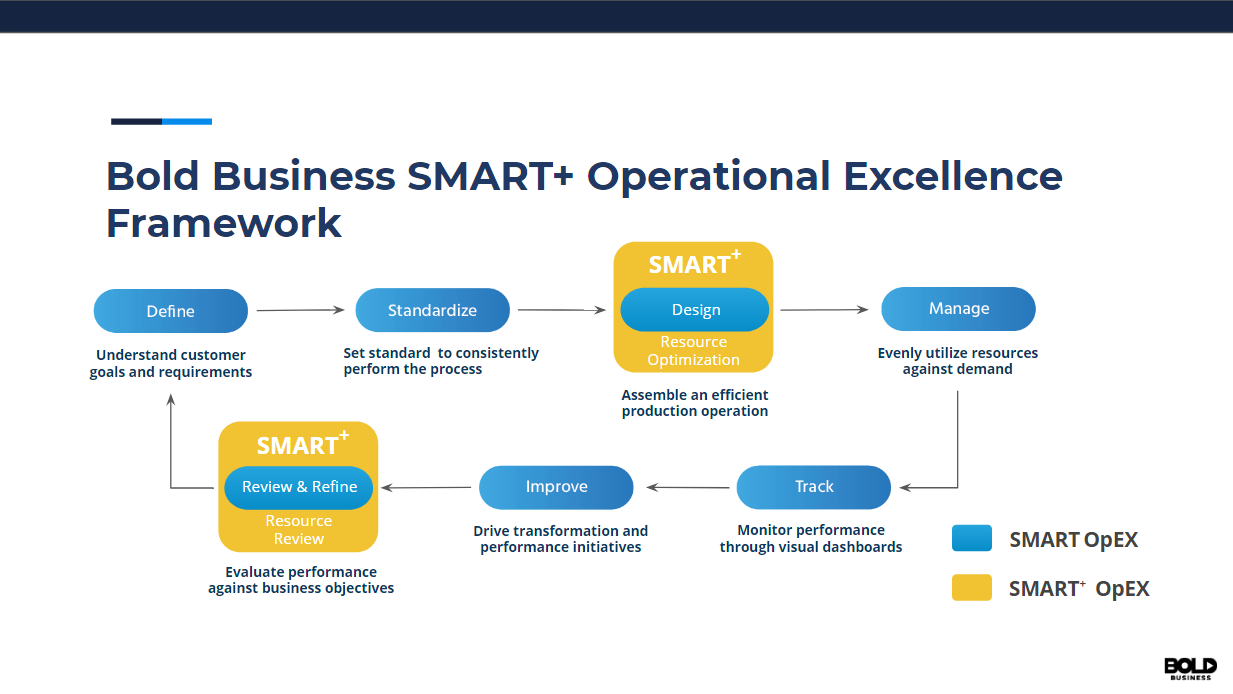 Define

– "We partner with clients to understand the speed, quality and cost to deliver products or services. In this stage, we also define what will be the key performance indicators."

Standardize

– "We employ techniques to build process-flow and capture the steps. The goal here is to identify the most efficient and effective route to convert inputs to outputs and make it a standard of operation."

Design

– "We assemble an efficient production operation. In this stage, we most likely have an idea of an ideal flow of operation."

Manage

– "We further improve our production design by matching demand and supply."

Track

– "Here we ensure we have a system to track performance."

Improve

– "This is where all actions converge on how to improve every process."

Review and Refine

– "Here we identify what really matters and eliminate unnecessary utilization resources."
Added Clomata: "In the BPO world, one of the main focuses is to drive the bottom line. Bold Business' SMART+ Operational Excellence stresses resource optimization."
While making a business process run more efficiently provides one important slice of the "opportunity" virtualization offers, another part is the integration of offshore labor to provide additional cost-effectiveness. 
Of course, that means engaging with a partner with experience in leveraging offshore assets. 
Going Virtual? Don't Go It Alone!
Pivoting to a virtual workforce may seem as easy as issuing company laptops and remote logins, but when the business process goes global, it's important to have a partner that knows how to make that transition effective. 
The graphic below illustrates a handful of reasons why a partner is important.
If you want to watch the webinar, you can check it out on the Bold Business YouTube page.
And of course, if you want to learn more about how Bold Business can help make the transition to a virtual workforce smooth and cost-effective, check out our Business Process Management services.