Major cities throughout the world have seen their fair share of upheaval and change in the past few years. Many that were commercial hubs saw a dramatic change in the amount of office space to rent. The pandemic prevented many from coming into the office, and then a preference for remote work followed. Even after pandemic pressures relaxed, inflationary strains and threats of a recession further hindered office leasing and construction. Notably, Manhattan has been among the worst hit in this regard with the office market still constricted. But simply because things took a downturn doesn't mean urban office landscapes are done for. In fact, there are many indications that the opposite may be true.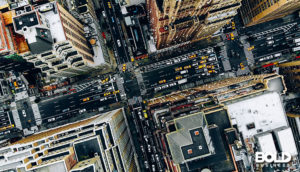 (Remote work and worker migration have been intertwined since the pandemic–read why in this Bold story.)
In considering the fate of the future Manhattan office market, different events suggest different directions of change. On the one hand, certain projects like the Penn Station redevelopment have stalled due to hesitation of some stakeholders. However, at the same time, significant increases in Manhattan office leases have occurred in recent months. This raises the question as to whether office space for rent in cities like Manhattan are trending up or down. Without a doubt, the situation is a complex one with many variables. And as a result, different views exist as to whether such urban office landscapes are evolving or dying. In order to answer this in a rational way, it's worth exploring the data in more detail.
"Call me crazy, but I think companies that embrace work from home will be left behind. And I think it's absurd to think that years from now tens of millions of Americans will be working from home alone at their kitchen table." – Steven Roth, Chairman and CEO of Vornado
Office Space Revitalizations Plans on Hold
Before COVID-19, the State of New York recognized that the dilapidated Penn Station was in need of repair. As such, plans were made to allow for 10 additional skyscrapers to be constructed in the Midtown Manhattan area. These buildings, which required rezoning efforts, would be used to support the revitalization project of the historic Penn Station. But amidst all the changes with the pandemic and beyond, the major real estate trust placed things on hold. Vornado Realty Trust wasn't willing to take a risk in the existing Manhattan office market. As the volumes of office space to rent climbed, their enthusiasm wavered.
Understanding this, many New York legislators are calling for another look at what needs to be done. Alternative proposals are being voiced that would not require new office space to be constructed. At the same time, Vornado states it is still planning to commit to the Penn Station project. But they simply wish to wait for the current economic pressures to subside. With a $200 million investment in the project already, it seems this is more than simply lip service. As such, it may be that the Manhattan office market isn't necessarily on a downward spiral. Instead, constructing new office space for rent may just be in a holding pattern awaiting brighter economic days.
"Both quality office and specialty use workplaces that cater to employee needs are evidence that demand for certain spaces is extremely high." – Shimon Shkury, Founder and President of Ariel Property Advisors
A Closer Look at Manhattan Office Market Numbers
While hesitancy and caution might exist, that doesn't mean there is necessarily an abundance of office space to rent. In fact, recent activity suggests the Manhattan office market is quite healthy. Compared to 2021, last year's office sales increased 60% year-over-year, totaling $9 billion overall. At the same time, office occupancy in the Big Apple is over 50% of pre-COVID levels. This also is an improvement over last year's 37% occupancy figure. And in terms of leasing, this too has made notable progress. Those committing to office space to rent expanded 94% year-over-year for 2022. All of this suggests some level of comeback for office space that stalled development projects fail to highlight.
According to analysts, there are several reasons for improvements in the Manhattan office market. The first relates to a few opportunists pursuing what is by all accounts high-value office spaces. Without question, several extraordinary Manhattan office spaces entered the market post-COVID. And it's clear these types of spaces won't be around forever. At the same time, major companies are looking to acquire more physical office space in select destinations. A space in the Manhattan office market and other key urban areas offers a great way to enhance corporate cultures. Both Google and JP Morgan have invested heavily in office space to rent this past year for these reasons. Thus, while urban offices may not enjoy the same demand as pre-pandemic levels, interest is rising.
"The economics of conversions are similar to development. Conversions are not a savior for someone who bought a building for $800 per square foot and is now trying to save their basis after their tenants left." – Tom Ortinau, Head of Acquisitions at GFP Real Estate
Office Conversions Versus Revitalization
Given recent events, many in the real estate sector have questioned whether office space conversions might be the best approach. However, it has become increasingly apparent that such pursuits are limited. Of all the office space for rent in major cities, it is estimated that only about 10% may be feasible for residential conversion. Zoning issues, infrastructural changes, and the persistently high cost of office space explain why. In addition, another 10% of the Manhattan office market and similar cities' simply need to be removed. Demolition of some structures was part of the Manhattan Penn Station project, which aligns with this thinking as well. In short, conversions may be an option for a few office buildings, but such an approach is not a major solution.
An alternative perspective regarding office space for rent suggests that only time is needed to resolve present-day issues. This is because many believe there will be a shift back to the office and away from remote work in coming months to years. These trends could be fueled by layoff pressures that encourage employees to return to the office to secure employment. Likewise, a significant number of workers will want to return to an office setting as work-at-home fatigue sets in. And most importantly, many employers and employees alike will miss urban destinations bustling with activity. This is why a number of people predict the Manhattan office market will be just fine given some additional time. It may not look the same as it did before. But it will once again be in high demand as social trends once again shift.
Companies are laying off lots of employees lately–what should you do to safeguard your future? Read this Bold story to find out!