The COVID pandemic was extremely kind to many such businesses as quarantines and lockdowns occurred. But a return to normalcy in a post-pandemic world has turned the tables. In fact, there are quite a few businesses suffering from a post-pandemic crash as of late. Netflix's impending losses and Peloton's rise and fall are excellent examples of today's post-pandemic crash. But these companies are not alone. Many companies in the tech sector and e-commerce industries are having to readjust forecasts in light of market changes. And most are having to reexplore their market strategies as consumer trends have notably shifted. These developments are important because they highlight just how important it is to be adaptable. By staying abreast of market trends, and by cultivating a culture of change, business can better weather such storms. It will be interesting to see just how well companies like Netflix and Peloton prepared for just such an occasion.
(Who won big during the pandemic? Check out this Bold story to find out.)
"The balance sheet challenge [for Peloton] has been managing inventory. We have too much for the current run rate of the business, and that inventory has consumed an enormous amount of cash, more than we expected, which has caused us to rethink our capital structure." – Barry McCarthy, CEO of Peloton
Peloton's Rise and Fall
Perhaps one of the most notable companies to experience a post-pandemic crash has been Peloton. With gym closures and a shift to a streaming exercise craze, the company thrived during the pandemic. It saw billions of dollars in revenues over 2021 as a result of numerous subscriptions and equipment purchases. But unfortunately, Peloton's cofounder, John Foley, assumed the trajectory would persist. But as fitness centers reopened, Peloton purchased dropped rapidly. The end result was lost earnings of $1.26 billion last year when compared to the prior year. That's why Peloton's rise and fall has been well publicized.
The company's post-pandemic crash led to a change in leadership with Barry McCarthy eventually taking the helm. His challenge has been trying to rid the company of its excessive inventory while renegotiating subscription rates. Thus far, progress has been slow, and the company is looking into a variety of options. One involves using 3rd-party sellers to move its equipment. Others include advancing Peloton's international presence and moving toward a software platform. In any event, it's clear that Peloton's rise and fall was perpetuated not only by the pandemic. A failure to anticipate consumer shifts amidst dynamic change was largely to blame as well.
"Netflix hit a wall. The Street now knows that the low guide last quarter was not an aberration, and we expect it will take a while for investors to believe Netflix can return to growth." – Nat Schindler, Securities Expert, Bank of America
Is Netflix's Stream Drying?
As millions turned to at-home exercise equipment with Peloton's rise and fall, even more consumers turned to streaming. Netflix became a tremendous pandemic winner as a result. The company saw billions of dollars in revenues during 2021. But as the pandemic subsided, people were more than ready to escape the indoors and return to other entertainment options. Increasingly, subscriptions began to not only cease growing but actually decline. And seeing the writing on the wall, share prices for the company fell during the post-pandemic crash. In total, the company has lost over $50 billion in market value over the last year.
(Do you remember the great streaming pivot of 2020? Bold does.)
Of course, Netflix is not the only streaming company to experience such a post-pandemic crash in subscriptions. Warner Brothers has seen a 6% drop in share price, and Paramount Global recently experienced an 11% decline. But by comparison, Netflix has lost roughly 35% in share value during the same time period. Like Peloton's rise and fall, Netflix's pandemic glory made its decline that much more painful. And while the company may not have been quite as blindsided as Peloton, it too reacted too slowly to prevent substantial losses. Today, investors realize that a quick solution to a return to growth isn't likely in the near-term. And ultimately, it may cost Netflix dearly in a highly competitive market.
E-Commerce Going Off-Line
Consumer habits changed drastically during the pandemic, and they have also shifted significantly since. In addition to online fitness and streaming services, e-commerce companies have also experienced the effects. Unable to shop retail stores in person, customers were forced to shop online. And many companies like Shopify, Etsy, and Wayfair benefitted greatly in the process. But like Netflix's and Peloton's rise and fall, these companies have had their recent struggles as well. Combined with inflationary pressures and the end of government stimulus packages, a post-pandemic was destined. Now, each of these companies are having to deal with the fallout as a result.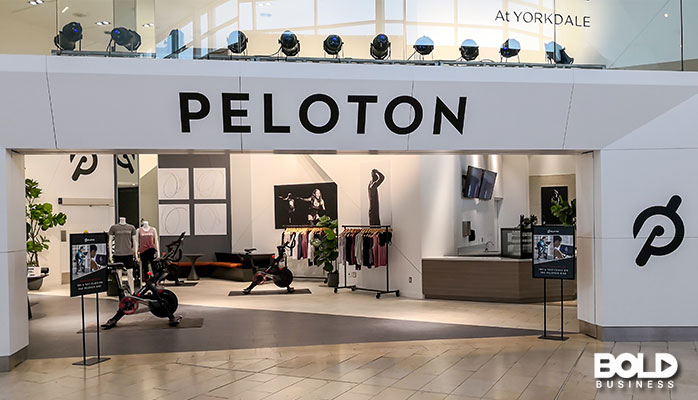 By the numbers, the decline in value for these retail e-commerce businesses are significant. For Shopify, which offers business tools for e-commerce, its shares have dropped 18%. For Etsy, it's net income has recently dropped 40% with a total loss of 71% in the last 6 months. And for Wayfair, revenues plunged 14% resulting in a loss of $319 million compared to last year. These pose difficulties from human resource and inventory perspectives. Likewise, it also presents problems in terms of cash flow and investments. Their challenges thus mimic Peloton's rise and fall problems as they try to deal with their own post-pandemic crash.
Foresight and Adaptability as Assets
Being able to predict what to expect during and after a pandemic is understandably impossible. Therefore, faulting any of these companies for some struggles isn't the point. However, it is important to recognize that businesses today must be extremely dynamic. Technological advances and global shifts demand this. The pandemic simply exacerbated these existing influences making the changes faster and more furious. Hopefully, most of these businesses will navigate their post-pandemic crash well and get back on track. But as a lesson to any company, agility, adaptability, and insight are essential skills businesses must develop in today's world.
Want to leverage offshore capabilities for business process outsourcing? Bold Business has you covered.