Since the Industrial Age began, ocean waters have risen between 8 and 9 inches around the world. A third of this increase has occurred in the last 25 years. And scientists expect these levels to rise another foot by 2050. If this comes to fruition, coastal areas along with their infrastructure will be highly vulnerable. Bold solutions are therefore needed to address these threats, especially since current environmental efforts appear insufficient. With this in mind, one company has partnered with South Korea and the UN to offer such a solution. Its proposed idea is a floating city concept that creates completely sustainable urban areas.
Oceanix along with UN Habitat and Busan, South Korea recently unveiled its plan for a floating city concept. Planned to be prototyped by 2025, the project will consist of interconnected floating platforms. Each of these platforms, which comprise several acres, will be designed for specific purposes. And in total, the floating city concept will be 100% self-sufficient in terms of waste, water, and energy management. Understanding that the need for sustainable urban areas is pressing, many are intrigued by the proposal. And while it may not be ideal for every city and country, it could well be highly welcomed for coastal communities everywhere.
"Imagine a masterplan that is not made from paving roads or building foundations, but one that channels the flow of energy, water, food, and waste and create this kind of blueprint for a maritime metropolis." – Bjarke Ingels, founder and architect of Bjarke Ingels Group
A Comprehensive Sustainable Design
The initial prototype of Oceanix's floating city concept is meant to accommodate roughly 12,000 people. The three floating platforms are connected by bridges, and they comprise about 15.5 acres in total. On the platforms are various modules created with specific functions in mind. Some will serve as living spaces while others for research and work. There won't be any roads, as bicycling and walking will be the only mode of transportation. And dozens of goods will be available to rent, including clothing and furniture. From a practical perspective, it is designed to function like any other urban environment.
While these measures help create the sustainable urban areas desired, they are just a start. The real genius behind this floating city concept involves its operations concerning water, waste, and energy. For example, only green energy will be utilized, including solar, wind, tidal, and thermal sources. Likewise, all waste will be composted or recycled with city dwellers paying a fee based on waste weights. Also, all water will be collected, treated and recycled to further enhance these sustainable urban areas. Lastly, hydroponic farms will cultivate foods while only plant-based and fish diets will be available. (Dive into why hydroponic farms offer a sustainable feature in this Bold story!)
"We live in a time when we cannot continue building cities the way New York or Nairobi were built. We must build cities knowing that they will be on the front lines of climate‑related risks — from rising sea levels to storms. Floating cities can be part of our new arsenal of tools." – U.N. Deputy Secretary-General Amina Mohammed
The Latest Solution for Urban Flood Control
While the floating city concept is perhaps the most impressive design to date for flood management, it is not alone. Several other cities and countries are exploring similar designs in an effort to better manage water. Water management is an important component for future sustainable urban areas. Not only are coastal areas at risk for flooding, but water shortages and water pollution are additional worries. Naturally, all of these concerns are being addressed by the designs proposed for Busan. But for other areas that are not necessarily coastal, alternative options are being considered.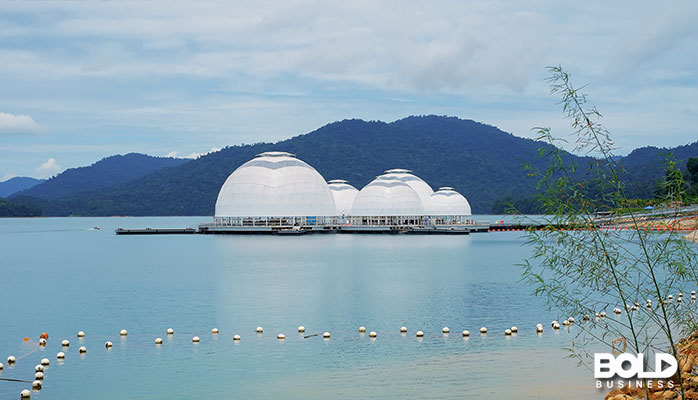 One of the emerging concepts for flood and water management involve "sponge cities." These are being trialed in certain areas of China in an effort to mitigate flooding, pollution and scarcity. In essence, they absorb, store, infiltrate, and purify water from rainwater for reuse on a large scale. Others are more primitive in nature. For example, HafenCity in Hamburg, Germany is redesigning infrastructures to mitigate flood damage. Their solution is to create elevated secondary thoroughfares for pedestrians and emergency services during flooding. These aren't as advanced as the floating city concept, but they demonstrate current interests in designed more sustainable urban areas.
"There's no global [blueprint]. It's all about going to places and meeting with people and finding out what's important. The core of the [floating city concept] is the platform—a city on the water. Everything else on top should be informed with by whatever else is going on in that community." Daniel Sundlin, architect and partner at Bjarke Ingels Group
A Big First Step Toward Sustainability
The existing design of Oceanix's floating city concept is both excited and hopeful. Given the acceleration of climate change, any viable solution for sustainable urban areas is worth examination. Certainly, it appears the Busan project is highly detailed in its efforts to achieve 100% sustainability. But that doesn't mean problems won't be encountered. For example, it's not clear how a floating city might affect marine life. Its design may also need to be changed based on topography, urban density, and diverse cultural preferences. These are all important aspects that must be considered as the project advances.
Regardless, the floating city concept is definitely a big step in the right direction. Busan was specifically chosen because it is the largest port city in South Korea with roughly 3.4 million inhabitants. If the initial prototype shows success, Oceanix than plans to expand the region to accommodate 100,000 residents. Thus, Busan will represent an important test-ground for the development of these new sustainable urban areas. In all likelihood, many answers as well as new questions will emerge from these efforts. But there is great hope in the project's potential for coastal regions throughout the world.
Want to control your cost efficiency and protect your bottom line? Bold Business can help.