The future is almost here, and it will be pioneered by flying cars. Soon, these futuristic automobiles may no longer be a thing of science fiction. And it's only a matter of time before we can hover across the city inside our flying dream car. Recent technological advances have lead to the sudden shift in the transportation industry. Companies can now possibly build any design with advances such as enhanced batteries, better motors, and lightweight components. The electric motors' flexibility provides engineers and developers with almost total free control, producing many bold advantages.
Uber & NASA Together
Two of the big-time entities recently collaborated to make these flying cars soar in the not-so-distant future, Uber Technologies Inc. and NASA. Uber provides NASA the data for flight simulation of a small passenger plane within the flight zone of the Dallas Fort Worth International Airport. NASA's Urban Air Mobility (UAM) project aims to build a safe and efficient aerial transportation system wherein anything can be transported. These range from small items carried by drones to air taxis that function across small areas to the largest cities.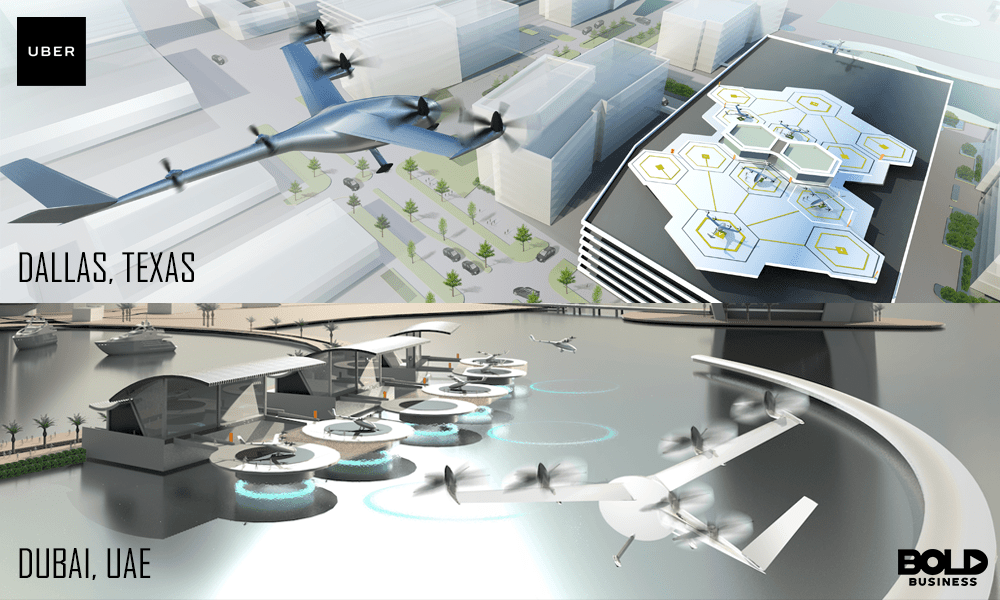 NASA officials also confirmed that their research will determine safety measures future air transportation systems might have. This is after Uber had signed an agreement with NASA to develop an air-traffic-control system designed for a flying car service named UberAir, also known as Uber Elevate. This is NASA's second space act agreement with Uber, but the first ever agreement to specifically focus on modeling and simulating UAM procedures. Under the research contract, Uber will share its project and plans to develop a modern air rideshare system with NASA. Using these data, the space agency will then develop structures on how an aircraft move and takeoff.
Uber with RDECOM
Taking this bold venture into a higher level, Uber also partnered with the Research, Development and Engineering Command (RDECOM) of the US Army. This partnership focuses on research and studies about the necessary technology to propel Uber's electrical vertical take-off flying car.
With this technology, UberAir aims to launch its cars up to 2,000 ft. at speeds of 150 mph intended for short-distance flights and can go as far as 60 miles per battery charge. By 2020, the air transport service targets to demonstrate its four-passenger seat aircraft in the Dallas Area and Los Angeles, and will be available for commercial use in 2023. Initial prototypes of the air taxi will have pilots, but autonomous driving option will be later released.
A Race to Fly Cars
Uber is not alone in searching for ways to develop this aerial transportation technology. Globally, big companies have announced their plans to launch their own version of flying cars, including the electric Volocopter from German developers; Lilium that recently secured a $90 million series B funding; Vahana from Airbus; Ehang 184 and Terrafugia from Chinese developers; Kitty Hawk Cora funded by Alphabet CEO Larry Page; and the Workhorse Surefly.
Some people are skeptical to the idea of flying cars. Factors like safety, costs, speed, and efficiency always hinder the possibility of making this transport technology a reality. But with the latest computer systems, lightweight materials, voice-recognition tech, and years of engineering expertise, the dream of flying cars is achievable. Airplanes, helicopters, jetpacks, spaceships, and a lot of flying things have been set off the ground. With the same technology, flying cars will be able to elevate, too.
Researchers and developers have still so much to do to make flying cars become the common mode of transportation. Thanks to the rapid growth of drones, the technology of flying cars has come a long way. But this technology is just a part of a complex system. Flying cars in prioritized areas is a possibility, just like how autonomous driving cars started appearing in big cities. We can watch the progress on this technology and prepare for the bold impact these flying cars may take us.