Elaine Chao, the new U.S. Secretary of Transportation, has the power to make decisions that will have a bold impact on the United States' future standing in the global economy.
In 1960, the US accounted for 40% of global GDP. Although the US is still ranked number one, that number fell to 24.5% in 2015.  China, the closest competitor, held 15% of global GDP in 2015 and is projected to surpass the US as early as 2018. The decisions Chao makes could change those forecasts.
Chao is a seasoned leader with a record of accomplishments.  As president of the United Way, her bold leadership restored public trust following years of mismanagement. She served as Deputy Secretary of Transportation and Director of the Peace Corps under President George H. W. Bush and as the 24th United States Secretary of Labor under Pr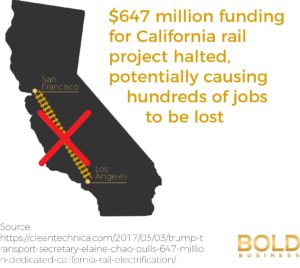 esident George W. Bush from 2001 to 2009. This experience will be tested in the Trump administration.
President Trump has vowed to reduce regulations and red tape hampering US businesses and depressing economic growth.  Responsible for regulating land, sea, and air carriers and infrastructure and associated safety, the US Department of Transportation has a broad purview. By reducing or at the very least restraining the growth of federal regulations, Chao can accelerate US dominance in major technological growth areas, such as self-driving vehicles and space transportation.  Where new rules are necessary, an efficient, common sense approach can pave the way for a renaissance in infrastructure construction. Another exciting possibility under Chao's dominion is preparing the regulatory climate for advances in automation and robotics to enable the integration of human and machine labor.  Such integration will create rather than result in the loss of jobs.
"full and complete audit of the project, and its finances can be conducted and those findings presented to the public"
What kinds of decisions will Chao make? Chao has come under heat for one of her first acts as Secretary—
halting $647 million
of federal funds headed to California for a Los Angeles to San Francisco high-speed rail project. Proponents of the project consider the cancellation of funds a political move that will cost hundreds of jobs.
On the flip side of the argument, Chao's decision was in response to a letter from all 14 members of the California GOP delegation asking for a delay in funding until a "full and complete audit of the project, and its finances can be conducted and those findings presented to the public." A confidential federal report projects a $3.6 billion dollar overrun to the project, 50% more than original estimates.
With both the authority and the edict to make bold decisions that will impact the US position in the global economic order, is Elaine Chao the woman who will keep America great?