Toyota is putting up higher stakes in its quest for the hydrogen powered car with the introduction of the Mirai. It recently added a new building to its Honsha plant, located near their headquarters, to build fuel cell stacks. It also added a new hydrogen storage tank assembly line at its Shimoyama plant. These are big changes to the manufacture capabilities of a hydrogen powered car.
These are the key building blocks needed for the production of the Toyoto Mirai. The Mirai, a hydrogen powered car, translates to "future". It is arguably the most popular fuel cell car in the world. Since 2015, it has sold more than 5,500 units. Of these, 3,000 were sold to individual buyers in California– the only state where it is on sale. Another 250 were sold in Europe, where hydrogen stations are more common. The difference between the European and U.S. market is that in Europe, the cars go to corporate fleets.
Fuel Cell in a Hydrogen Powered Car
The fuel cell is the primary unit power production in a fuel cell vehicle (FCV). It converts hydrogen, with oxygen in the air, and this results in an electric charge along with a small amount of water. The idea is like electrolysis in reverse.
In electrolysis, electricity passes through water which break up water molecules to oxygen and hydrogen molecules. The reverse process inside a fuel cell uses a catalyst which hastens the fusing of hydrogen and oxygen to form water. A fuel cell, in itself produces on a small amount of energy. However, it is possible to add multiple fuel cells in series to form a fuel cell stack which would generate enough energy fora hydrogen powered car.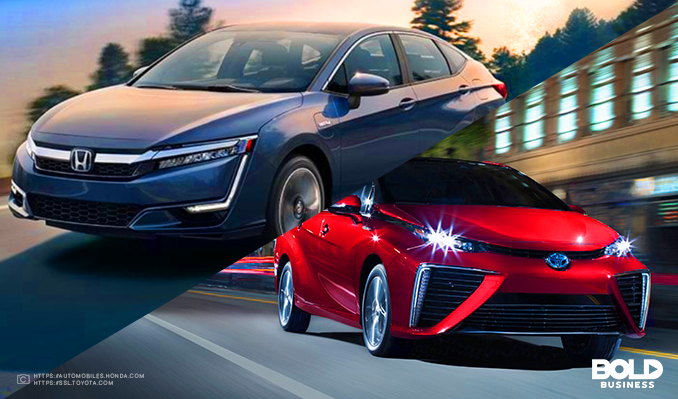 In a hydrogen powered car, compressed hydrogen is the fuel for these vehicles, and stored in the car's fuel tanks. The tanks are stronger than those in gasoline and diesel fueled vehicles. Toyota engineers have tested the fuel tank by firing bullets at the tanks. Hydrogen is a combustible element. When near a flame, hydrogen does not burn, it explodes instead. It was once used in dirigibles like the ocean-crossing Hindenburg, which exploded at its mooring in New Jersey. As a very light molecule, hydrogen can easily leak from a tank. Toyota made their tanks with additional safeguards, as well as added a thick layer of carbon fiber, making sure that it is safer than a fuel tank from a conventional gas powered vehicle.
Toyota's Mirai, First Zero-Emission Hydrogen Powered Car
Toyota has its own hybrid vehicle in the Prius, which sold more than 100,000 units in 2017. It does not as of yet have an electric car. There are reports that Toyota is developing a solid state battery for cars and that they will release an EV by 2020. In the meantime, they are also upping the ante on FCVs. There are several advantages to FCVs including the refueling time, which takes only a few minutes. It is also a zero-emission vehicle as its only waste product is water.
There are currently more than 30 public stations for hydrogen in California. This number will soon increase to 43 with additional construction set to go online. Toyota has also partnered with Air Liquide for the construction and supply of 12 stations between Boston and New York. These refueling initiatives will give a much needed boost to the FCVs.
Toyota and Air Liquide are members of the Hydrogen Council, established during the World Economic Forum in Davos. The Council includes 27 members including Audi, BMW, Daimler Benz, Honda, Hyundai, Shell and Total. They point out that adding EVs to the electrical demands can make the supply unstable. By nature, electric plants have little allowance outside of their regular customers. The increasing supply for EVs has yet to be factored into the mix for future demand and production. FCVs don't have that dependency. However, a hydrogen powered car could make a bold impact on society.
Toyota has set a target of 30,000 production for the Mirai hydrogen powered car during the next decade; a small number compared to hybrids, and even compared to projected sales of EVs. However, they are betting that the only production FCV will be able to attract customers.
Honda Clarity Hydrogen Powered Car
In addition to the Toyota Mirai hydrogen powered car, Honda is also in the game with the Clarity.  In comparison to a Mirai which leases for $349 per month, the Clarity hydrogen powered car will run $369.  It is available only in California currently. Both vehicles are eligible for Californias "Clean air" HOV-Lane.  The Clarity and Mirai are powered by 4 cylinders and rate at 174 and 152,  horsepower respectively.
While the Toyota hydrogen powered car takes it tech from its hybrid lineup, Honda takes a different approach and places the fuel cell under the Clarity's hood. The Honda hydrogen powered car has a 1.7-kWh batter compared to the Toyota that is using a 1.5kWh battery. Neither car offers many surprises, but the hydrogen powered car infrastructure is solid. In California, it is easy to find a hydrogen powered pump and most are added to existing gas stations. Fueling a hydrogen powered car is simple and takes only about 5 minutes.
It is becoming clear that the hydrogen powered car is part of our future.  Especially in states like California, a hydrogen powered car is a great alternative to EVs and will make bold impacts in the future.