Ground-breaking transportation innovations are on the horizon. In July, Hyperloop Transportation Technologies (HTT) inked a deal to build a hyperloop track in China. The Tongren prefecture is the anticipated location for the HTT track, and it is a project that has massive ramifications for the country, as well as for the transportation industry across the globe.
The Details of the Deal
In our previous reporting on Hyperloop Transportation Technologies, we introduced how the company will build a track that combines magnetic levitation and reduced-pressure tubes for an initial distance of 10 kilometers. The deal does not specify any areas or landmarks that will be covered, at least not this early in the development. Since foreign companies cannot operate in the country without a local partner, HTT will pair up with the Tongren government. The American company will be responsible for the design and engineering of the structure. The Tongren prefecture will be in charge of certifications, regulations, and construction. Financing is split evenly between the two.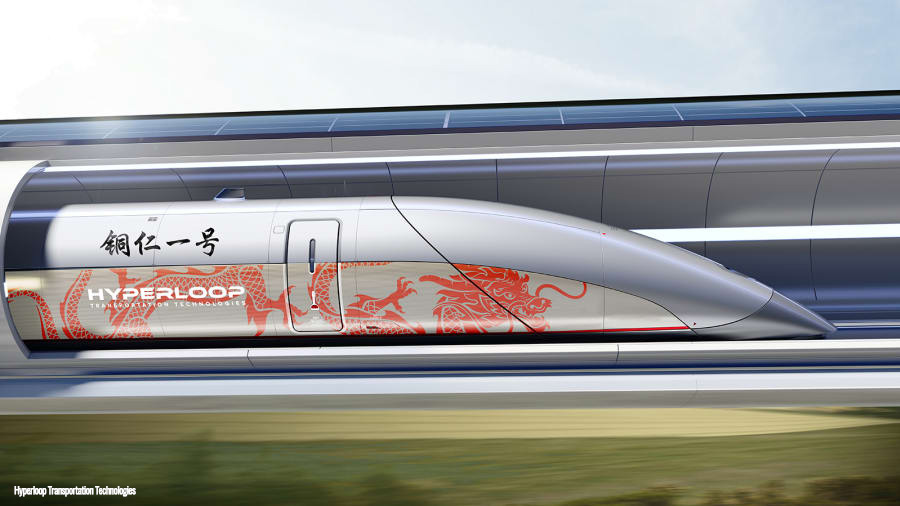 The project will be built in the Guiyang Economic and Technological Development Zone, which was created in 2000 to encourage tech companies to invest in the region. Since then, the area has attracted tech giants like Microsoft, Huawei, Tencent, Foxconn, Qualcomm, and Alibaba.
Tongren is also a perfect place to build a high-speed train. It has a unique topography that will help HTT refine its construction methods, especially for challenging terrains. It also gives HTT a strong foothold in China, a nation that has high government spending on infrastructure.
How Does Hyperloop Work?
Many people ask, what is hyperloop transportation?
Hyperloop is a mode of passenger or freight transportation that uses maglev and vacuum technology instead of standard railway technology, transporting passengers and cargo at speeds reaching up to 1,000 kph. This brings airplane speeds to ground level, turning long-distance travel times from hours to minutes. The train has capsules to transport people, and they float on a frictionless magnetic cushion in tubes, which uses less energy and makes transportation silent and emission-free.
The tube is an important feature of the track and functions much like tubes that transport documents in banks and supermarkets. The capsules within a run at controlled and consistent speeds without expending energy to fight drag forces, such as friction. These capsules are also impervious to weather conditions and earthquakes.
In BOLD's Exclusive interview with Dirk Ahlborn at the Synapse Summit, the HTT founder elaborated its bold steps in building the first ever full-scale hyperloop in the world. "Because it has no resistance, it's a capsule hovering and much of the air's out, it can go much, much faster. Roughly 760 miles per hour, which means on the trip from Los Angeles to San Francisco, roughly 36 minutes. Now, this has a benefit that you're from the city center to city center in a very short timeframe."
Hyperloop Transportation Technologies has also developed a new material for capsule safety called Vibranium, which is eight times stronger than aluminum and ten times stronger than steel alternatives while remaining lighter than either material. In addition, the capsules utilize sensors that read and transmit important information on stability, temperature, and structural integrity.
Hyperloop Transportation Technologies Competition
There are currently three companies bearing the name Hyperloop. Besides HTT, there is Virgin Hyperloop One, which in February proposed a 12-minute link between Dubai and Abu Dhabi. It recently announced that it has signed an agreement with Spain to construct a testing center in the Andalusian region. This is their first expansion in Europe.
Elon Musk's SpaceX also has its own Hyperloop technology. It holds Hyperloop competitions for testing the speed of prototype pods and includes participants from universities from all over the world. These competitions help develop the next versions of Hyperloop pods.
Recent HTT Developments
Hyperloop Transportation Technologies has made great headway in their various initiatives. In February, HTT signed its first US feasibility study for a Cleveland-to-Chicago route. Two months later, it opened its first global innovation center for logistics in Brazil. In the same month, HTT's first full-scale Hyperloop began construction in Toulouse, France. It also announced a commercial Hyperloop system in the United Arab Emirates. In June, HTT signed an agreement for a commercial system in Ukraine.
Hyperloop Transportation Technologies focuses on exceeding traveler expectations and providing an innovative, fast, safe and comfortable travel option for the whole world. As it is still fairly recent news, the partnership between HTT and China has yet to yield a detailed plan. But based on recent developments within the company, there will be important updates in the coming months. Hyperloop Transportation Technologies is creating a driver for growth in China and redefining traveling for millions of people worldwide.
And, interestingly enough, the company uses crowdsourcing to power its business.