When it comes to elderly populations, one of the most challenging issues often involves transportation. As individuals advance in age, the presence of mobility limitations, disabilities, and functional decline hinder independence. In addition, there is a link between aging and the increase in the prevalence of medical conditions that require frequent evaluations. Thus, there is certainly a need for effective senior medical transportation solutions. But in many instances, there is still a limit to options for rides for the elderly, and it will be costly if available at all.
With the rise of ride-hailing services, one of the potential applications was hoped to be senior medical transportation improvements. Through smartphone applications, the arrangement of rides for the elderly could be more ready for non-emergent medical transport. Challenges to date have prevented these hopes from becoming a reality. However, many innovative solutions may change all of that. Ultimately, it may well be these ride-hailing services provide the best opportunities for securing rides for the elderly.
Present-Day Challenges in Arranging Rides for the Elderly
The initial assumption that rides for the elderly would be solved through ride-hailing apps proved to be overly optimistic. For many older adults, several barriers exist that hinder the use of these mobile device apps. In fact, among adults over 50 years of age, only about 25 percent utilized these services in 2018. This is about half the percentage when compared to younger populations. Likewise, only about half of individuals over age 65 years have smartphones. These are obvious obstacles when considering the use of ride-hailing services for senior medical transportation.
The resistance among older adults in using ride-hailing services for senior medical transportation is numerous. In addition to finding the technology intimidating, many are concerned about being scammed out of their money. Additional concerns also exist surrounding safety, especially given media accounts of crimes occurring with ride-hailing services use. And many older adults do not trust ride-hailing services in terms of privacy protections. All of these issues have hindered these services from solving dilemmas surrounding rides for the elderly.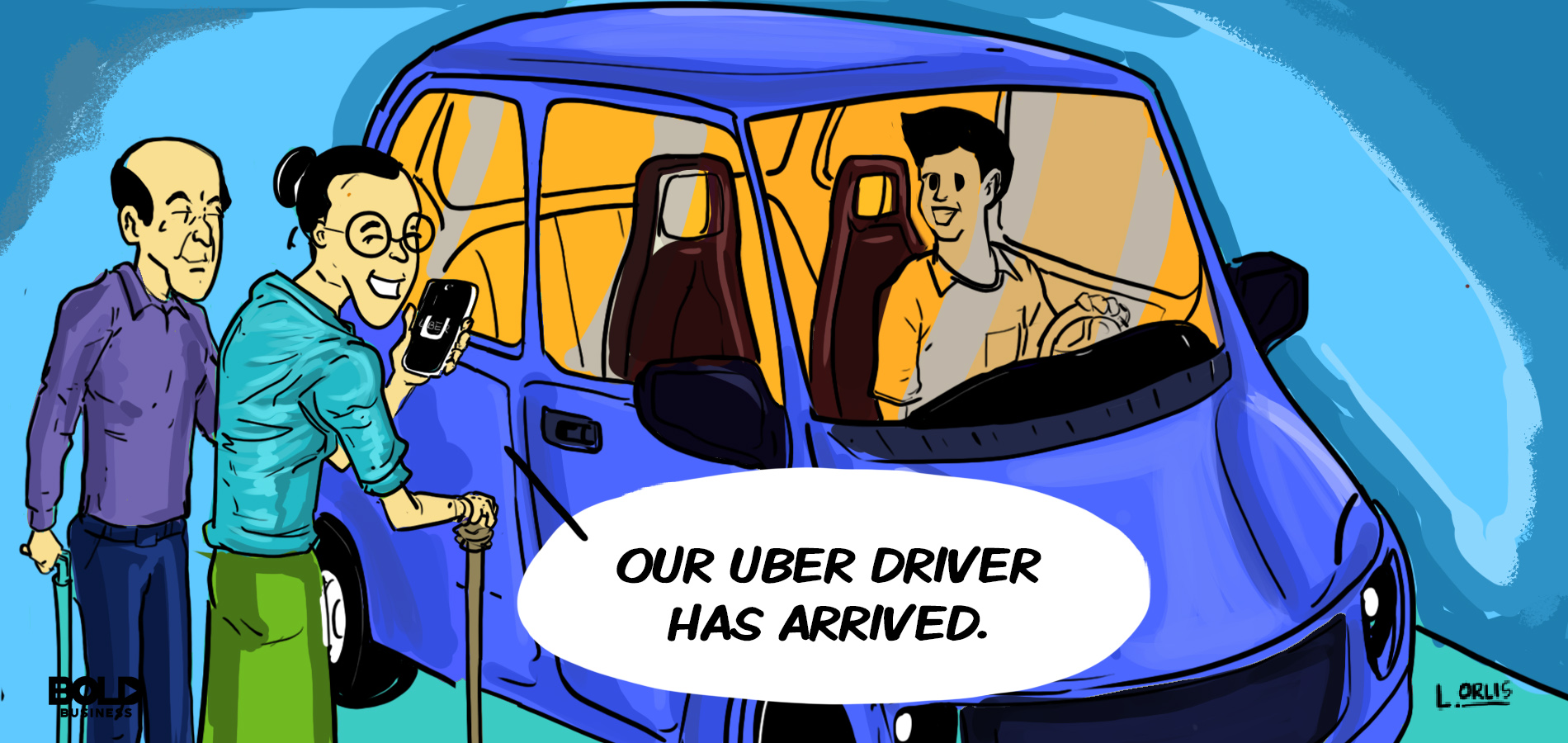 Innovative Workarounds Facilitating Rides for the Elderly
Experts explore different approaches to overcome these various obstacles affecting senior transportation mobility. One approach has been to ease fears and intimidation by training older adults in how to use ride-hailing services. A study from the University of Southern California offered 150 seniors free use of ride-hailing services for ride-hailing months. Use of these rides for the elderly and their self-reported quality of life improved across the board. However, concerns about cost as well as safety and privacy issues still existed.
Other companies have pursued alternatives to traditional ride-hailing services for senior medical transportation. For example, SilverRide offers similar services using trained drivers and a ride-hailing app in the San Francisco area. Lyft and Uber offer the option of hailing senior medical transportation using a wheelchair-accessible van in 20 cities. And GoGo Grandparent facilitates Uber and Lyft rides for the elderly through scheduling assistance paid for by a surcharge. Certainly, these offer improvements in the existing landscape for arranging rides for the elderly. But there is a need for bigger solutions given the rising demands for senior medical transportation.
Scaling Up to Address Senior Medical Transportation Needs
While the previously mentioned solutions have some potential, tackling senior medical transportation needs is no small endeavor. Therefore, both Uber and Lyft are exploring ways to scale these services upward to better provide rides for the elderly. Both companies are already working with various healthcare systems and senior centers to enhance transportation opportunities. These solutions use case managers, social workers, and front desk staff to arrange rides for the elderly. As a result, some of the obstacles deterring effective senior medical transportation are removed.
Of course, cost remains a major issue, which is why both companies are also seeking healthcare partners as well. Recently, Uber Health agreed to work with American Logistics to enhance senior medical transportation. American Logistics services over 150,000 seniors in Anthem's Medicare Advantage plans. Likewise, Lyft has partnered with Blue Cross Blue Shield and with Humana in similar efforts. These solutions not only address user-application interface barriers but also cost concerns.
Further Innovations and Solutions Needed
Without question, ride-hailing services have the potential to greatly enhance senior medical transportation systems. But gaps still remain despite all the efforts to better arrange rides for the elderly. Older adults in rural areas may not have access to these ride-hailing services. And many seniors are not on Medicare Advantage plans, which would prevent them from affording these options. Regardless, if these solutions prove to be cost-effective and enhance the quality of life, new opportunities will emerge. There is evidence to argue for transportation support in other areas including the private sector. At least until autonomous transportation systems exist, ride-hailing services offer great potential for senior medical transportation. And hopefully, progress in this area will lead to better rides for the elderly for all their transportation needs.