Awareness and action for sustainable development have accelerated in recent years. Today, one of the most important global initiatives is the compilation of Sustainable Development Goals.  Set by the United Nations in 2015, these goals aim to protect the planet and improve the quality of life worldwide.  Transportation is a major driving force in achieving these targets. Its impact and influence spans across other objectives. These include health improvement, pollution reduction, energy efficiency, and economic growth. The sector's role is substantial for implementing measures for sustainable transportation infrastructure. In fact, if these measures succeed, they can deliver savings of up to $70 trillion by 2050. Clearly, there is a tremendous need for companies and organizations to implement sustainable transport solutions.
The Global Impact of the Transport Industry
Transportation is fundamental to meeting the personal and economic needs of individuals. It allows access to services and facilities that contribute to healthy and fulfilled lives. Examples of these are jobs, markets, and social interaction, among others. Transport development links people, connects communities and facilitates trade. Thus, it has the power to drive sustainable development. As a result, sustainable transport solutions are the center of various international discussions. Topics range from vehicle emissions to green supply chain management practices.
Despite the benefits of transport development, there are also negative consequences. The industry is part of several environmental, social and governance issues.
23 percent of energy-related greenhouse gas emissions come from transportation. Road accidents cause 1.24 million deaths every year. Traffic congestion is a burden on the economy of many countries. It accounts for 0.7 percent of the GDP in the United States. In Europe, it's 2 percent. In some cities of emerging economies like Beijing, São Paulo and Lima, it's as high as 10 percent. It's no wonder that developing a sustainable transportation infrastructure has become a global priority.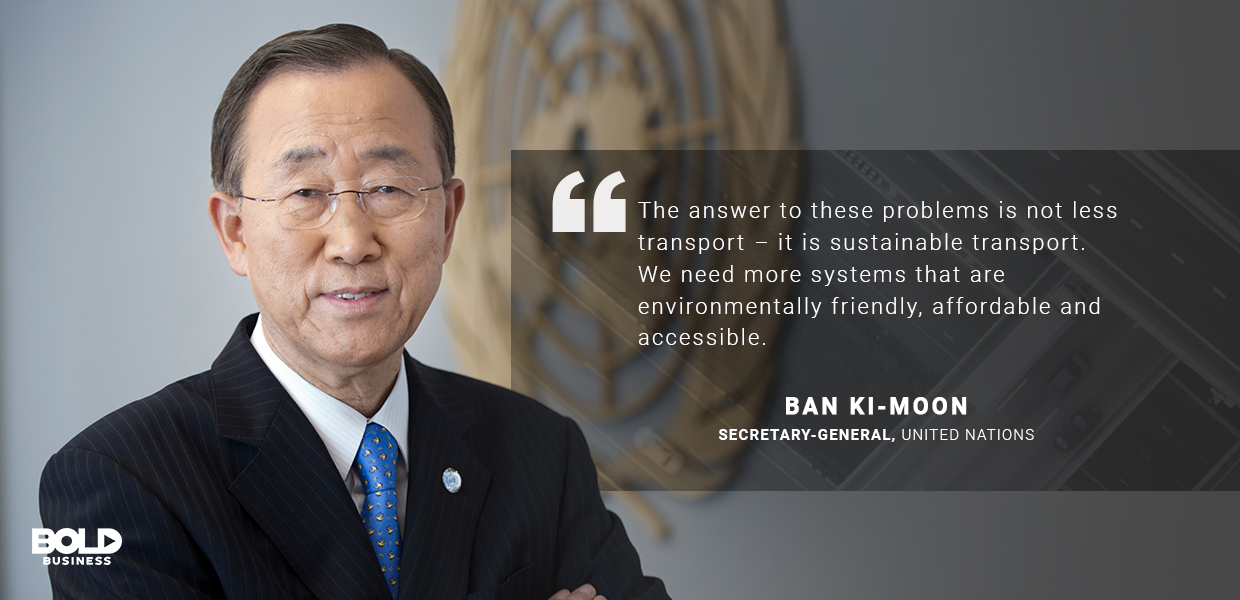 Taking Action for Sustainable Transportation Infrastructure
Greener transport is a must to achieve the Sustainable Development Goals. An expert panel delivered a report to former U.N. Secretary-General Ban Ki-moon about this matter. Called 'Mobilizing Sustainable Transport for Development', the report gave recommendations for sustainable transport solutions. These include better planning, increased funding, improved safety standards, and reduced emissions.
During the presentation of the report in 2016, former Secretary-General Ban Ki-moon stated that sustainable transport solutions can solve global transportation issues. "The answer to these problems is not less transport—it is sustainable transport," he noted, "We need more systems that are environmentally friendly, affordable and accessible."
Sustainable Transport Solutions —Green Innovations from Companies
The United Nation's High-Level Advisory Group on Sustainable Transport also urged action. "Transport can build prosperity in the broadest sense, enhancing the quality of life for all while protecting the environment and fighting climate change," said Martin Lundstedt, co-chair of the group and CEO of Volvo. "We need bold innovation and a true partnership among governments, civil society, and the private sector."
Transport companies around the world are aware of the industry's impact. Sustainable transport solutions are no longer optional. They have become an integral part of the strategy and mission for many businesses.
Thanks to technology, more innovations are possible. Sustainable transport solutions continue to emerge. Shared mobility, autonomous driving, and electric vehicles are just a few examples.
Sustainable Transportation Infrastructure
Here are some companies that are making strides in green transport development:
Transforming Transport Development through Investments
Funding plays an important role in sustainable transport development. Former U.N. Secretary-General Ban Ki-moon underscored, "It takes investments to see results. That means mobilizing funds from a variety of sources. Public-private partnerships are indispensable." The continued support of stakeholders and investors in the transport industry is truly a must.
Moreover, transport businesses that have strong sustainability agendas stand to gain a competitive edge. Customers and investors are sure to recognize their efforts. They would be the preferred choice versus companies who are not that eco-friendly. Through sustainable transport solutions, businesses can turn the sector's impact on society into a positive and lasting one.
Sources:
How can we promote sustainable infrastructure?
How These 5 Key Industries Can Advance Sustainable Development Goals
Experts Urge Mobilizing Sustainable Transport for SDGs